Industry Update: Air Nailers
Cordless technologies work to close the performance gap; pneumatics seek to widen it.
---
By Tom Hammel
Like the air compressors that often power them, nail gun sales trend with in the housing market. But unlike compressor technology, which tends to add incremental improvement to the basic design, pneumatic and fuel-cell powered nailing tools are exploring radically divergent technologies. We interviewed seven leading manufacturers for their trend analyses and strategies for the market.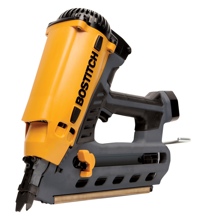 The Bostitch model FG28WW, the world's first 28-degree wire-weld cordless framing nailer, aims to conquer the job site through its combination of reliable wire-weld collated nails, superior balance and professional features. The tool weights just 8.3 pounds and is more maneuverable on the job site thanks to a shorter nail magazine .
Bostitch
The big news at Bostitch is its brand new model FG28WW, the world's first 28-degree wire-weld cordless framing nailer.
"The FG28WW brings some real innovation to the category," says Todd Langston, director of brand marketing for Stanley Bostitch. "First, it is a wire-weld collated framing nailer, which has several advantages over paper or plastic collated nails. Wire-weld nails are more durable on the job site — the strips won't snap in your tool pouch like plastic or get soggy like paper of they get wet. Our offset round-head wire-weld nail has all the benefits of a full-round-head nail in a wire weld collation.
"Plus, it is a tighter collation, so you can get more fasteners into the magazine. This in turn enables us to make the magazine a bit shorter, which makes the FG28WW easier to wield on the job site."
The FG28WW uses a ni-cad battery and 9B12061R framing fuel cells which contain synthetic lubricants for optimal operation under high temperature conditions.
Stanley is also launching three new cordless finish tools, a 15-gauge angle, a 16-gauge straight and an 18-gauge brad nailer.
One key aspect of the 15-gauge angle finish nailer is that it uses FN fasteners which, Langston notes, many contractors prefer.
"These new finish tools offer a great balance of features and fastener solutions and have all the key features like adjustable depth, rafter/belt hooks and fast-charge capability that professional users demand," Langston says. "They are also significantly lighter tools. The 18- and 16-gauge nailers weigh just four pounds."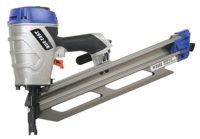 The DuoFast DF350S 20-degree Round Head Framing Nailer can consistently drive 2- to 3 1/2-inch 16D nails flush into Laminated Veneer Lumber (LVL) — eliminating the need to go back and hammer down nail heads. It weighs just 8.1 pounds, reducing arm fatigue and adding to user productivity. Its dual-mode trigger easily switches from sequential to bump fire mode.
DuoFast
The growing use of engineered lumber is changing the way contractors work and the tools they use, observes Jacek Romanski, marketing manager, Duo-Fast Construction. Contractors are finding that their nailers don't have the power to seat nails in these harder materials.
"In our job site visits, we've noticed that this slows down workers as they have to pull out a hammer to finish seating the nails," Romanski says. "We also see contractors raising the psi on their compressors to try and overcome this. But this shortens the air supply and doesn't always solve the problem."
To answer the call for a more powerful framing nailer, Duo-Fast has introduced the Model DF350S 20-degree Round Head Framing Nailer. It is one of most powerful, durable and productive pneumatic framing nailers on the market today, Romanski claims. The DF350S consistently drives a 16D nail flush into Laminated Veneer Lumber (LVL) — eliminating the need to go back and hammer down nail heads.
"The DF350S is backed by an industry leading one-year bumper-to-bumper warranty, even on wear parts."
A second productivity issue that Romanski says is chronic on job sites is the effect plastic collated nails have on the efficiency and safety of the site.
"Not only does the plastic fly at the contractors' faces, it also creates a more slippery job site," he says. "End users have also reported that plastic collated nails are more susceptible to jamming their nailers, depending on the quality of the nail and the condition of the nailer."
Duo-Fast answers these issues with 20-degree Round Head Paper Tape Collated Nails. Because they are paper tape collated, there is no sting from flying plastic hitting users in the face, no waste because of breakage from being dropped before loading, and no need to stop work and clean up the debris.
Paper tape nails are also less prone to jamming in nailers than plastic collated nails, Romanski adds.
"With plastic, nail strips have a higher likelihood of jamming as the last nail tumbles in the magazine. With paper tape collation, the nails are always supported by the paper, reducing the chances of jams. We are finding strong demand for the paper tape nails in all markets."
Another trend is that houses are being built to withstand storms of every sort. More communities, even away from the coastal areas, are changing residential building codes to require metal connectors at all joists and more straps and ties throughout a house.
To meet the placement accuracy demands of metal connectors and ties in residential building, Duo-Fast offers its metal connector nailer, Model DF250MC, in more markets than ever before. It can drive 1-1/2 and 2-1/2 inch nails and features a probing tip to easily and accurately locate the metal connector hole, making it a fast and productive tool.
"Manufacturers are working to develop smaller, lighter, yet durable tools that can meet the demands of engineered lumber and metal connector construction in residential building," he says. "We also see cordless or "hose free" tools becoming more and more prevalent as technology and performance continues to improve."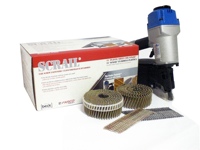 Fasco's Scrail system fasteners offer the best of both worlds, the attributes of a screw and the speed and ease of installation of a traditional Fasco tool — or a nail gun your customer already owns.Scrail collated fasteners can be driven with a pneumatic nailer twice as fast as collated screws and eight times faster than bulk screws. And they are easily removed.
FASCO
"Demanding times are a double-edged sword," muses Chuck Hotze III, national product manager for Fasco America Inc./Empire Products, Inc. "They serve to 'shock us back to reality,' and distill the thought process about what is really important in our nailing and stapling tools.
"When times get tough, we go back to the 'core principles' that built the stapler and nailer industry in the first place. Those were and continue to be: A) do what a hammer does — but faster & easier; B) keep parts to a minimum and materials as rugged as possible; and C) make it easy for user to do as much as two men with hammers could do — while safely avoiding the mind-numbing aspects of repetitive applications that contribute to loss of focus, discomfort and accidents."
Pick up trucks, tractors, and nail and staple tools should all be as reliable as the day is long, and the way you insure that is to stick to the basics, he states.
"There's something about three basic moving parts in a tool that you can "field strip" and put back together yourself that warms a contractor's heart."
This return to simplicity is leading the way to new ideas that are born of simplicity itself, Hotze says.
"European-made nailers and staplers have long been the envy of the world in terms of low noise levels, reduction of vibration and strict quality control procedures throughout manufacture. The same can be said for the fasteners."
Scrail fasteners, the InvisiDeck Hidden Scrail Deck Fastener System and WindStrips are all examples of this new direction, he says.
Contractors today understandably want to find new uses for existing tools that don't require any additional outlay of cash. This is why Scrail fasteners have sky-rocketed in popularity, he says.
"The Scrail offers the best of both worlds, the attributes of a screw and the speed and ease of installation that comes from the nail guns you already own," Hotze notes.
Scrail fasteners require no new equipment and bridge the divide between most screw applications and users who wish to use existing nail guns for extra applications. Scrail collated fasteners can be driven with a pneumatic nailer twice as fast as collated screws and eight times faster than bulk screws. Hotze notes that users enjoy dramatically increased holding power versus nails, while gaining easy adjustment and quick removal.
"In a nut-shell, glitzy, accessory-laden tools and fasteners are giving way to streamlined, simple, smart and tough models that clear the fog away and crystallize the reason they were made in the first place," he concludes.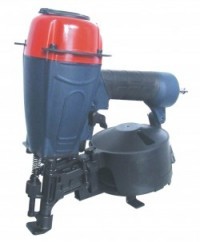 The Titan Model GFN2190 Gas Powered FRH Framing Nailer from Chongqing Hybest weighs 8.2 pounds and fires 2 to 3 nails per second from 2 to 3 1/2 inches in length. Its fuel cell is rated for up to 1,200 shots per cell and its battery is rated for up to 5,000 shots before recharing. it has a patented design for easy cleaning, repair and maintenance.
Chongqing HYBEST/Nextway
A key factor influencing professional contractors today is a renewed focus on getting the best value, observes Bill Mast, president and general manager NextWay LLC (Chongqing Hybest). Contractors who have traditionally used major brands for their fastening needs are now exploring alternative brands that have the features, service and support they expect, but at more competitive prices.
Ease of use is an ongoing trend. Most contractors now own one or more gas-powered nailers as a compliment to their traditional pneumatic compressors and tool systems.
Another factor has emerged with the growing awareness of our impact on the environment. New products need to be compliant with the growing range of regulations and credit programs, such as EPA, CARB and LEEDS.
"Our U.S.-based NextWay business has selected the Chongqing Hybest Tool Group Company, LTD (Hybest) as our exclusive supplier of our professional grade fastening systems products," Mast says. "Hybest has over 16 years of experience in the United States market as an OEM supplier to most major brands and retail channels. They have an excellent reputation for innovative products and a strong commitment to quality, including ISO9001 certification at all Hybest facilities."
This R&D and supply relationship, Mast believes, creates an excellent combination of technology and value for contractors. Grouped under the Titan brand, the products include a full line of pneumatic nailers and staplers, gas-powered nailers, gas-powered concrete and steel pinners, air compressors, portable generators (all CARB compliant) and portable water pumps.
Titan also offers a high-pressure (400-psi) compressor that can drive both high-pressure and standard-pressure (70-120 psi) tools simultaneously. Plus, it is priced to overcome the cost of entry issue that has kept many contractors from taking advantage of this newer technology.
"Customer requirements and expectations continue to become more demanding. They want a good value, quality and timely service at a competitive price."
As the economy improves, Mast expects the Titan line to gain market share.
"We believe our Titan line offers the right value for customers with high-quality, professional-grade product at a very competitive price point," Mast says. "This, combined with the NextWay philosophy of customer focus and our network of thousands of service centers in the United States, Canada and Puerto Rico will make Titan 'products of choice' for contractors and industry professionals."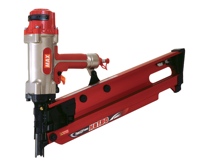 MAX USA continues to lead the market in high-pressure tools. The PowerLite HS130 high-pressure 400-psi nailer weighs just 9.5 pounds and shoots 3 1/2- to 5 1/8-inch x .162 21-degree plastic collated nails. Added features include a safety lockout on the trigger and a patented end cap filter to keep dirt and debris out of the tool.
MAX USA
MAX sees a demand from contractors for tools that are lighter and more powerful that can shoot into denser materials like LVL and LSL (Laminated Strand Lumber). Contractors are looking more and more for higher durability and innovative tools that save them time and money, notes John Dominice III, vice president of sales for MAX USA.
"MAX introduced 400-psi technology to the North American market to provide more power, more compact and lighter tools that fasten into the hardest materials on the market today," Dominice says. "We also have a line of 400-psi tools for fastening wood to steel, wood to concrete and steel to concrete. Tools like our HN25C and HN120 make these jobs more efficient by allowing contractors less down time and greater ease of fastening that speeds the job dramatically."
With the recent addition of the HS130 five-inch nailer, MAX now offers eight 400-psi tools in North America. The HS130 is much lighter than any tool on the market that can drive a five-inch nail, he notes.
"MAX offers over 20 models in Japan and we are constantly looking at additional tools for North America, including tools for new applications," he adds. "2010 will be another challenging year for wood construction. However we have turned the corner. We have seen positive signs from trade shows, open houses and job sites. Our distributors are also reporting a thawing in the construction market, reporting more activity among their contractors and demand, albeit weak, for new tools. Housing starts will grow in 2010 along with nailer sales."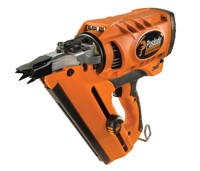 Paslode's Model CF325 30-degree framing nailer brings fuel-powered cordless framing to the performance level of a pneumatic production framing nailer. It includes an all-new fuel cell technology that features a drop-and-go QuickLode system and a new design that eliminates propellant loss. It drives 2- to 3 1/4-inch full head nails and can go five times longer (50,000 drives) between recommended cleanings.
Paslode
Across the country, contractors are continuing to discover and accept cordless nailers, in part because they are easier to set up and use than pneumatic nailers.
"The issue has been performance," says Pat Talano, segment market manager for Paslode. "In the minds of contractors, cordless nailers have been considered punch-out tools, not production tools. But manufacturers are working to meet this interest and demand with new and better performing cordless nailers that can replace pneumatics."
With certain patents expiring on the original Paslode fuel powered cordless nailer, numerous competitors have entered the fuel-powered cordless arena, Talano observes.
However, he says, Paslode continues to innovate to stay one step ahead of the competition and to move to the next level of performance.
"We believe the new version of our fuel-powered cordless framing nailer, the Model CF325, brings fuel-powered cordless framing to the performance level of a pneumatic production framing nailer. It includes an all new fuel cell technology that features a drop-and-go loading system and a new design that eliminates propellant loss. More importantly, it is more powerful and much faster than the original and operates longer between cleaning cycles. These and other features of the tool are convincing many of our customers to switch completely to fuel-powered cordless for their production framing."
Paslode engineers have created a proprietary PowerBoost Black Tip Coating for its 3- and 3 1/4-inch nails, available exclusively in fuel and nail combo packs. These nails allow the CF325 to set nails flush into engineered lumber, such as LVL.
Talano also predicts healthier sales as the year progresses. "We anticipate that tool sales will rebound in the second half of 2010," he states. "We see an increase in building and remodeling, causing an expansion of the work force using more tools.
"In addition, existing tools will be wearing out and being replaced. For the last two years, end users have had a big surplus of extra tools due to their reduced work force. This inventory has been reduced and we expect new tool purchases to increase."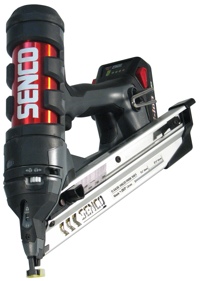 Senco's radical looking new Fusion 15- and 18-gauge finish nailers are powered by a reliable 18-volt Lithium Ion Phosphate (LiFePo4) battery that can reach an 80-percent charge in just 15 minutes. The tool's patented Reflex Shot design provides an instant trigger response and delivers up to 500 drives between charges. It weighs six pounds.
Senco
Senco has also observed a growing number of users switching to cordless tools, primarily for framing and finish applications. These tools are more portable than their pneumatic counterparts, but fuel costs of up to $300 a year and the regular cleaning required both add to cost of ownership. Another trend is the adaptation of smaller, lighter (yet more powerful) pneumatic framing tools.
"Senco's revolutionary Fusion technology, which combines the best performance attributes of pneumatic and cordless (gas- and/or battery-powered) tools will be available this summer," promises Gil Blanchette, Senco executive vice president of sales and marketing. "Powered by a self-contained air cylinder, the Fusion tool eliminates the costs — fuel cells and cleaning — and smell associated with traditional gas-powered nailers. It also gives users the feel and power of pneumatic tools, providing an almost instant shot without the "ramp-up" time associated with battery-powered nailers."
The first two Fusion models will be a 15-gauge finish nailer and an 18-gauge brad nailer.
Senco also redesigned its 901XP clipped-head framer with these trends in mind. It is nearly one pound lighter than its predecessor and is one of the lightest, yet most powerful framers on the market today, Blanchette claims.
"We see an increasing move to cordless tools in the years ahead," Blanchette says. "Customers will demand that cordless technology be incorporated into the full range of job site applications. Today, most cordless fastening tools are still for framing or finish jobs." CS