Material Handling
Take the mystery out of selling material handling systems.
---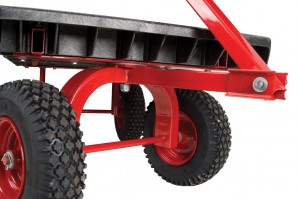 Got wheels? Selling customers the best material handling solution for their needs includes considering the surfaces and conditions their units will regularly traverse.
When customers are in the market for material handling products they're looking for equipment that will help them move loads quickly and safely. They surf the web and flip through catalogs, but how do they narrow their choices? The same way best-in-class manufacturers create innovative products—research, testing and knowledge.
Research
Material handling product R&D starts in the field—it's how engineers "get smart" about the consumer and an industry need. "It's important first and foremost to research the end-users and gain knowledge into the marketplace you're trying to penetrate. It's about listening to the needs of your customer," said Scott Singleton, Global Business Team Leader—Material Handling at Rubbermaid Commercial Products (RCP).
"We go directly to our end-users and get their take on what would work for them and what wouldn't. We listen, watch, ask, and listen some more," added Singleton. "Once you know your customer, that's when you're in the position to identify any unmet needs that may affect productivity, efficiency and ease-of-use."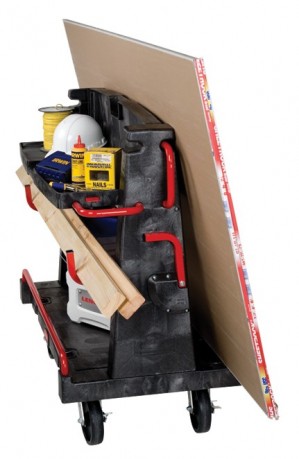 Bundle up! Don't sell the product; sell the total solution. Incorporate items that fit and work well together to deliver the most effective result. Then, "stock" the unit with products the customer will need to move on it or buys regularly anyway: chemicals, paint, fasteners — be creative.
"Through our interviews and research, we recognized early-on that our expanded and redesigned heavy-duty material handling product line needed a handle that could significantly reduce the risk of fatigue and on-the-job injuries," said Bob Tokash, Senior Product Engineer for Rubbermaid Commercial Products. "That's what led us to an integrated variable grip-height handle—it was designed to not only improve maneuverability, but to help reduce muscle strain regardless of your height; this is just one example of how product research can have an impact on worker safety."
"For our line of material handling solutions, we spent days at various home centers investigating different ergonomic handle styles on lawn mowers, tilling machines and other types of pushing devices with handles," said Tokash. "The result, a combination of different aspects were chosen and combined to create the final handle designs for our trucks and carts."
According to Tokash, there was a laundry list of testing that ranged from not just weight load thresholds, but to examining several different sizes of power drills to establish a drill holder feature that would accommodate just about all drill sizes.
Their research also led to obvious deficiencies among metal and wood material handling decks. "As a result, our Duramold decks were engineered for all of our heavy-duty trucks," said Tokash. "Duramold decks are formed from a precision engineered resin and metal composite structure that is lighter then typical metal and wood products without sacrificing strength, allowing end users to put their effort into moving their payload not their truck."
"And from the maintenance side, our Duramold decks won't warp, dent, splinter, rust or rot," added Singleton. "And virtually maintenance-free, its resilient surface absorbs impact and is resistant to most chemicals, impervious to water damage and easily cleaned."
Let's face it, the majority of material handling products last a long time and aren't usually replaced until rendered completely useless. However, older, non-functional product and heavier payloads mean end-users are faced with a number of frustrations such as:
Difficulty pushing and maneuvering
Keeping small items (tools/parts) organized
Keeping contents in-place during transport
Accommodating oversized items
Insufficient weight load capacity
Testing
When it comes to testing material handling products, it's all about being able to endure the harshest environments under heavy loads, and providing a product that's rugged, durable and tested tough from static loads, fatigue, and impact/drop tests to cycling/wear tests.
Endless hours are spent testing various weight-loads on product, as well as caster performance in a variety of environments. Some manufacturers have been known to use more than 300,000 pounds of weight to test a product line. For instance, "threshold" testing (a test designed to simulate going over a threshold as you would move materials around a facility) for one product can take up to 10,000 cycles—that equates to 15 miles of actual distance on one unit.
Knowledge
Partnerships are everything—know what you're buying and from who. When looking to purchase material handling equipment, it's always smart to go with an industry-leading manufacturer you can trust—one you can count on for breakthrough innovations and with a history of long-lasting products that can meet your most demanding needs.
Those material handling manufacturers are the ones that have invested the time in research and testing to not just develop a product, but a set of solutions to help you succeed at your work and in your career. CS
Jenn Schneider is a member of the material handling marketing team at Rubbermaid Commercial Products, LLC. Visit www.rcpmaterialhandling.com to see Rubbermaid Commercial Products' redesigned and expanded heavy-duty material handling line in action.