Show Report: National Hardware Show 2010
If the National Hardware Show is any indication, 2010 is going to be a good year.
---
If it would have rained, there would have been 2,300 Gene Kelleys singin' and dancin' in the rain. How refreshing it is to attend a trade show and see exhibitors with smiling faces — not the frozen smiles of people terrified of going home empty handed, but the relaxed, easy smiles of people who are busy writing orders after a long dry spell.
It isn't monsoon season yet for the industry, but if activity at 2010 National Hardware Show is any indicator, the industry drought is clearly nearing its end.
Floor traffic was pleasingly brisk on Tuesday May 4, opening day of the 2010 National Hardware Show. Tool, home lawn and garden manufacturers filled the Las Vegas Convention Center's North and Central halls and spilled over into entrances, meeting rooms and outdoor areas. The show ended Thursday, May 6 on a high note.
According to show promoters Reed Exhibitions, overall attendance was 20 percent attendance higher than in 2009, but as of press time they had not released any final head counts. Much more important than the stronger attendance however was the increase in business conducted at the show. Exhibitors almost unanimously reported that buyers for major national and international retailers were out in force — and buying.
Final booth counts for the show were impressive: some 2,300 total exhibitors, including a reported more than 900 in Hardware and Tools.
Seminar presenters included the Home Improvement Research Institute (HIRI), the North American Retail Hardware Association (NRHA) and the Paint & Decorating Retailers Association (PDRA). Highlight presentations included a keynote address from former Walmart senior vice chairman Don Soderquist and show-opening ceremonies with The Home Depot co-founder Pat Farrah.
Not entirely surprising, rumors also were circulating that retail giants were flexing their muscle to ensure that their empty inventory pipelines get priority treatment as manufacturers begin ramping up production. This could spell inventory problems for smaller retailers and distributors who may face difficulties accessing inventory in the next quarter as the industry scrambles to refill its depleted product stocks.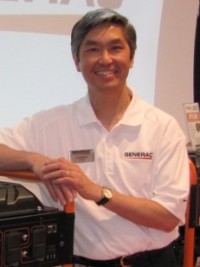 With the introduction of its new GP series generators,Generac is positioning itself for greater growth as the economy turns. Clement Feng, senior vice president of marketing for Generac Power Systems, proudly notes that the GP series is Generac's most affordable generator line to date, yet remains packed with key user features.

Generac lowers the power bill
How do you sell products to contractors with no money to spend? One way is to make your products less costly. This was the route taken by numerous companies at the show, from hand tool to power equipment manufacturers. The new Generac GP series, for example, is the company's most affordable generator line.
"We have completely redesigned the product since it was introduced two years ago," said Clement Feng, senior vice president of marketing for Generac Power Systems. "Some of its enhancements are an improved hour meter, a more convenient and secure locking fold-down handle. It also has low-oil-pressure shut-down to protect the engine and weather covers for the electrical outlets."
"We are seeing the housing market improve a little bit, but the economy is still soft," Feng observed. "We are encouraged however, by the fact that our home standby sales of permanently-installed generators continues to trend upwards, even in this economy."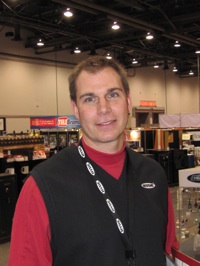 Corey Talbot, director of product development for Hyde Tools and a dead-on stand-in for Sam Rockwell, kept running at full speed the entire show talking with customers about all the Hyde news: its partnership with A. Richards, its tiered putty knife lineup, pivoting pressure washer wand, new retail displays and the four merchandising and product awards it won at the show.

Hyde stands out
"The National Hardware Show was great for the Hyde Group this year," said Corey Talbot, director of product development for Hyde Tools. "Our new Hyde Pivot Nozzle Wands for pressure washers really created excitement, so the chance to demonstrate them to key buyers was big. They drew a lot of interest — in fact, we received a Retailer's Choice award for the wands."
Talbot is being modest: Hyde won four gold awards at the show for packaging and new products.
Even bigger news, Talbot noted, was the full paint applicator program Hyde's sister company, A. Richard, introduced to the U.S. market for the first time.
"The A. Richard program is packed with new items such as micro fiber roller covers and brushes that flex to fit in tight corners. Buyers were very interested," he said.
Richard, Hyde Tools' counterpart in Canada, has an 80 percent market share there. The Richard-branded program unveiled at the National Hardware Show includes hundreds of items and integrated retail displays up to 24 feet long.
Hyde also unveiled a full retail category program including three lines of putty knives and scrapers that, together with Hyde Black & Silver products create a tiered, "good, better, best and premium" scheme for easy self-selection. Hyde Pro Stainless tools are the new premier line. They are followed by the existing Black and Silver line, then a new Hyde Pro Project line for remodelers and pro-sumers. At the low end, the Hyde Value Series has high-value tools with stamped blades and comfort plastic handles.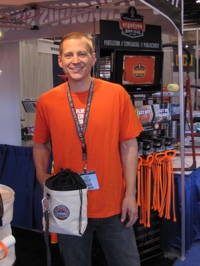 Ergodyne's Justin Kostner was raking in orders for his company's Arsenal Aerial Tool Pouches and Arsenal Safety Bolt Bags. Their unique one-handed cinching operation helps keep materials and workers safe while working at heights.

Ergodyne cinches it
Over at the Ergodyne booth, Justin Kostner was excited by buyer reception of the relaunched Squids tie hook line and the new Arsenal Aerial Tool Pouches and Arsenal Safety Bolt Bags.
"The cinch-up tops on these nut and bolt bags are designed for one-hand operation," Kostner explained. "The aerial worker can simply open and close it with one hand. When you're working at heights, that can be a big deal because you sometimes need that other hand to hold on! All of these items, including our tool tethers, are tagged with a weight rating so the worker will always know it's capacity."
Initial orders on the Arsenal pouch line have been strong.
"Q1 ended up very nice for us, and we've started to see a lot of bids come through. When people open a construction job they order a couple hundred of these and we've seen a lot of those recently. We had a very good April, too, so we're hopeful that things are starting to turn. Ergodyne is bringing a lot of innovative new products to the market and that is positioning us well against the competition."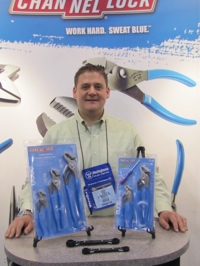 Ryan DeArment, Channellock's vice president of sales and marketing, is pleased with the momentum he sees building in the market.
Channellock ratchets up
Over at Channellock, vice president of sales and marketing Ryan DeArment was pleased with the show's pace and activity.
"Traffic has been good — we've been very busy throughout the day," he said. "A lot of key customers are coming in, seeing new products and talking about promotions for later in the year, so we're very pleased."
The activity at the show mirrors what DeArment has been seeing in the market.
"The market has been picking up quite nicely since the beginning of the year," he said. "We have new customers coming on and a lot of existing customers are picking up and holding more inventory than normal, which leads us to believe consumers, contractors and professionals are working more and starting to buy. We're seeing a definite pick-up in business."
Channellock is keeping new product in the pipeline, too.
"We are showing several new products here, from ratcheting wrench sets to multi bit screw drivers — and we have more in the works coming. I wish we could be a little more proactive with new products but next couple years we'll have some cool stuff coming out.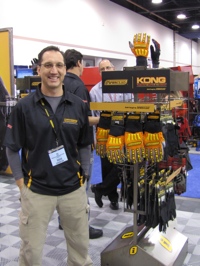 Eric Jaeger, vice president of research and development for Ironclad Performance Wear was riding high on international demand for the company's KONG glove. Over 18 months, the glove was designed in cooperation with leading oil and gas industry safety directors. It has won Ironclad an award from the U.S. Department of the Interior's Minerals Management Service (MMS) for exceptional performance in enhancing worker hand safety.
Ironclad rocks the oil rig
There's always a bit of rock star vibe at the Ironclad booth and this year was no exception. Outshining even the gorgeous booth assistants was news of the company's recent product award. Eric Jaeger, vice president of research and development was clearly pleased to talk about it.
"The award is from the U.S. Department of the Interior's Minerals Management Service (MMS) for exceptional performance in enhancing worker hand safety through the design and development of the Kong high-performance work gloves, which we engineered specifically for the oil & gas industry," Jaeger said. "We designed the glove in conjunction with safety directors from six of the largest oil and gas companies and oil industry contractors."
Along with Jaeger, the award recognizes Clark Orr, vice president of Orr Safety, and safety directors from Exxon/Mobil, Conoco Phillips, Chevron and Superior Energy. The group worked together for 18 months, bringing the KONG glove through initial concept prototypes deployment, field testing several prototypes, safety qualification and now to worldwide production and distribution to the oil & gas industry.
"More than 50 percent of all oil rig injuries are to the hand — that's more than all other injuries combined," Jaeger said.
Since final approval of the design, Ironclad has shipped more than 250,000 pairs of KONG gloves to oil and gas sites all over the world.
"This is truly a global product for us," Jaeger said. "Internationally, it's just amazing."
More growth planned for 2011
The National Hardware Show is virtually guaranteed to be larger next year as well. The National Hardware Show and the North American Retail Hardware Association (NRHA) have reached a tentative agreement to co-locate their shows beginning in with the 2011 event.
In addition, the 2011 National Hardware Show and NRHA All-Industry Convention will host delegations from the International Hardware Association ­— the first time the IHA has held a meeting in the U.S.
The 2011 National Hardware Show is set for set for May 10-12, 2011, in Las Vegas. For registration and other information, visit the Web site: www.NationalHardwareShow.com.