National Hardware Show 2013
The lines between retail consumer and business consumer are blurring.
---
Editor's Note: This article is an extended version, with more interviews and photos, of the story that ran in the June/July 2013 print issue of Contractor Supply.
Remember the 2004 National Hardware Show in Chicago? I still do; it took me 45 minutes to see — everything. The show's 700 claimed total exhibitors had barely enough contractor-worthy companies for Pugsley Addams to count on his fingers and toes (21), and it was about as pretty as Pugsley, too.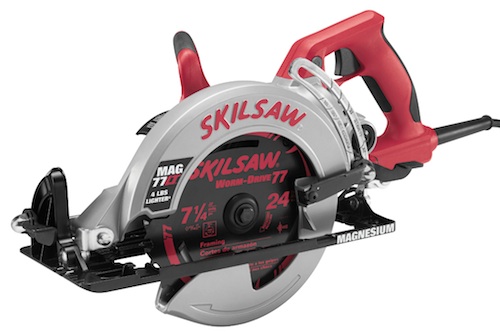 After that famous meltdown and subsequent divorce between the AHMA and the shows owners, Reed Exhibitions, the pro channel viewed Reed's decision to move the show to Las Vegas in 2005 akin to moving a corpse to the desert to see if some sun will perk it up.
There were some thin years, but the show has been recovering steadily, and what was once a one-day, get-in-and-get-out chore is now a thriving event where you will be hard pressed to see everything of interest in two or even three days.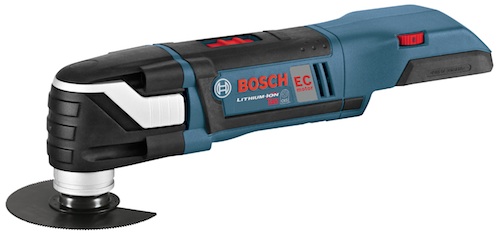 True, without the massive "city-block" booths that once anchored the Chicago show, today's National Hardware Show can't hope to recapture its glory days, but an influx of small new companies works mighty hard to make up for their absence. Sometimes there are resurrections in the desert.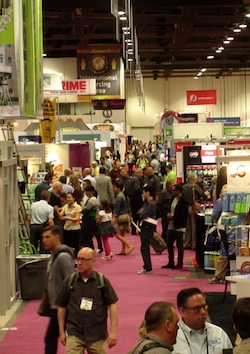 In pre-show releases, the 2013 National Hardware Show, May 7-9 at the Las Vegas Convention Center, claimed to have sold virtually all of its exhibit space to nearly 2,700 exhibitors — including almost 700 first-timers. A steadily improving economy certainly helps, but the show has also been bulking up along the way with new product categories, which this year include Building Products and Farm & Ranch Products.
As of press time, Reed had not yet released any final post-show figures. (In a post show release, Reed states that the show saw a 16 percent increase in attendees for 2013, but released no hard numbers.)
This year's show also featured expanded Energy Efficient and Pet Products categories. (Do your stores sell dog food to contractor customers? I know one California distributor who is going to town with it, literally. Contractors have pets, too.)
New product areas, including the Innovation Station, New Product World and Inventor's Spotlight, made nice mini-destinations, as did the Made in the USA section that featured displays from more than 50 companies.
Need mechanics tools? how about 204 of them?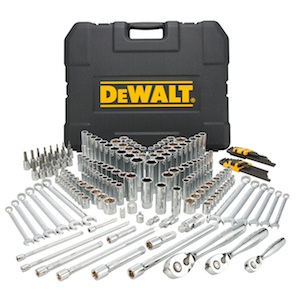 The big — and we mean big — news from DEWALT was the announcement of its new line of mechanics tools. The line, initially a Sears exclusive, features ratchets, sockets, wrenches and sets.All the tools feature a lifetime warranty.
Available in three sizes - 1/4", 3/8", and 1/2" drive - the new DEWALT heavy duty ratchets offer 3X the life of standard ratchets, on average. Featuring a 72-tooth gear system and 5 degree actuation angle, these pear head ratchets with slim design are ideal for high torque ratcheting and maneuverability in tight spaces.
DEWALT socket rails are available in a range of SAE and metric sizes, and feature deep laser etched markings for easy identification and high visibility.
DEWALT combination wrenches tout an anti-slip design on the open end jaw that locks the wrench on the fastener to deliver 400% more gripping power on average than standard wrenches and helps to prevent slippage that results in scraped knuckles.
Products: From Arrow to Apex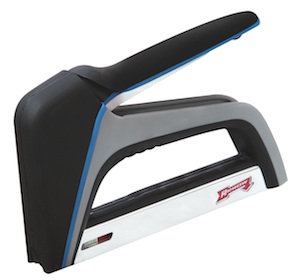 OK, so what's new down on the show floor? Why not start with Arrow? Our friends in the fastening biz showed off a couple of nifty new tools here, including the T50X TacMate, a light-duty, highly hand-friendly pro stapler that drives 1/4- to 1/2-inch T50 staples with remarkable ease.
A nice feature for retailers is that the tools and fastener boxes are color-matched so customers can grab the right product without too much thought. The T50X TacMate has a blue accent line on its body; the WireMate T25X (for low voltage wire up to 1/4-inch diameter) has brown. Clever.
Oops, let's not forget the Apex Tool Group. The home of the Lufkin and Crescent brands showed a crop of innovative products, including soldering irons, screwdrivers and wrenches all with LED lighting. Cordless drills all have lights, why not hand tools? Why not indeed.
Crescent's new Pivot Pro pliers feature a pivot point for extra leverage. Pivot Pro pliers deliver nearly twice the force of standard tools, so users can cut through heavy-gauge electrical wires and cables with 40 percent less force.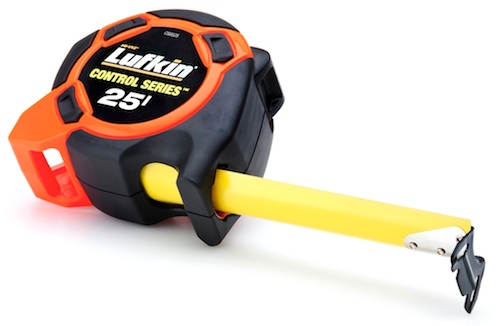 Introduced at last year's show, the Lufkin Control Series tape is now available. A unique opening in the bottom of the case allows users to regulate the feed and return of the tape with their finger for greater control. Works like a charm.

Better Bungees, smarter lights
Over at the Bihlerflex booth,which markets The Perfect Bungee and Just Ducky brand tie-down products, product manager Tom Bunge was showing the company's adjustable bungee cord. The product has been on the market since last year and is made in Phillipsburg, N.J.

"The 6-in-1 Adjust-a-Strap bungee is unique on the marketplace because it's the only adjustable, multi-color strap made of 100 percent polyurethane, which means that the product will never break, go brittle, snap or have any similar issues," Bunge said. "It is 36 inches long and has six openings that allow users to expand or contract the cord to fit the tie-down task at hand. Its molded nylon hooks won't scratch paint or mark your vehicle, either."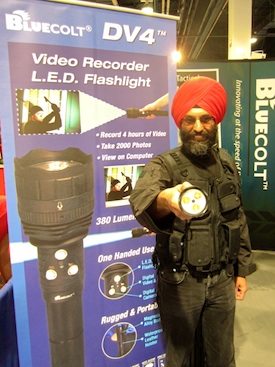 Another fascinating product that has been on the market for a while but which is now entering the construction industry is Falcon Innovations' Bluecolt DV4 Video Recording LED flashlight. This 200-percent-tactical grade LED magnesium alloy flashlight records video, still images and sound — and also throws 380 lumens of light.
Based in Ann Arbor, Mich., Bluecolt's president Jaspreet Singh Sawhney is now expanding the DV4 into new markets.
"We have been selling the DV4 primarily to police departments, fire marshals and the U.S. military, but now home inspectors, insurance adjusters, contractors and pest control professionals are using it now too," Sawhney said. "We are growing our distribution into the industrial and construction markets because there's a huge demand for a product like this."
Guns and power
And just when you thought there was nothing new in nailers, first-time exhibitor Powell Works of Cincinnati, Ohio debuted its DuRyte line of pneumatic contractor tools, including the model 103012A 21-degree framing nailer.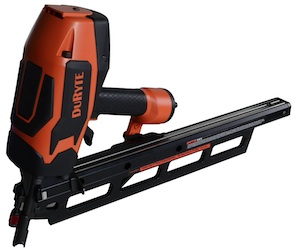 "This tool has an aluminum composite housing which helps it weigh just eight pounds," explained DuRyte national accounts manager Jimmy Moore. "Rubber grips and a rubber housing make it very comfortable for all-day use. The 103012A drives 2- to 3.5-inch ring shank nails and of course it also has adjustable depth of drive and a quick-clear jam release."
The 103012A is part of a complete range of professional tools from DuRyte, including framing strip and coil nailers, finish and trim nailers, pinners, impact wrenches, grinders, cut-off tools and spray painting guns.
"If it deals with air power, we're going to have it, from the tools to accessories, hoses and even compressors."
Standing By

Standby power is a growing wish list item both for new construction and remodel projects, especially given Mother Nature's erratic behavior of late. Updated for 2013, Generac's Guardian Series 20-kw home standby generators (models 006244-0 and 006250-0 ) now feature the Evolution controller, which offers advanced user interactivity and notification functions.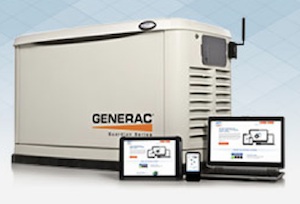 Mobile Link allows homeowners to check the status of their generator from anywhere with an Internet connection, even a smart phone. The generator itself can send e-mail or text messages to inform its owner of status change.
"The unit also has a USB port built in so that firmware can be upgraded without having to replace the entire controller," said Generac's Art Aiello. "It runs on natural gas or LP fuel. Another major benefit is that Generac's Guardian Series are the only generators on the market that are certified to run on 3.5 inches of water column to accommodate areas of the country with low gas pressure."
For distributors, the best news is that if you sell Generac job site generators, you can sell these too.
Vacuuming up market share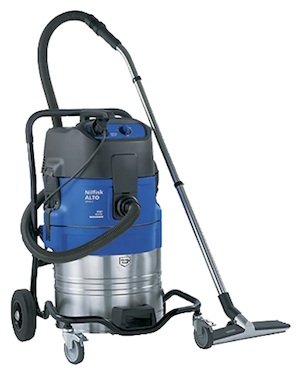 Thanks to growing regulation, consumer and contractor awareness, vacuum equipment continues to "clean up" in the market. At the Nilfisk ALTO booth, Rachel Brutosky, Maxine Chang and recently-hired product manager Dan Peterson were also first-time exhibitors here at NHS.
"We offer models a basic vacuum up to the Attix 19, which has a two-stage turbine design, XtremeClean automatic filter cleaning, a whisper quiet 57-db noise level, an optional HEPA filter and electric tool start for use with power tools," Brutosky said. "It delivers 105 inches of lift and produces 120 or 140 cfm of airflow depending on the model."
Brutosky is also seeing a trend among contractors to step up to more durable,
professional-grade equipment.
"The ALTO is definitely a higher quality vacuum," she observes. "We see contractors starting to spend a little more for machines that are going to last for years and years, as opposed to thinking of them as disposable products that need only last a few months."
For more on Nilfisk and how to sell vacuum systems, see their article beginning on page 54 of this issue.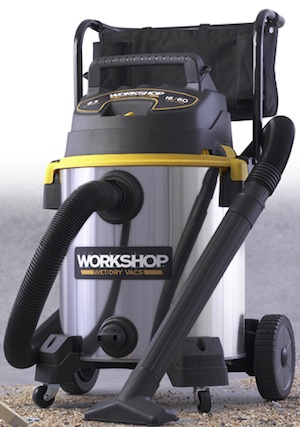 Across the aisle from Nilfisk, the Workshop brand of wet-dry job site vacuum systems was also a first-time exhibitor at the show. As opposed to Nilfisk's distinctly European influenced product design, Workshop brand units look more familiar to American contractors — for good reason.
"We have been manufacturing quality wet/dry vacs for over 45 years for different retailers, including RIDGID vacs for Home Depot and Craftsman for Sears," said Rob Godlewski, Workshop's director of marketing.
It all makes sense when you look at Rod's card and it says "Emerson."
"Now we are entering the independent supply channel with the Workshop brand. We have 14 skus ranging from a 2.5-gallon utility vac to a 16-gallon contractor stainless steel vacuum. One of our unique items is a 3-gallon vac with an integrated dust pan feature on the side — just sweep debris into the side of the vacuum and it sucks it in. Our Mobile Vac Station is another great tool: it has a flat work surface and built-in storage on top of an 11-gallon wet/dry vac. We are here lining up distributors, co-op opportunities and buying groups."
Light 'em up!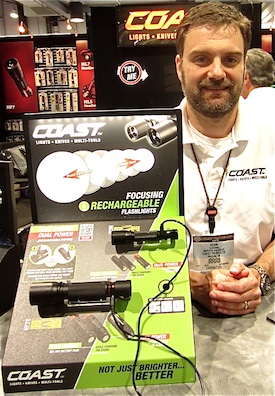 At the Coast Portland booth, Kevin Corcoran, Coast's marketing communications manager was introducing the soon-to-be-available A25R rechargeable flashlight.
"The A25R comes in either aluminum or stainless steel," Corcoran explained. The stainless steel version actually has slightly higher output, 466 lumens, compared to 460 in the aluminum version. The smaller A22R produces 241 lumens and has slightly different optics as well."
"The stainless steel A25R and the A22R feature COAST's patented Pure Beam Focusing System. These proprietary optics produce a pure, bright consistency across the entire beam; whether it is the Bulls-Eye Spot mode or Ultra View Flood Beam mode.
And for large construction projects, job site security and inspection jobs that require a beam with the longest possible distance, COAST offers the all-new Long Range Focusing Optic, which is built into the HP7R and the HP5R. With the new optics, these lights deliver a bright, intense X-Range Spot Beam at incredible distances, while still offering a consistent circle of light in the Broad View Flood Beam mode.
All four lights also have Fingertip Speed Focus Control, another first from COAST. Users can keep one hand free while focusing the flashlight with just a thumb or finger by sliding the front bezel forward or back. And the COAST-exclusive Cyclone Heat Sink System decreases heat buildup, facilitates maximum light output and increases LED lifespan.
Reeling it in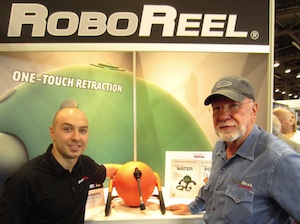 One of the busiest booths at the show belonged to RoboReel. Retailers and film crews swarmed the booth as John Tracey, director of business operations for Great Stuff, Inc., showed off the novel product. RoboReel was invented by John's father, Jim Tracey, who was also working the booth.
"We have three different types of RoboReels, for water hose, air hose and power cords," Tracey said. "The air hose reel is coming later this year. It will have the same features as our water and cord reels. You're going to have both an air tap on the back and an extension cord to power the motor. RoboReels are all motorized products and are micro processor controlled so there's none of the violent whipping action you can get with other cord reels. We're working out how many feet of hose each will have. With 1/4-inch hose we can fit 50 feet. With 3/8-inch hose we're thinking 35 feet, but that may change."
Knock-down in a can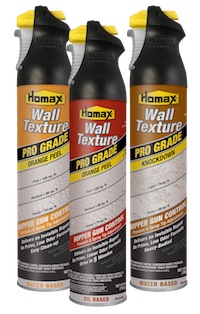 Homax Pro-Grade Wall Texture won a 2013 NHRA GOLD Packaging Award but that is just icing on the cake for the company whose 30minutes-and-done spray-on wall texture is already a huge hit with contractors. Scott Jackson, Senior Brand Manager for Homax was demonstrating the system on an endless roll of "drywall."
"We have three formulas — oil based, water based (both in orange peel) and a knock-down version for the pro," Jackson explained. "This is the first time we have had an aerosol that actually performs like a hopper gun where it has pressure and pattern control. You can get a much broader range of texture applications than what you could in the past."
"Just shake the can, spray it on and 30 minutes later you can paint and you're done. Pros really love this is because they can get in and out of the job within two hours. And there's no hopper gun or tools to clean up afterward."
Walking the Ryteline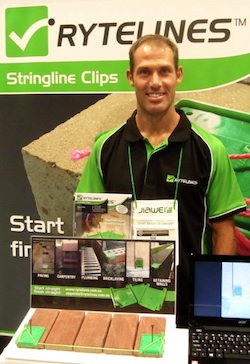 In the nifty accessories department, Australian landscaper Ryan Yates designed and perfected his RYTELINES Stringline Clip system over more than a decade's worth of jobs. This marks his company's first trip to the National hardware Show.
"I wanted to come up with a simpler way of utilizing a stringline for laying pavers, block work, bricks and timber," e said, "so instead of using old-fashioned stakes we came up with a product that's a simple set of three plastic clips which sit over the top and the corner of the product that you're actually laying. It gives you the vertical and horizontal points — a face and a height in one application."
"The set contains a left, a right and a corner. By using all three you can create a right angle for setting out your jobs. Or you just want a straight line over any distance you just use the clips marked left and right. The clips have three 3 holes in the top so you can tuck a nail or a screw on to secure them if you're working off the ground. That way you don't have to go up and down ladders to pick them up."
"We are just bringing it to the states now, looking for distributors."
A ladder for the TASC at hand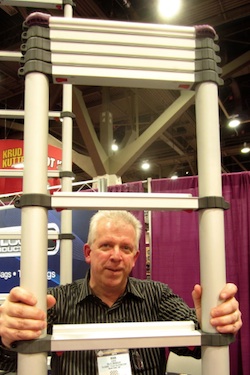 Telescopic Access Solutions Corporation (TASC) is the U.S. trading arm of Teletower Access Solutions Limited based in the UK. Mark Albers, sales manager for TASC, is based in Minnesota. His company has becoming to the Hardware Show for a number of years and never fails to show interesting products.
This year, Albers showed us the comapny's new TASC telescoping ladder, which now features an innovative "pinch-free" release mechanism.
"You extend the ladder in the traditional way, but instead of multiple pinch points because you have to break it at every rung, we now release the ladder once with two pins at the bottom and you and your own motion move the ladder closed," Albers explained. "We've eliminated all of those pinch points."
"Also, any unused rungs go at the top of the ladder so if you only need to use half of the ladder the unused rungs at the top guarantee that you have a consistent interval and a constant stepping distance when climbing, which makes the process a lot safer.
The TASC Ladder is available now.
Now listen up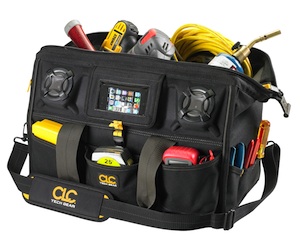 Custom Leather Craft's (CLC) Tech Gear Stereo Speaker Tool Bag includes an integrated stereo speaker system connects to your digital music player or Smartphone right to the bag. The 18-inch bag has room for all your hand tools, plus has built-in speakers.
Other models in the Tech gear line include the Tech Gear Bar Handle Light Open Top Tool Carrier, which features rotating 3-level LED lights and ergonomic handle that are designed to help you work in low light conditions or check inside your tool bag. It is available in 15- and 18-inch lengths.
The Tech Gear Closed Top Lighted Tool Bag also features 3-level directable LED lights. It comes in either 14- or 18-inch lengths.
Coming soon: NHS-Mexico
More news was made at the trade show about, um, trade shows. Reed Expositions announced it has acquired Latin America's largest hardware and electrical products trade show, Expo Nacional Ferretera, based in Guadalajara. The 2013 Expo Nacional Ferretera runs Thursday to Saturday, August 29-31, in the Expo Guadalajara, Guadalajara, Jalisco, Mexico (located roughly 200 miles east of Puerto Vallarta and some 340 miles west of Mexico City).
The Expo Nacional Ferretera is Reed's second southern acquisition; in 2011, Reed bought Expo Seguridad, Mexico's largest security and safety show.
Next year's U.S. National Hardware Show is set for May 6 to 8, 2014, again at the Las Vegas Convention Center. Follow show news at www.nationalhardwareshow.com. CS