Rick Lamb, 2013 STAFDA President
Rick Lamb becomes STAFDA President in Orlando.
---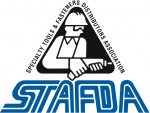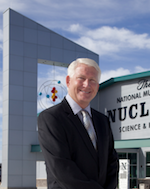 "There are a lot of opportunities out there for government contracts — don't
let concerns about
regulations scare you off."
— Rick Lamb, 2013 STAFDA President
At the 2012 STAFDA Convention in Orlando, Rick Lamb will be sworn in as 2013 STAFDA president. While honored to hold the position, he is also excited about the opportunity it gives him to share his experiences with other members.
"One of the main things I can bring to STAFDA is my experience with government contracts," Lamb says. "I hope to ease STAFDA members' concerns about their ability to go out and get government business. I want to tell them, there are a lot of opportunities out there for government contracts — don't let concerns about regulations scare you off. Sure, the regulations can be confusing at first, but a contracting officer will be assigned to your case and part of their job is to answer any questions you ask. They are not your enemy — they want you to get the contract."
Lamb says his second goal as STAFDA president will be to encourage STAFDA distributors to engage in quality programs, both to improve their businesses operational efficiencies and to open doors to higher-level business opportunities.
"At our most recent STAFDA board meeting we talked about the fact that our businesses are becoming more sophisticated," Lamb says. "This might not fit every STAFDA distributor member, but many of them could benefit a great deal from pursuing quality programs. Many contractors who work on major projects like power plants
are now requiring their suppliers to have QA programs in place. Presently this applies more to industrial distributors, but customers in the construction channel are beginning to require it too."
As sales, marketing and quality assurance manager for Frank's Supply, Lamb is well versed in quality programs. Frank's Supply is an NQA-1 (Nuclear Quality Assurance) program company.
"NQA-1 is similar to ISO 9000 and is approved by the nuclear industry," Lamb explains. "In order to be able to sell into nuclear facilities like Los Alamos National Laboratory and Sandia National Laboratories, you need to have a QNA-1 program in place. The uranium enrichment plant down near our Hobbs branch requires it as well."
In his coming year as STAFDA president, Lamb looks forward to helping STAFDA Distributor, Associate and Rep Members begin or continue their journeys toward new levels of operational excellence and profitability in 2013 — and in years to come.
"I want to encourage other STAFDA distributors to do what we did in 1996 — step out of the box and look for new opportunities and business processes such as government contracts and quality programs. That's my message for STAFDA." CS

For up-to-the-minute STAFDA Convention news and exhibitor listings, visit www.stafda.org.