Rolair Compressors
At Rolair, quality has been job one from day one.
---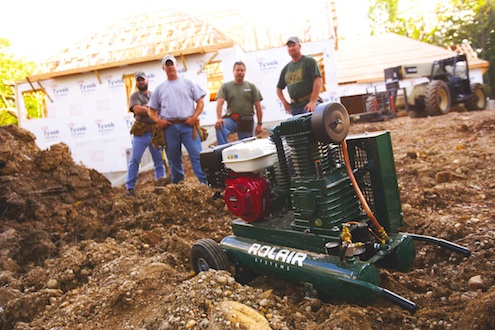 From its beginning in 1959, Rolair's purpose, business model and mission in life has been simple — to produce the finest professional grade air, no-holds-barred compressors known to mankind. Today, nearly 55 years later, that goal remains the same.
Now in its third generation of family operation, this southern Wisconsin manufacturer has built a global reputation for providing professional contractors with compressors of the utmost quality and craftsmanship. Contractors appreciate Rolair's attention to detail, rugged performance and wide variety of options. But above all, they appreciate that Rolair's sole focus is compressors — nothing else.
This focus leads Rolair to continually work to improve its designs to offer greater long-haul value and job site reliability for its customers and the distributors who sell its products.
"We are currently investing very heavily in Long-Life Compressor (LLC) initiatives, including finding ways to bring value to the consumer through increasing the length of time a compressor can be in service, as well as making the job of maintaining the compressor much simpler and easier for the operator," observes Mike Kelley, vice president of Rolair Compressors. "In addition to understanding basics like CFM, tank capacity and motor size, we find it equally as important for consumers and distributors to understand just how long their compressor should last, and what they can do it extend the life of each compressor."
Another Rolair initiative is education as a way to bridge the gap in explaining why, for example, some compressors will only last 100 hours and others will last 5,000 hours.
"For instance, all Rolair direct drive compressors are exclusively using induction motors (as opposed to cheaper 'universal' motors) with high-quality all-copper windings as a way of increasing life expectancy."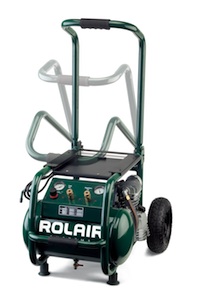 In addition, Rolair engineers are researching ways to increase cfm delivery without sacrificing life or increasing cost, noise or weight. A successful example of this synergy is the model VT25BIG which utilizes an induction motor with a high-cfm direct drive pump capable of delivering 6.5 cfm at 90 psi.
"Typically the only way to get close to that air delivery is through belt drive applications which are much bulkier and draw more amps than the VT25BIG's 15 amps," Kelley explains. "The extra-tall foldable handle, which is 45 percent taller than standard models, also makes for much easier maneuverability on the job site and helps contractors avoid pulling the compressor into their own heels as they pull it."
"Ultimately, we are committed to long-life compressor goals and standards, and the innovation that comes with it. Here at Rolair, that's all we do." CS
For more information on Rolair products, please visit the website at www.rolair.com.