STAFDA 2010 Session Preview: Tom Reilly on winning the price war
To win the price war, prepare for battle.
---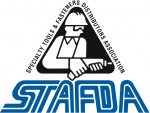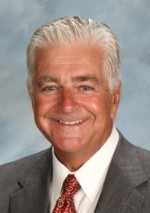 WHEN AND WHERE
Tom Reilly will present "Winning the Price Battle . . . One Profitable Sale at a Time," from 1:00 to 2:30 p.m. and again from 3:00 to 4:30 p.m. on Sunday, Nov. 7.
Today, STAFDA members are at war! This is no overstatement of a disturbing reality. It is a full-blown war over your prices and your right to operate as a for-profit corporation. The battle-field is in the customer's mind, but the customer is not the enemy; nor is the competition. The enemy is a short-term, tunnel-vision thought process that causes customers to make irrational and price-only buying decisions. I want to help you win this price war.
We live in a consumer's world where value is a euphemism for cheap. Advertisers tout "value pricing" which is code language for cheap prices. Big box superstores and online sellers brag about everyday low prices. Desperate restaurateurs offer two-for-one specials. Does that make you feel like you overpaid for your last meal there? Price-shopping consumers have value-stripped the airline industry to the point that air travel has become a commodity business. Do you ever wonder how much the person sitting next to you on the plane paid for his or her ticket? Are things better for STAFDA members? No.
Adam Smith wrote, "The purpose of a business is to make money …," and hopefully, a lot of it. I do not know any STAFDA member that is a non-profit organization; so, why sell like it? You can prevail in this war and operate as a for-profit organization, if you do a better job of handling price resistance. You can negotiate good deals for your company. You can win the war with this adversary.
Step One: Prepare and plan
There are many legitimate reasons to lose a piece of business: wrong product, product availability, delivery, or maybe your price is wrong. The one non-legitimate reason to lose a piece of business is that the customer out-prepared you for the price negotiation. If the buyer did a better job of preparing than you did, shame on you. If you reduce your price because the buyer out-negotiated you, you learned a valuable but painful lesson.
Study. Plan your negotiating strategy. Research the buyer's needs and pressure points (those conditions that deflect price). How will you take early, positive control of the conversation and guide it down a path of value, not price? What is unique about your products and your company that explains the difference in prices between you and Brand X? What will you do if price becomes an issue?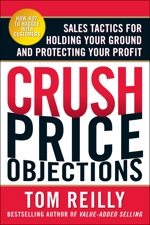 In his new book, Crush Price Objections, Sales Tactics for Holding Your Ground and Protecting Your Profit, Tom Reilly, bestselling author of Value-Added Selling and STAFDA's Sales Pro guide, offers field-tested tactics for engaging price shoppers and holding the line on profits. It provides tips and tactics for:
• Developing price-
objection counters before you meet with buyers
• Using questions and compelling presentations to move the conversation away from the subject of price
• Destroying price objections if they surface
• Understanding why and when to raise your prices
• Creating winning bids—on paper and online

Crush Price Objections is available in bookstores nationwide, on Amazon.com and even for the Kindle.

Step Two: Help the buyer see things differently
Price-thinking buyers need to be educated. They must learn the downside of making short-term business decisions. What are the consequences of going "cheap" on a project? Ask questions like, "If you were to review this decision a year from now, on what criteria would you judge the effectiveness of a solution?" Price is rarely the issue. "What does a successful outcome look like to you?" Shift the focus to the outcome of the decision, not the buying process. "What do you want to remember most about this decision and the solution you choose?" Everyone wants smooth transitions to a new solution.
Step Three: Change the conversation
Why should price dominate the conversation? Is price the only thing that the buyer cares about? Does the buyer want a short-term fix or long-term solution? This is where your preparation comes into play. You want to direct the buyer down the path of value, not price. Price shoppers value-strip products and attempt to reduce them to their core-commodity status. Once exposed, the naked product is tough to defend. You sell more than a naked, core-commodity product. Our STAFDA Sales PRO research found that 25 percent of the reason buyers purchase something is because of the salesperson from whom they buy.
Step Four: Develop a discount discipline
Be stingy with your discounts. Are you working as hard to hold the line on your prices as the buyer is to whittle your margins? Under what conditions will you change your price? For every bottom-line dollar you retain through more prudent discounting, it is like adding sixteen dollars to your top line. So, if you retain an additional $10,000 bottom-line dollars because of your discount discipline, it is like adding $160,000 to your top line. That is significant!
Just because the buyer raises a price objection does not mean you must lower your price. That is only one way to respond to price objections. Just because a buyer does not have the budget, that does not mean your price is too high; their budget is too low. And when a desperate competitor offers fire-sale prices, why would you copy their strategy? You cannot be an industry leader when you are a price follower. CS
Tom Reilly is president of Tom Reilly Training and STAFDA's sales consultant. He is the author of STAFDA's Sales Pro, as well as the bestsellers Value-Added Selling and the new Crush Price Objections. Tom can be reached at 636-537-3360; e-mail: Tom@TomReillyTraining.com; Web site: www.TomReillyTraining.com.