STAFDA 2011 Convention Makes a Strong Showing
35th annual convention draws 4,200 to San Antonio.
---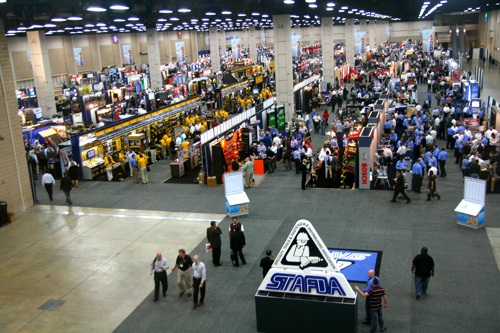 Proving that education, networking, new products and face-to-face interaction remain vital to the industry, more than 4,200 distributors, manufacturers and reps convened in San Antonio Nov. 13-15 for STAFDA's 35th Annual Convention & Trade Show.
The final attendance tally of 4,240 professionals for the 2011 convention roughly equalled the 2010 convention. This year's Trade Show, with 796 exhibiting companies, exceeded last year's total by four percent.
Sunday's educational sessions and seminars were heavily attended, particularly economist Alan Beaulieu's highly anticipated economic update.
Monday's general session featured 2011 STAFDA president Mike Kangas of Alaska Industrial Hardware, and Terry Taylor of Wright Tool who warmed up the audience for a keynote speech by Captain Chesley "Sully" Sullenberger, "The Hero of the Hudson." Attendees filled the hall to overflowing and rewarded Sullenberger with a standing ovation at the conclusion of his talk.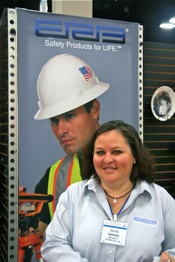 The barometer of any convention, the Trade Show buzzed with tool demonstrations, meetings and networking activity, particularly on Monday. On Tuesday, we polled several exhibitors and attendees for their own gauges of the show. Jackie Barker, ERB's vice president of sales gave the show a solid thumbs-up.
"ERB Safety had a very busy day yesterday," Barker said. "We had a lot of visitors, a lot of good distributors, several long meetings with great potential. As a long-term partner with STAFDA, we'll have some good returns from the show. We're known for our hard hats because they're USA-made, but our high-visibility apparel continues to grow in sales with distributors, too.
Barker concurred with most attendees on the economy.
"Hopefully we'll continue to do the slow climb up and things will be better for everybody," she said.
More evidence of safety's strength in the market was on hand at the Werner Ladder booths, where ladders were joined by a complete new line of fall protection products.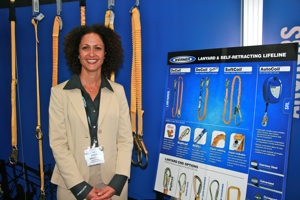 "This show has been fantastic, especially with the launch of so many new products," said Stacy Gardella, channel marketing manager for Werner. "This is a great opportunity and a great forum to interact with our distributors, and the reception for our fall protection line has been phenomenal. This is an incredibly comprehensive all-new line for Werner. It's been a work-in-progress for several years now and it's really neat to have kind of a coming out party here at STAFDA."
"We've got approximately 370 products that will be coming to market next year," she added. "The fall protection line launches in Q1, so yes, 2012 is going to be a great year."
We also caught up with a distributor friend in the aisles, Kevin Kiker, president of Western Tool Supply.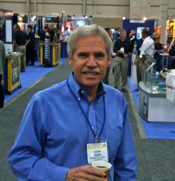 "If my perception is accurate, there seems to be a slightly upbeat attitude at this show, more positive expectations than in the past. People are feeling like there are good things happening and more are coming down the road, like 'We've been through the worst of it now, we're starting to stabilize, we've got a foundation that we can grow from.' Either that or maybe we're just getting used to it," he said and laughed.
"But there does seem to be a more realistic approach, that whatever happened in the past is gone, this is what it is now, this is the new normal, so let's make it work."
Kiker shares that optimism, with modest expectations.
"I don't think anybody's going to see this thing skyrocket, nobody expects that," he said. "But a four or five percent increase, if it was solid and sustainable, for most people that would really be a good thing."
But even in a tight economy, the STAFDA show is a must-go event.
"We're short-handed at home, but you've got to see the new stuff, you've got to talk to people here and they want to see us here. It's the one chance you get to see a lot of people in one place with a lot of products. You can spend time with key people. And there is a lot of networking going on this year, too, which either means that people are desperate to find stuff or they're thinking, 'Hey, now's a good time to position myself for the future.' I think we are kind of resetting the whole industry here; now's a good time for some opportunity."
Next Up: Orlando!
STAFDA's 36th Annual Convention & Trade Show will be November 4-6, 2012, at Orlando's Orange County Convention Center. You must be a STAFDA member to attend. For more information, contact Catherine Usher, STAFDA member services director at 262/784-4774 or 800/352-2981, or by e-mail at cusher@stafda.org. Please also visit STAFDA at www.STAFDA.org.