STAFDA 2012 Economic Update
Alan Beaulieu, President, Institute for Trend Research
---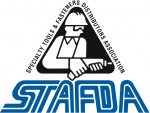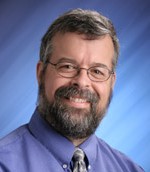 Alan Beaulieu, President of the Institute for Trend Research will present his Economic Update from 9:00 to noon, Sunday, Nov. 4 in the West Building of the Orange County Convention Center. A continental breakfast from 8:30-9:00 a.m. will precede this session.
Leading Indicators Show Ongoing Improvement Well Into 2013
STAFDA members should be optimistic because of the expanding U.S. economy and improvements in the construction industry. The good news will last through 2012 and well into 2013. Stay optimistic and focus on leading indicators of future economic activity such as the ITR (Institute for Trend Research) Leading Indicator.
The ITR Leading Indicator will typically lead the U.S. economy through highs and lows by 11 months. Our leading indicator is unambiguous in its projection of more expansion in the U.S. economy into at least the second quarter of 2013.
The U.S. Leading Indicator is also positive and indicative of more gains in the economy at large.
Another great leading indicator for the economy and for STAFDA members is the year-over-year gains evident in the Housing Starts annual data. The U.S. Industrial Production monthly data trend has not entered a significant declining trend when the Housing Starts annual year-over-year trend is rising. The analysis goes back to 1959. Use this important indicator as a reason to remain aggressive and get every ounce of opportunity out of the current economic expansion.
Housing stages a comeback
The recovery in housing starts is impressive. The annual moving total has risen 24 percent off the May 2011 secondary low, making this the steepest recovery since the early 1980s. We are a long way from the pre-recession build rate, but the upside activity is impressive. We have upgraded our forecast accordingly. The annual growth rate today is 21.3 percent, the highest in about 28 years. We are calling for 2012 to end 22 percent ahead of 2011 with a build rate of 743,000 units. The rate of rise will slow dramatically in 2013 with a projected year-over-year increase of just 2.1 percent.
Homeowner Housing Vacancy Rates are also encouraging; 2.2 percent of homes in the U.S. are vacant, down from a fourth quarter 2008 high of 2.9 percent. The decline has been slow but thus far inexorable. The slow decline has been evident in all regions. Current vacancy rates by region are shown in the following chart.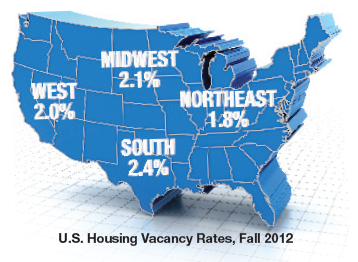 Commercial construction runs strong
Nonresidential Private New Construction is also doing well. Spending is tracking 13.5 percent above year-ago levels on an annual basis, making this the best year-over-year comparison in three-and-a-half years. Spending has reached $284.9 billion, up a steep 13.5 percent off the tentative May 2011 low. We are projecting that more money will be spent on nonresidential new construction from now through 2013, but we expect the rate of rise slow in 2013.
Office Buildings Construction is growing at an accelerating rate, and we anticipate the good news to last through 2013. Expect a slower rate of rise in 2013 in comparison to today's robust year-over-year activity. Macroeconomic uncertainties, such as changes to U.S. tax policies, the U.S. debt, and Europe's economic instability, combined with high unemployment are tempering the demand for new office space. These constraints
are weighing on the industry but not enough to stop the recovery from taking place.
Spending is well below the pre-recession peak and will remain that way for years to come. However, annual spending has risen 4.8 percent since the December 2011 low and in spite of the macroeconomic uncertainties, is giving us the strongest onset of recovery since 1983.
Industrial construction to continue
Annual Industrial Construction Spending is up 18.6 percent from one year ago. The recovery in the U.S. manufacturing sector has fueled the Industrial Construction recovery. However, our analysis suggests that the rate of rise in Industrial Construction Spending will be slowing in 2013.
Public Educational Buildings Construction Spending has not been able to establish a sustained rising trend. Recession is instead resuming. Tight budgets combined with a weakening economy will keep this market quiet through 2013.
The shadow of a drought
There are storm clouds beginning to form. The moderate to severe drought that is encompassing 55 percent of America is a prime example. The rapid rise in corn prices will prove inflationary across a host of industries, not the least of which is food. Food prices are up 2.3 percent year-over-year while disposable personal income (after-tax income) is up 1.7 percent.
The cost of food is going to continue to outpace any increase in income, and this means a pinch on consumer spending. The problem is not expected to get critical at the consumer level, but given that we spend 6.8 percent of our disposable income on food (11.4 percent if you include spending at restaurants), there will be some cutbacks in spending in other areas of household expenditures.
Wholesaler-distributors that are closely tied to consumer spending are likely to feel the problem first. We are not looking at a spending cliff, but rather a slow tightening of the spending spigot later this year and into 2013. CS

For up-to-the-minute STAFDA Convention news and exhibitor listings, visit www.stafda.org.

STAFDA's economic guru, Alan Beaulieu, president of the Institute for Trend Research, will look at recent economic trends and use his knowledge of historic patterns, the construction and industrial markets and financial indicators to provide a three-hour update on the economy, as well as predicting where it will head. His program has become a must-attend Convention event.

MORE INFO: www.ecotrends.org