Destination Atlanta: The STAFDA 33rd Annual Convention & Trade Show Wants You!
Come to Atlanta Nov. 8-10 for the most important event this year.
---


By Georgia Foley
Here's the bad news: the economy. We've all been living the bad news the past 18+ months so there's no reason to rehash what we already know. If you talk to most STAFDA members, they'll tell you the bottom dropped out in the fourth quarter of '08, right after our November 9-11 Denver Convention.
So what's the good news? The economy. Huh? Economists are now pointing to a slight uptick. The National Association of Manufacturers (NAM) stated the decline in manufacturing has moderated the past few months and the National Association of Home Builders (NAHB) reported increased residential construction in June with more expected in the third quarter. Higher stock prices and fewer people filing first-time jobless claims have sent the private sector into higher activity.
But make no mistake – it's still a tough market. At STAFDA's Summer Board of Directors meeting, the group discussed the economic impact. No one produced a crystal ball – but none felt a "hunker down" mentality was an
option. One way to avoid that is to meet with like-minded colleagues to discuss common business challenges and explore new opportunities. The perfect forum is STAFDA's November 8-10 Atlanta Convention & Trade Show.
Those who have been to a STAFDA Convention know it's three days of education and business. We keep the group "together" two of the three evenings for additional networking at enjoyable social functions. This year will be no exception. However, Sunday morning's Tech & Consultant's Fair has been incorporated into the Trade Show. The Tech Fair will be held in a designated section of the exhibit hall on Monday, November 9 from Noon to 6 p.m.

On Sunday morning, noted economist Alan Beaulieu, Institute of Trend Research, will give a briefing on today's economy and what lies ahead.
For those not attending Alan's program, we're encouraging manufacturers to
complete their distributor or rep meetings so there is no disruption on the show floor. This additional time should eliminate any distributor or rep from leaving the exhibit hall for a private meeting in a hotel suite or meeting room.

Sunday afternoon features four workshops on relevant business subjects. Visual merchandising/showroom design expert Greg Gorman will lead a program on "Maximizing the Most from your Showroom." STAFDA hired Gorman this year to write a manual on visual merchandising and part of his research involved visiting STAFDA members. Gorman's workshop will expand on his new STAFDA training manual.

Dan McQuiston, a marketing professor at Butler University and faculty member of the University of Industrial Distribution, will lead a three-hour session on "Creating a Winning Marketing Plan." He'll offer a 10-step plan which all firms, large or small, can implement to further increase their business success.

"How to Soar like an Eagle in a World Full of Turkeys" is a semi-humorous take on dealing with arrogant, over-bearing and demanding customers, bosses and associates. Robert Stevenson will cover how to handle stress, accept change, appreciate criticism, and principles for a well-balanced life.

Steve Strauss' program on "Small to Big" will discuss how to grow a business under any economic circumstance. A featured writer for USA Today, he'll cover goal setting and achievement, how to create a great business team, and growth strategies that work.
Spouses/companions will have their own program with celebrity Atlanta restauranteur Kevin Rathbun, who will share his favorite hors d'oeuvres for holiday entertaining. Noted floral designer, Darryl Wiseman, will then show how to create beautiful floral arrangements on a whim.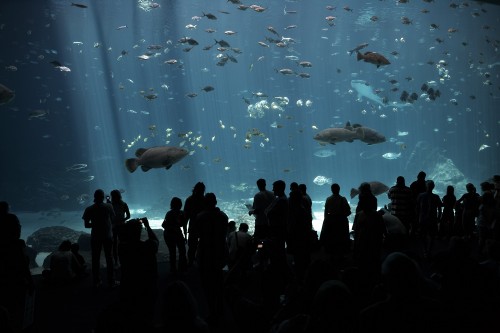 Onward to Sunday night! STAFDA has rented the Georgia Aquarium for a three-hour spectacular! A Jimmy Buffett-themed band will greet attendees at the door before they have a chance to wander through the five galleries: Georgia Explorer, River Scout, Cold Water Quest, Tropical Diver, and Ocean Voyager. There will be a buffet dinner and beverage stations throughout the Aquarium.

Monday morning's General Session will feature two State of the Industry talks: one from STAFDA President, Hal Look, with a distributor's perspective, and Les Ireland, vice president, Black & Decker, with a manufacturers' point of view. Keynote speaker, Herman Cain, is back for an encore presentation from his '97 STAFDA keynote. "Leadership is Common Sense" is the theme of Cain's talk.

STAFDA's Trade Show opens that afternoon. For six hours Monday and another six Tuesday, distributors have 12 hours to see and demo the latest construction-related products. Many exhibitors offer show-only specials, terms, or discounts so distributors come prepared to buy. Reps have a chance to meet with their principals and source new lines.
While the Trade Show continues Tuesday, spouses/companions have the option of two Atlanta area tours before everyone reconvenes for the Closing Party Tuesday night. It's a final chance to wrap-up business away from the show floor and relax with industry friends and colleagues.
STAFDA Convention information was mailed to members in late June and is also available online under the members-only section of STAFDA's website, www.stafda.org. For further details, call 800-352-2981 or email info@stafda.org.
COMMENTS: 0
---