STAFDA News, June/July 2014
---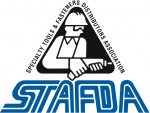 Convention Speakers Announced
Seven exceptional speakers will be featured at the STAFDA (Specialty Tools & Fasteners Distributors Association) Charlotte Convention & Trade Show, November 9-11, 2014. Six educational workshops are set for Sunday, November 9, with the popular Economic program by Alan Beaulieu on Tuesday, November 11.
Sunday, November 9
9:00 – 11:00 a.m.: Jeff Gusdorf, BSW Consulting Group, on "Cloud & Mobile Computing — Two Trends You Can't Ignore." Cloud not only offers the possibility of freeing a firm from the costs of buying, building and maintaining IT infrastructure, but the computing-on-demand model makes it easier to add capabilities and only pay for what you're using. E-mail and Cloud-based social networks, navigation and other services have skyrocketed.
9:00 – 11:00 a.m.: Abe WalkingBear Sanchez, A/R Management Group, with "End the Dr. Jekyll & Mr. Hyde Approach to Customers." Dr. Jekyll in sales works hard to determine the needs or desires of potential customers and how his company can meet or exceed them. Then Mr. Hyde in credit and A/R takes over . . . Sanchez establishes a new profit understanding and direction for A/R management leading to more and larger new credit sales, repeat credit sales, improved cash flow, controlled losses and more.
Afternoon Sessions: 1:00 – 4:30 p.m. (These 90-minute workshops repeat after a 30-minute break.)
Mergers & Acquisitions: How They Affect the Competitive Landscape (Michael Marks, Indian River Consulting Group, and Jim Miller, Supply Chain Equity Partners) M & As change the competitive landscape. Bigger is often not better, but it is always different. Marks and Miller will delve into changes driven by M & A activity. How do you compete in your market when one of your major competitors is acquired? What are the best practices for individual managers when your firm is acquired? Their program will offer a broad perspective on economics and how they change in a market as a result of M & A activity.
Pricing Strategies (Steve Deist, Indian River Consulting Group) Improved pricing practices can increase bottom line results quickly, but pricing changes are often complex and risky. Deist will outline the steps required to implement a world-class pricing program to grow margins while managing short- and long-term risk. He will focus on analytics, strategies and tactics and implementation best practices.
Preparing for 2020: The Manager's Guide to Dealing with the New Workplace (Dr. Kathryne Newton, Purdue University) Managing good talent is never easy, but the rapid pace of change is making it even more challenging. Is your organization ready? Employers of the future will face: 1) Five highly diverse generations working side-by-side with vastly different values, beliefs and skill sets; 2) Growing international business with needs for cross-cultural communication and etiquette; 3) A new e-economy with a vastly different way of doing business; 4) Integrating innovation into the culture to develop competitive advantage; and 5) Building a sustainable and green workplace to attract the future workforce.
Effective Goal Setting (Tom Reilly, Tom Reilly Training) Imagine if 4 out of 10 commercial flights took off without a flight plan. Absurd! Yet, 39 percent of salespeople have no written sales objectives —they are flying blind. On the other hand, 87 percent of STAFDA sales pros have written sales objectives. In this workshop, Reilly will discuss how to maximize sales efforts by setting smarter goals.
Tuesday, November 11, 8:00 – 10:00 a.m.

Economic Forecast: In his information-packed session, STAFDA Economic Consultant, Alan Beaulieu, president, Institute for Trend Research, will review the past year's economic trends combined with his knowledge of the construction and industrial markets, patterns and other financial indicators to provide insight on what to expect for the coming years. Major and less obvious economic factors can have a tremendous impact on the U.S. and world economies.
Registration materials for STAFDA's Charlotte Convention & Trade Show will be mailed on June 27 to all members. Online registration begins in the members-only section of www.stafda.org at 8:00 a.m. (Central) on June 30.
The workshops are included in the Convention registration fee, and only STAFDA members may attend. For more information, contact Catherine Usher, member services director, at (800) 352-2981; e-mail cusher@stafda.org or visit www.stafda.org.