Show Report: STAFDA 2010
STAFDA show signals an industry reawakening underway.
---
By Tom Hammel
As if from a long, troubled hibernation, the construction industry appears to be awakening at last, looking around and beginning to clear the cobwebs from its head. It would be nice to wake up and realize the turmoil and tragedy of the last two years were just a bad dream, but we are in fact "awakening" to a new reality, one of slow, difficult recovery ahead. Is the economy finally beginning to improve? The encouraging answer is that we, as did the clear majority of attendees at the 34th STAFDA Convention and Trade Show Nov. 7-9 in Phoenix, think it is at long last.
Better numbers — we'll take them
In her opening remarks at Monday's General Session, STAFDA executive director Georgia Foley reported improved numbers for this year's event. Pre-registrations for Phoenix hit 3,960 — 11 percent over 2009 show's final attendance figures. Adding in the expected 200-plus on-site registrations, the final tally would be in excess of 4,200 attendees. Breaking out these figures, Foley reported that distributor company registrations were up 17 percent over 2009, reps were up 10 percent and manufacturers were more than 9 percent ahead of 2009.
Although the appeal of Phoenix and gradually improving market conditions accounted for some of these numbers, this year's keynote speaker, former Alaska Governor, Sarah Palin, was an undisputed draw. Her 50-minute presentation challenged and galvanized the packed hall and proved she is honing her message for a possible presidential run in 2012. She praised STAFDA members as "unpretentious, hardworking job creators. You are the explorers of the modern era — you are men and women with vision and the courage to take risks."
The educational sessions were well attended. Economist Alan Beaulieu's annual economic update offered a sobering message to the industry; a recovery is coming, but the industry is in for a long, difficult scramble back. But at least we are beginning to climb, and some pocket markets are climbing a bit faster than others.
Products: new friends, old friends
Although there were more distributors at this year's trade show, more than one remarked at the relative paucity of new product offerings; a casualty of the recession as manufacturers have cut R&D budgets over the last two years. Most companies did have something new to show, but not as much as they would have had the recession not been so severe.
One strategy many distributors have embraced to cope with the recession has been to prospect for new niches in their markets. This works both ways. Companies that have bypassed the STAFDA channel before are now dipping their toes into the water. Sears Craftsman now has dedicated employees serving the STAFDA market. Duracell was also there promoting its products.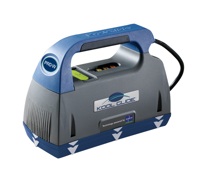 Another newcomer to STAFDA this year is well known in the carpet installation market; Kool Glide/Impax. Robert Rothfuss, president and CEO of Kool Glide, demonstrated the advantages of the Kool Glide Pro-W "induction" adhesive tape seaming tool. The tool has three settings for use over wood, concrete or other hard surfaces.
Other companies are new to the STAFDA market, literally. One such standout first-time exhibitor this year was Woodman Tools. Its SkatePlate, which basically gives circular saws a set of rollerblades on which to glide over cutting surfaces, stopped people in their tracks. Almost every attendee who passed by the booth wanted one.
"This was our first STAFDA show and it went very well for us," said Brad Samples, director of sales and marketing for Woodman Tools. "Everyone who uses or sells our type of saw or like merchandise really loved the product and so did all the sales reps we came across. The initial feedback we have been getting has fortunately always been positive. Everyone thinks the SkatePlate is a good idea and the feedback from those that actually use it is even better."
Samples also noted that major manufacturers have shown interest in licensing the design as well.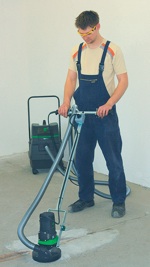 In the "Old Friends" department, Tom Carroll and his crew at CS Unitec keep bringing in cool new tools like Eibenstock EBS 180 7-inch walk-behind grinder. Essentially a high-end handheld grinder with a walk-behind handle attached, the unit can be used to remove epoxy, glue, paint and other hard coatings, and weighs a mere 21 pounds.
Paired with CS Unitec's model 1225 H wet/dry HEPA vacuum, which efficiently captures 99.999% (!) of particles up to 0.1 microns, you have a concrete grinding and HEPA air filtration system for the most air-quality sensitive, light-duty grinding jobs. And who doesn't want one of those? Hey, I'd like one just for my garage floor.
Makita takes the STAFDA market very seriously. Not only does their hospitality suite shrimp always seem extra tasty, but they have been working to kick out cool new tools, recession or no. Makita's new 12V max Lithium-ion cordless two-piece combo kit, which bowed at the show, is a neat little "case" in point.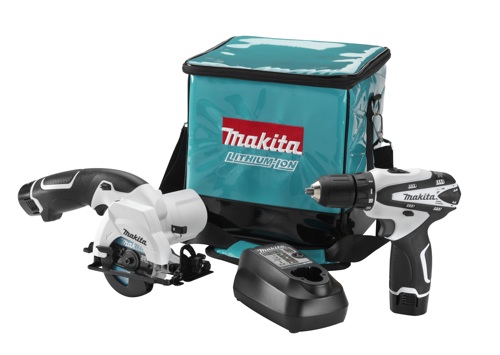 Launched in 2005, Makita's 18V Compact line also saw another introduction at STAFDA. The LXFD01CW Driver-Drill has almost seven percent more maximum torque (480 inch-pounds vs. 450 in the BDF452HW) and has new, more compact planetary gears which make the tool over one-half inch shorter than the BDF452HW, too.
Rocky Stroud, with National Nail Corp, Wyoming, MI was back again this year showing the company's Stinger and ProFit lines.
"We have been displaying here at STAFDA for 8 or 10 years now and we have definitely seen more activity this year," he said. "Our Stinger cap hammers and cap
staplers are primarily used for putting down roofing underlayments and Tyvek-type housewrap products for new home construction and reroof work. That new home market is still soft but the roofing side of the business is still pretty good. We are looking forward to 2011. Everybody is. It's nice to see the business coming back, but it is very gradual."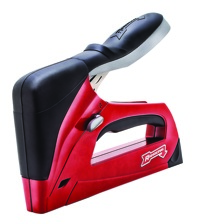 Arrow Fastening's booth was busy with customers looking over the new R.E.D. (Reliable. Ergonomic. Durable.) line of stapling tools, including the updated T50 heavy-duty staple gun.
The all-new R.E.D. line also includes the ET50 electric staple gun, the HT50i hammer tacker and the EBN320 electric brad nail gun.
The T50 R.E.D. manual stapler boasts up to 40 percent more power than competitive tools on the market and is 50 percent easier to fire than the current T50.
Nice stuff!
Surprises at every turn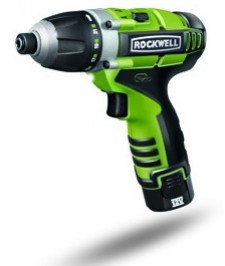 Rockwell, a newer player with an old name in power tools, also had a sizeable booth.
Rockwell is making a major push into the construction channel with a broad variety of tools and systems aimed at providing maximum bang-for-the-buck, something all contractors welcome these days.
From cordless drills to contractor table saws, Rockwell offers some interesting twists on power tool feature sets at highly competitive prices.
Empire Level meanwhile was showcasing its e2992 High Visibility Rafter Square and its recently acquired American Level premium mahogany levels. Both lines are pretty enough to hang on your wall. The big rafter square's metallic blue is easier to read than traditional silver squares; its graduations are highly visible and deep-stamped to last for years; and it is constructed of anodized aluminum so it won't rust or corrode.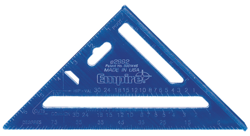 Over at the Triumph Twist Drill booth, Brent White, national sales manager, echoed the impressions of other exhibitors.
"I would rank this show an 8 out of 10 for activity and participation. The participation by distributors has been strong from all over the country and we are seeing benefits. Phoenix has been a very good destination and the turnout looks strong," he said. "I think the guest speaker, Sarah Palin, was a draw as well. She may have influenced a few folks to make their way to Phoenix this year."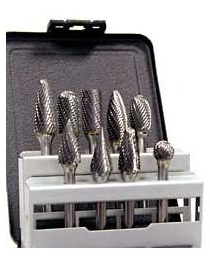 White also mentioned the resurgent interest in American-made products as a reason for the increased interest in Triumph Twist Drill products. " 'Made in America' is a refreshing idea for our market. There has been a lot of upheaval in our channel over the last two years and 'Made in the USA' still carries some weight."
It was gratifying and encouraging to see so many booths attracting healthy traffic, so much so that high-end lighting vendor ProBuilt Lighting could have used a larger space. Dana Ashouri and Stephanie Gallaher were busy demonstrating ProBuilt's Wobblelight, Defender and Hang-A-Light product lines.
"This year's STAFDA show is definitely better than last year's; we've had a lot more foot traffic and distributors are positive this year," Gallaher said."We are focusing on energy efficiency, partly to help with LEED certifications in the building process and we are seeing a lot of interest in those products. We produce higher-end lighting and we work to make sure they are the highest quality, most energy efficient products on the market."

Gallaher ably summed up the feelings of most attendees: "We weren't sure coming in this year how the market was going to react, but overall it has been very positive. I feel more optimistic about 2011—I think we all do."
Things to do, people to see
As always, the STAFDA trade show offers you more than you can see in the few hours available, even in a "down-year" for new tool introductions.
To all those exhibitors we missed seeing this year, we apologize and invite you to send your press releases to thammel@directbusinessmedia.com. We'll be happy to get them online for you.
Next year's 35th STAFDA Convention and Trade Show is set for Nov. 13-15 in beautiful San Antonio, TX.
For information, contact STAFDA at www.stafda.org or call them at 800-352-2981.