Show Report: World of Concrete 2010
1,300 companies, 55,000 attendees make the 2010 World of Concrete a solid show.
---
The 2010 World of Concrete show, Feb. 2-5 in Las Vegas, had a lot riding on its numbers. After a modest turnout (a claimed 55,000 attendees) at the International Builders Show, industry eyes were on World of Concrete to see if the weeks between the shows would show clearer or cloudier economic skies. As the showed opened on Groundhog Day, there were signs of a springtime for contractors at the show.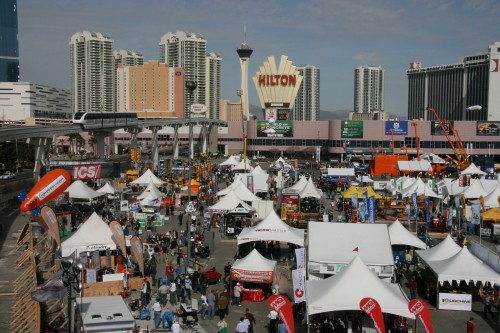 It rained, for one thing — a rare event in Las Vegas. For another, people came. Although crowds were patchy at the outside booths the first day, traffic in the exhibit halls, after a slow start, picked up nicely. People came alright, not many of them to buy on the spot, but they were looking hard. Fortunately, exhibitors came with lots of innovations to show them.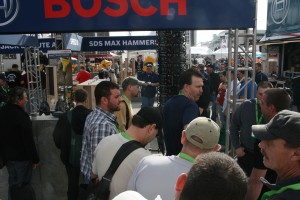 Bosch brings it on
Bosch's exhibit hummed with activity as contractors looked over new tools like the models HD19 and HD21 hammer drills, which feature lower gear tooth counts for fewer beats per minute and lower rpms, that they claim results in a hammer drill that drills faster than the competition. Another nicety is the optional dust collection unit with micro filter system for the HD19, which works wonders to reduce the aggravation of falling dust when drilling overhead.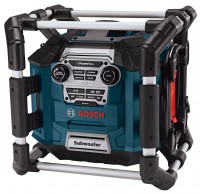 The newly upgraded five-speaker Bosch Powerbox now has an integrated subwoofer – a first among job site radios – to project high-quality, rich sound in all directions. It also has a protected iPod dock, or if your iPod is too precious for the job site, there are SD card and USB ports for playing card-loaded tunes. Oh, and it plays loud!
Capital Safety wraps it up
Just across the way from Bosch, Capital Safety's outdoor booth had a lot of contractors ogling the top of the line ExoFit NEX full-body harness system.
"ExoFit NEX has been a huge success since we introduced it at the National Safety Counsel Show last October," says Jeff Halbach, marketing communications manager for North America, Capital Safety. "It has done very well and we've had a hard time just keeping parts on the shelf and keeping things moving, which in this economy is a very good thing."
He points out some of the system's popular enhancements, including Duo-Lok quick-connect buckles with a locking mechanism to eliminate slippage and constant readjustment. This means workers will no longer need to adjust their harnesses throughout the work day, he says.
Added features include "The Revolver," a ratcheting torso adjustor with a winding adjustment that spools the webbing as the user adjusts the harness for a proper fit. Aircraft grade aluminum D-rings and buckles provide increased security
and lighter weight.
Halbach is upbeat about the coming year.
"We're hopeful," he said. "The tail end of 2009 was steady and so far this year things have been picking up slightly, so we're hopeful for this next year."
Bartell Morrison burns clean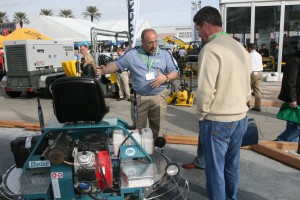 One of our oldest friends in the industry, Jeff Durgin was recently named president of Bartell Morrison USA. Jeff has been president of the new division since November 1, 2009 but the company has been around since the 1950s. Today, Durgin combines his diamond blade expertise with Bartell Morrison's concrete equipment lines.
"The beauty of Bartell Morrison is that we went from my old company, Independent Diamond, which was strictly a diamond tool company, to being part of a manufacturer of sawing equipment, trowels, screeds and everything related to concrete," Durgin explains. "You can find it all right here."
At the outdoor exhibit, Durgin demonstrates Bartell Morrison's proprietary muffler technology, which adapts any Honda engine, from 4.5- to 24-hp, to produce very low emissions.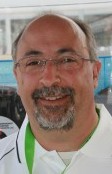 "It burns 92 percent clean, allowing you to operate machinery inside with very little ventilation without the risk of carbon monoxide poisoning," he explains. "You can also run equipment outside and produce a smaller carbon footprint, which is good for the environment, the economy and the contractor."
Coleman Cable lights it up
Inside the North Hall, Jim Smolley, customer service manager and inside sales for Coleman Cable, was showing customers Coleman's Luma-Site 500- or 1,000-watt halogen work lights. We asked his opinion of the show.
"It's actually been better than what I thought it was going to be," he said. "We heard that a lot of people were maybe not coming to the show, so this much traffic is better than we expected."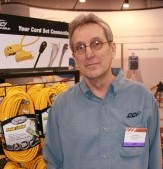 As for a spring "thaw" coming to the market, Smolley and Warren Schade, vice president of industrial distribution, were of the same mind.
"I think it's going to be a flat summer," Schade said. "I think we're going to start seeing an uptick, probably in the third quarter, for most markets."
Overall, official figures for this year's World of Concrete came in at 1,354 exhibiting companies and 55,108 registered attendees. After a year like 2009, we would call those numbers respectable.
The 2011 World of Concrete Show takes place January 17-21, 2011 at the Las Vegas Convention Center. For details, visit the Web site: www.worldofconcrete.com.