Show Report: World of Concrete 2014
A more relaxed show delivers a warm welcome to 2014.
---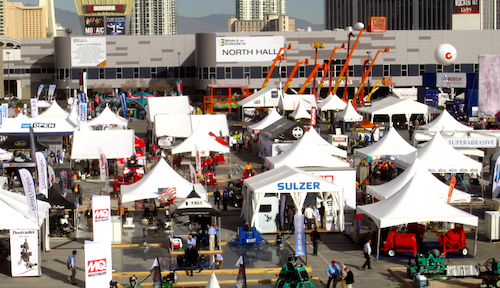 Trade shows aren't generally known to be soothing events, filled as they are (in good years, anyway) with jostling crowds, narrow aisles and miles of exhibitors vying for mind share.
But for this year's World of Concrete, thanks to the recovering economy (and in spite of the looming shadow of CONEXPO-CON/AGG coming in March), the net result was a slightly smaller field of exhibitors, a tad lighter public attendance and a decidedly more relaxed pace. All told, WOC pulled in 1,250 exhibitors and a claimed 48,000 attendees over the four-day show, which ran from January 21 to 24, 2014.
WOC promoters Hanley Wood said the 2014 show covered 575,000 square feet compared to 600,000 in 2013. They also claimed 1,254 exhibitors this year compared to 1,300 in 2013.
That said, the quality of WOC's offering was largely intact, and, if a few mega-companies were absent, smaller and first-time exhibitors didn't seem to mind at all. The people who matter most to construction tool and supply distributors — the concrete saw, rotary hammer, anchor, accessory and bagged goods manufacturers — were all here.
Some exhibitors took advantage of the "off-year" nature of the 2014 show to buy more floor space, which was put to good use in the outdoor equipment demonstration areas. While we can't back up this impression with figures, it certainly seemed as if Bosch, Makita and DeWalt all had more elbow room this year, which was welcome.
Besides, who comes to a trade show is often less important than what they bring, and this year's WOC had plenty of both — new products to buy and customers with money to spend. Here are a few of the newest things that caught our eye.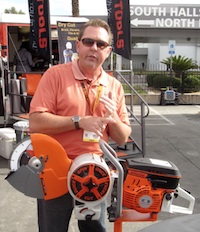 Paul Guth, co-owner of IQ Tools, explains the company's new IQ PC 912 power cutter, which features an integrated dust collection system.
Concrete saws, blades and doodads
Over the last 10 years, IQ Tools has made a name for itself with block and tile saws to write home about. This year they were launching a handheld complement to their stationary cutters, the innovative new PC 912 cut-off saw.
"The IQ PC 912 is a 12-inch power cutter with a fully integrated vacuum dust collection system," explained Paul Guth, co-owner and VP of product development. "It is a dry cutter with an attached dust collection that is powered by the saw itself. It collects 95 percent or more of the dust generated by cutting."
"After about 25 or 30 cuts, you dump out the dust and it's ready to go again. The whole dust collection system adds less than five pounds to the saw."
Maybe it takes a certain kind of person to call a core rig gorgeous, but the polished billet aluminum rigs at Diamond Tech fit the bill-et perfectly. Owner Sean Ward beamed as he talked about them.
"Our new DR 404 is a four-speed core drill with 6 hp — 4,100 watts at 220 volts," Ward said. "We also have new core drill stands, roller carriage stands, angle base and vacuum base accessories, all related to core drilling. Everything is manufactured out of billet aluminum in our factory in Rocklin, California."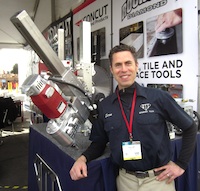 Sean Ward, owner of California-based Diamond Tech concrete saws and rigs, was thrilled with the quality of business he conducted at the 2014 edition of the World of Concrete.
Ward also enthused about the volume of business he was doing at the show.
"Yesterday was a fantastic first day. We got more orders than expected so we're excited. People have been very responsive. Our equipment is very high-end — it looks professional it's very functional and we're proud to be made in the USA."
Representing LTM Concrete, Dave Anderson was showcasing his company's Dually rebar supports for slab work and a horizontal rebar holder for walls.
The Dually supports over a dozen functions at seven heights in vertical and horizontal applications.
"We are here creating interest and working on setting up our distribution network," Anderson said. "We do a lot of work in the precast industry and we have two new sets of products coming in the next couple months, an adjustable double tee bracket which is totally unlike anything on the market and a refined exposed aggregate chair."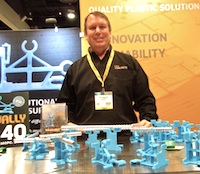 Dave Anderson of LTM Concrete generated lots of interest in his company's Dually rebar supports.
LTM's lineup also includes application-specific chairs, vertical and horizontal rebar holders, spacer wheels and related products. Worth a look.
When they weren't out-blasting each other with music, Makita and DeWalt were also showcasing their latest innovations.
Makita has been building some serious street cred with its 4-stroke gas power cutter, which was merrily slicing up every block it saw, and the new dual-18-volt battery X2 circular saw, which was showcased at STAFDA but was here in demo model form.
Makita's Brent Withey told us the saw performed virtually all the wood cutting needed to build Makita's impressive display with nary a battery swap.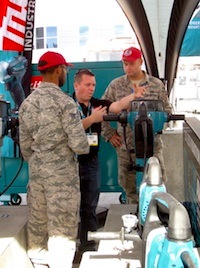 The military shops for tools too. Here two servicemen discuss rotary hammer vibration with a Makita product manager.
But for WOC, the newest cutting edges Makita emphasized were its renewed diamond blade lineup, including the "Stealth Blade."
"Our new 3D Diamond Blade, or the Stealth Blade as we like to call it, features diamonds arranged not just on the top, but all the way throughout the segment, which
gives you a consistent, clean cut throughout the cutting life of the blade," said Makita product manager Brandon Stover.
The new Makita blades also feature "M"-shaped diamond segments for improved cutting and steel-over-copper blade cores for greater stability and less vibration.
"This copper-core design gives the 3D Diamond Blade 30 percent less vibration and 25 percent faster cutting — with less noise. It's a great all-around blade and, paired with our 4-stroke Power Cutter, its the best combination on the market."
Almost literally next door, DeWalt's Jeremy Torok and engineer Anna Roberts from DeWalt's German engineering team, were demonstrating rotary hammers with the company's new electronic clutch system.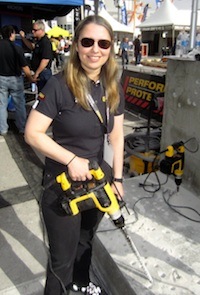 Anna Roberts is part of DeWalt's German engineering team. She worked on developing the electronic clutch system featured on new top-of-the-line DeWalt rotary hammers.
The electronic clutch is part of DeWalt's Perform and Protect product development platform, which is incorporating new safety technologies to reduce worker injuries.
"This is the first time anyone has seen DeWalt with this feature," Torok said. "During testing, users and their safety managers kept telling us, 'I absolutely need a feature like this.' In the second quarter we'll be launching a whole range of hammers with the E-clutch feature."
For its part, Bosch had attendees talking about a coming generation of products from its alliance with Simpson Strong-Tie, including a system that will allow contractors to drill and fill concrete holes without the need to clean them out. This would be a significant time saver in anchoring. Stay tuned for more on that.
Road shows
As global economy improves, show promoters are angling to increase their share of the planetary pie. In addition to CONEXPO Latin America, set for 2015 in Santiago, Chile, WOC has also announced plans for a new World of Concrete Europe. This event will be a joint venture between WOC promoters and S.E. Intermat, which owns Intermat shows in Paris and Abu Dhabi.
Show owners Hanley Wood have said the first show would be tentatively set for fall 2016, in Paris. The concept is to set up an every-other-year rotation between Intermat and World of Concrete Europe, both in Paris.
World of Concrete also just hosted its first WOC India show in Hyderabad.
And in case anyone tracks these things, in 2013 White Cap brought 7,000 of its cheery yellow backpacks to WOC. This year they brought 30,000 and I'll bet you dollars to donuts they gave them all away. They also gave away one chopper, built by Paul Teutel. Jr.
Is it next year already?
World of Concrete 2015 will be here before we know it, and is set for February 2-6, 2015, right back in Vegas. Learn more if you dare at www.worldofconcrete.com. CS