Show Review: International Builders Show 2014
A combined IBS and KBIS draw 75,000 to a winning show.
---
Some things just go together. For the first time, the 2014 edition of the International Builders Show (IBS) was co-located with the Kitchen & Bath Industry Show (KBIS) and the final numbers proved the idea's worth. This year's dual event drew more than 1,700 exhibitors, covered more than 650,000 square feet of floor space and, most importantly, pulled in more than 75,000 attendees.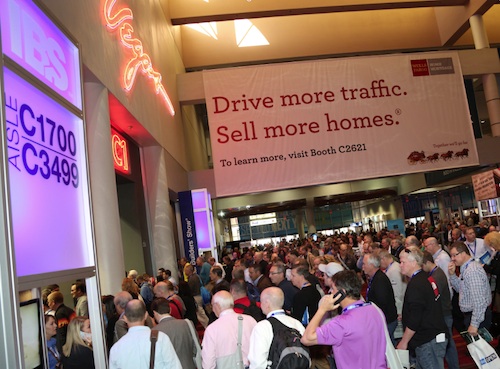 Strolling from door and window, stone and fireplace displays to fastener and power tool vendors added a visual variety that more focused shows can't match. Of course, that variety also means extra walking past booth after booth of pretty — but irrelevant — things. Contractor Supply was here for the tools and supplies, and we were not disappointed. With the show's overall growing numbers of exhibitors came a larger set of construction related vendors as well, and IBS is always good for finding a few diamonds in the show rough.
Nailed it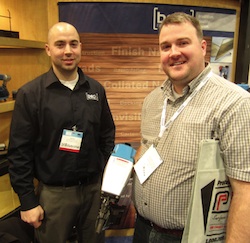 In a sure signal of an improving construction market, contractors were stopping in at the beck Group's Fasco America booth in the Central Hall to see new fastening tools.
"We are seeing the recovery gaining momentum in the market, on the ground and here at the show," said Brett McCutcheon, general manager for Fasco America.
McCutcheon and Fasco associate Dustin Schroeder were garnering considerable excitement for their latest nailing products, including a new combination nailer and concrete pinner.
"The new Fasco F58AC RHN20-90 SCR framing nailer drives both nails and concrete pins up to two inches," McCutcheon explained. "The magazine has a quick-clear device which allows you to pull the magazine away from the nose. And the tool also has a flip-switch to go from bump-fire to sequential operation."
"We also have a metal roof Scrail fastening system in development for fastening standing-seam metal roofing or metal siding to wood. We expect it to be available this summer."
Fasco was also showing its recently issued model F46 40-315 fencing stapler for fastening fence wire to posts. Fasco's first entry into the fencing market was also generating attendee interest.
"This fencing stapler category is very new for us," McCutcheon said. "This tool utilizes a heavy-duty, rigid-point staple with our diamond-coat adhesive coating."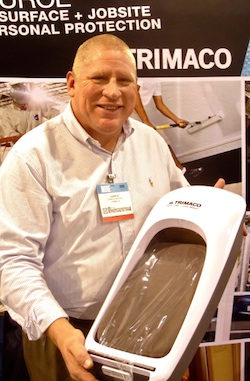 First timers: Clean and Simple
This show has been absolutely crazy," began Charlie Reaves, vice president of Trimaco. "This is our first time here so we didn't know what to expect, but we've been overwhelmed with the 'foot traffic' we've had through the booth. It's been absolutely great."
Trimaco Floor Shell for hardwood flooring is a very popular product, as is Easy Mask self-adhesive carpet film for use on carpeted floors. Trimaco's newest product is the result of its recent acquisition of BRZ Brands. The E-Z Floor Guard functions like plastic wrap for your feet.
"The E-Z Floor Guard is an alternative to using shoe covers," Reaves explained. "It is a film with an adhesive that sticks to the bottom of your shoe. As you enter the work area, just step onto the film box, lift your foot and rip it like a piece of plastic wrap. It's much easier, faster and less expensive than using shoe covers and you don't have to bend over to put it on."
Intercorp, another first-time exhibitor at IBS, was likewise pleased with the business it was conducting.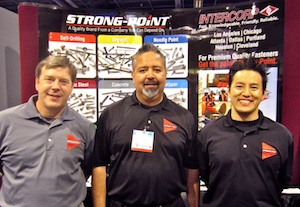 "So far we have had a very positive show," said Juan Cortez, Intercorp's Orange County branch manager. "We've made some great contacts. We're excited, so we're going to do this show again next year."
Intercorp featured stainless steel star-drive screws in trim head and flat head, countersink screws and its new concrete screws.
"Showing these new concrete screws here is exciting, and we have more stainless steel products coming in the future," Cortez said.
Ground Floor Innovation
Numerous contractors were watching the ongoing presentation of Bullet Tools' floating tile floor installation system for porcelain, ceramic or stone tile.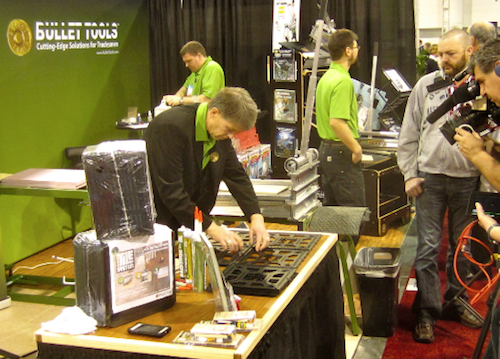 "You simply put the tile trays on top of any existing hard surface," explained marketing manager Joyce Johnson. "You connect the trays together and put a bead of adhesive around the outer perimeter. It's a flexible fast-drying waterproof adhesive. You drop the tray in, finish your whole floor, than go back and grout the seams with a flexible waterproof, stain resistant, seismic resistant, mildew resistant grout. It reduces installation time in half."
The system is designed for use in remodels, mobile and manufactured homes, decking and multi-family construction.
"Plus, if a tile cracks, you can replace it without having to rip anything else up. You just break it out, drop in a new tile and re-grout it. A lot of contractors look at it and say, 'Oh yes, I can make some money with this. I can cut my time in half and do two jobs in one day.'"
Fly Pan American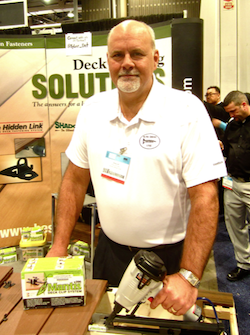 "We had a record year last year and we're looking forward to repeating it," began Phil Lail, vice president of sales and marketing for the Sure Drive division of Pan American Screw. "Our traffic here has been the best in recent memory in both numbers and quality of attendees. It seems like attendance is up and people are actually seeking us out to see some of our new hidden deck fastener options."
Since acquiring the patents for the Mantis hidden deck fastener system, Sure drive has conducted "voice of the customer" meetings and worked with contractor users to improve it.
"Most contractors set their air pressure to 120 psi, which would overdrive the clips," Lail observes. "We shortened our driver blade and now it drives at the same depth regardless of psi setting. Other customers told us that their natural tendency to hold a tool at an angle could make the clip slide out, so we added a rare earth magnet that holds the clip in place for driving. Engaging the clip into the deck board becomes one easy step."
Tale of the tape
Maybe it's just me but I am continually amazed by how much innovation companies continue to pack into seemingly long-perfected products like tape measures. Companies like Swanson just keep on bring the cool stuff. Then again, judging by Swanson's booth traffic, I'm not the only one who is impressed.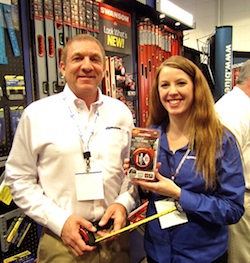 Loren Doppelt, Swanson's director of marketing and product development, was also pleased with the show's traffic.
"Since the show opened in the morning, it took a few minutes for people to migrate back to us — we're at the back end of the hall — but most of the day we've been three- and four-deep with people looking at our new innovations in tape measures," Doppelt said.
One star at Swanson's booth was the Savage Grip Line tape measure, which was launched at STAFDA last November. The Savage Grip Line features a patented rotating tip that will grip rounded objects including conduit, PVC pipe and up to 2.5-inch black iron pipe.
"People are also looking at our ProScribe tape measure, which we also introduced at STAFDA. It features an innovative, retractable scribe guide and centering pin to help contractors scribe lines in arcs and circles and straight edges. The ProScribe enables you to scribe a line in plywood without getting splinters."
"I think the real draw is this: over 100 million tape measures are sold every year — every contractor, electrician and plumber uses them everyday to make their living, and we believe this is the first time in a long time that anything innovative has been brought to the tape measure category."
Coming soon: Bigger and Better
The 2015 International Builders Show, January 20-22, 2015 in Las Vegas, will once again be co-located with the Kitchen and Bath Show. If the economic recovery continues as predicted, next year's event should easily out draw this year's 75,000 attendees. Any STAFDA member will tell you that great trade shows has always been here, but for several years there, the recession took a bite out of event attendance across the board. It's great to see the economy — and the people — coming back. Learn more about IBS/KBIS 2015 at www.buildershow.com.