Strong Man Partners with Raven Industries
From basement to penthouse, Strong Man and Raven cover the job.
---
Strong Man Building Products, a New Jersey-based national supplier of debris netting and weather enclosure products, now offers safety solutions for customers from the basement to the penthouse. The 40-year-old company teamed up with South Dakota-
based Raven Industries at the end of 2013 to become one of the main east coast distributors for Raven's vapor barrier product line.
Vapor retarders save time, money and energy by reducing moisture migration under concrete slabs and foundations, and through inner walls and ceilings. For the past several years, Raven has been a supplier to Strong Man for reinforced rolls of performance polyethylene plastic that Strong Man sold as ground cover, temporary windows or cover for the sides of buildings.
Jay Kinder, owner of Strong Man, notes that as Strong Man looked to expand its product line with existing suppliers, a partnership with Raven Industries made perfect sense.
"We weren't interested in taking on just any product," explains Kinder. "Everything we do at Strong Man revolves around this theme of safety and, at their core, Raven's vapor barriers are safety items. That's what made this a perfect fit."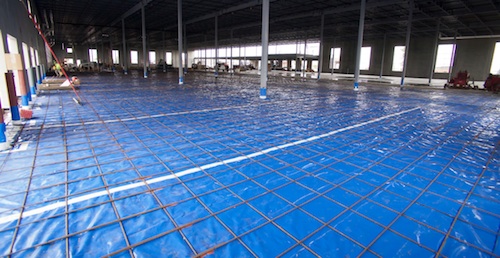 Long known for high-quality debris and weather enclosures, Strong Man Building Products has "spread" its reach in a partnership with Raven Industries to provide east coast contractors with a convenient source for Raven VaporBlock vapor barrier products.
VaporBlock Barriers
Strong Man currently carries Raven's VaporBlock 10 and 15 underslab vapor retarder/
barrier as well as the advanced VaporBlock Plus 20 underslab moisture and gas barrier. According to Kinder, the Raven VaporBlock Plus 20 has been an especially strong seller. A seven-layer co-extruded barrier made from state-of-the-art polyethylene and barrier resins, "VaporBlock Plus 20 provides unmatched strength and superior resistance to gas and moisture transmission," Kinder says.
VaporBlock restricts naturally occurring gases and is more than 50 times less permeable than typical high-performance polyethylene vapor retarders against methane, radon and other harmful volatile organic compounds. The product may be installed as a passive or active control system across an entire building including floors, walls and crawl spaces. All Raven vapor retarders meet or exceed ASTM E-1745 requirements for water vapor retarders used in contact with soil or granular fill under concrete slabs.
"Not all vapor barriers are created equal," notes Kinder. "The commitment to top-of-the-line products is why Raven and Strong Man make sense together."
He adds that while Strong Man's theme is safety, traditionally that has applied when the buildings were already out of the ground. Customers had to call someone else when the concrete was being poured.
"Now, they can call Strong Man. That's why we like this fit — Raven's product line improves upon the things Strong Man already does."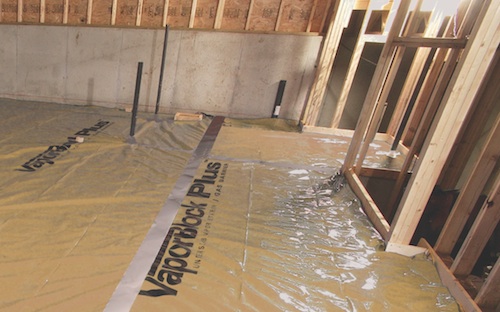 Raven VaporBlock Plus 20 is a seven-layer co-extruded barrier made from state-of-the-art polyethylene and barrier resins.
Just In Time Delivery
For the moment, Strong Man carries the Raven vapor barrier line only in its New Jersey distribution center. The New Jersey center offers Raven the chance to expand on the East Coast and is the area where Strong Man fields the most requests for vapor barrier products. Kinder notes the Raven line has been well received, both for convenience and for offering people what they want.
"It's a heck of a lot easier for these guys who need five to six rolls of this big, heavy material to drive over, pick up what they need and get back to the job versus either waiting for it to come in a truckload from South Dakota or paying freight to ship a pallet of it," Kinder says. "Now, all they have to do is pay a road toll."
Kinder has also gotten calls from customers who are, quite literally, pouring the concrete tomorrow.
Travis Burns, national market sales specialist with Raven Industries, says that partnering with Strong Man in construction films has been exponential to their growth.
"Raven has carved out a reputation for innovation and superior quality, but without the right distribution it doesn't matter how superior your product is," Burns says. "Strong Man has a great team that's incredibly knowledgeable and they know everybody in the business. They're able to service customers at an incredibly high rate with exceptional value. As a manufacturer, you can't ask for much more."
Kinder says Strong Man is open to future partnerships similar to what they've found with Raven — if the partnership makes sense.
"We're adamant that any product line we take on must complement our safety theme," says Kinder. "We're not going to start selling gloves, for example, just because our competitors sell gloves. If our customers say, 'Yeah, it makes sense you guys sell that,' then that's where we'll be looking to add product."
The Bottom Line
In the supply and distribution business, product and service go hand-in-hand and time is always of the essence. The "win" for both companies is the opportunity to better serve end-users who will benefit from high-quality vapor barrier products delivered expediently.
"Raven has high standards and offers superior products that exceed most guidelines and are definitely superior to competitor's products on the market," notes Kinder. "Strong Man is the high-end of the netting and weather enclosure business and we share similar corporate values with Raven. That sounds like a line, but it's true. Neither of us are ever satisfied with 'good enough,' and we both seek out customers who value quality, safety and reputation. People are free to buy low-end products but they're not going to come to either of our two companies to do it."
Burns agrees. "Quality and service are incredibly important to both our companies. That's why our partnership has worked so well." CS
Strong Man Building Products Corp. has been manufacturing heavy-duty, all-seasons nettings and tarps for debris and weather enclosures since 1974. Strong Man enclosures meet OSHA specifications and are wind resistant and flexible even in cold weather. A family-owned business, Strong Man provides customers with top-notch service from the moment of order all the way to delivery. Most orders placed before 2:00 p.m. EST are shipped the same day. Visit www.strongman.com to learn more.
Since 1956, Raven Industries has designed and manufactured high-quality technical products. Raven has earned an international reputation for innovation, product quality, high performance and unmatched service. Visit www.RavenInd.com for more information.