Suppliers: Topcon TotalCare
Topcon boosts customer service and training resources with its TotalCare portal.
---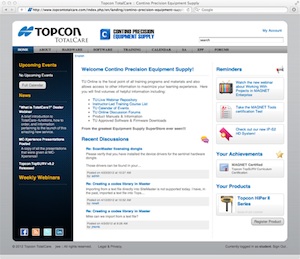 Topcon TotalCare, an integration of Topcon Positioning Systems' customer care and its Topcon University training resources, is driven by the potential for surveying, construction and civil engineering professionals to take advantage of widely available information technology and obtain world-class customer service and training on demand.
The Web portal has been developed as a complete source and training solution for users of positioning technologies and features both online resources and human assistance.
Topcon U
Topcon TotalCare includes Topcon University Online, which originally was developed in 2009 to provide training resources, and software and firmware updates to Topcon customers. As of February 2012, Topcon University Online had more than 5,400 users and 3,500 visitors per month—meaning that about two-thirds of subscribers visit every month—and featured more than 300 training videos and presentations and more than 4,800 manuals, Quick Guides, and "How To" Guides. Eventually, Topcon plans to develop a parts ordering system through the portal.
In addition to on-demand training resources and live technical support, end-users can access Topcon University's subject matter experts (SMEs) in discussion forums. Via its SMEs, Topcon pulls together expertise across organizational boundaries and presents it through a subscriber-customized portal featuring both the Topcon and equipment dealer's logos. Additionally, customers have access to a direct technical support line to support agents who can be reached by calling, e-mailing or opening a support request directly from their mobile phones.
Events and Forums
The portal offers Topcon equipment end-users a list of upcoming events, an RSS-capable news feed and alerts of weekly webinars. The discussion forums are located in the middle of the home page for visibility. Customers can complete online training certifications, which are listed on the portal. The portal also contains reminders of events that equipment end-users can participate in. The portal also contains all-new product pages with features and benefits as well as an associated products listing — easily accessible through both computers and mobile devices.
Training webinars are a major benefit of the new portal. Live instructor-led training webinars are held weekly and customers also have access to a pre-recorded library of training webinars on demand.
Jason Evans, senior manager of customer care for Topcon, said, "A major benefit of TotalCare to Topcon customers is the new product registration system that interfaces with the Customer Relationship Management system. Product-specific updates and training materials can be provided based on the products that are registered, making it easier for customers to be assured they have the most up-to-date resources and firmware, and highly personalized service from their dealers."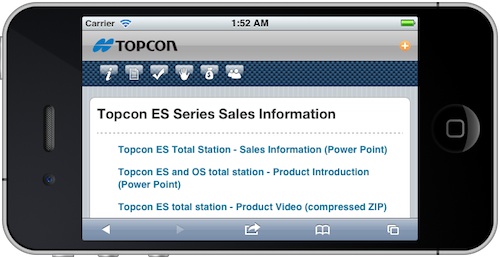 A major benefit to Topcon equipment users is the portal's product registration system. All of the registration information is reportable through the dealer portal control manager interface, making it easier for dealers to provide instantaneous, personalized service. Reminders of firmware upgrades, new software availability and sales on equipment can be set on the portal. A new support ticket interface delivers support tickets directly to support agents in customer care via a computer or mobile device. These tickets receive the highest level of attention from customer care.
The portal also offers updated product information. Customers can access product pages, associated products and product specifications, allowing them to make informed purchase decisions. The portal also includes detailed product specifications, training
materials and product manuals to increase customers' depth of product knowledge.
Totalcare Tiers
TotalCare is available in three levels of service. Any visitor can provide basic registration information and gain access to in-depth Topcon product information. Customers who register their products receive access to user manuals and notifications of firmware updates and other owner communications directly from Topcon or their dealers.
A modest annual subscription fee provides customers with all of the features of TotalCare, including direct technical support and unlimited access to Topcon University. Full-access TotalCare is designed to be a companywide resource for Topcon users and is priced at an additional fee.
Adam Gilbertson, general manager at RDO Integrated Controls, Bloomington, Minn., a GPS, survey, machine control and laser products dealer serving the construction, landfill, mining, surveying and paving industries across much of the western United States, reports that the TotalCare system will allow customers to engage Topcon's support network more quickly.
"The world is driven by information and technology and the easier we can make it for both our team and our customers to get the information they need, the better we're going to do at servicing those needs," Gilbertson said. "We're headed down the right path of making a positive impression on the market with our resources that can be available for the product and the technology." CS
Don Talend of Write Results Inc., West Dundee, Ill. is a print and e-content developer specializing in covering technology and innovation.