Suppliers: Wacker Neuson
A new Retail Distributorships program caters to the STAFDA market.
---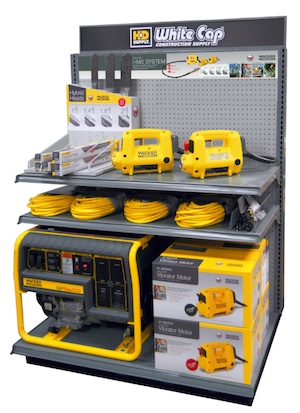 A unique feature of Wacker Neuson's retail displays is that they encourage distributors to salt-in preferred products from manufacturers other than Wacker Neuson.
Attendees at the 2012 STAFDA Trade Show in November noticed a smart new look and presence from Wacker Neuson and they can expect to see more of it in months and years to come. Wacker has been a familiar brand to light construction equipment dealers and users since the company was established in the U.S. in 1957.
When Wacker merged with the Austrian excavator manufacturer Neuson Kramer Baumaschinen AG in 2008, the combined companies embarked on a wholesale re-branding of their equipment lines with new badging and colors.
Wacker Neuson manufactures what is arguably the broadest range of products and equipment in the construction industry. From chop saws and diamond blades to excavators, it's all here. And because dealers and distributors typically serve specific local, regional or national customers, it is important for them to be able to access those products that best fit their business models and customer needs.
Wacker Neuson has long been aware of this and over the years has developed programs specifically for its two largest customer groups, national rent-to-rent firms such as United Rentals; and rent-to-rent independents. Now it is expanding that strategy into a dedicated Retail Distributorships with special branding and merchandising programs.
Tim Lickel, strategic development manager for Wacker Neuson, is the man charged with expanding that company's representation, industry awareness and market share across the retail channel.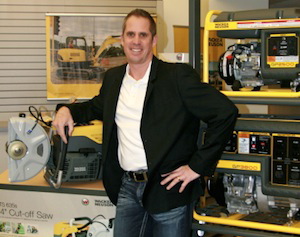 "We participate in STAFDA to support our Retail Distributorship program and showcase our POP and products, but today we look at our markets and our channel partners a bit differently than before, especially on the retail side. Now when we go into a market, we go into it 100 percent . . . "
— Tim Lickel
"We have always participated in the retail channel but until now we didn't have a focused point of purchase program for it," Lickel says. "In the past, small products going into the rent-to-rent channel were packaged in brown boxes, but since focusing on the retail channel, we have been designing branded boxes and packaging. We study which supply items and small tools sell the best at the point of purchase and how contractors buy small products from these supply houses."
"I manage the retail products that range from a $200 concrete vibrator shaft up to a $5,000 gas-powered reversible plate," he adds. "Basically, if you can put it in the back of a pickup truck, I manage it. This includes cutoff saws, concrete vibrators and motors, diamond blades, electric jackhammers, most pumps and portable generators and some light equipment, such as rammers and single-directional plates. Another way to look at it is any product that weighs 300 pounds or less."
While Wacker Neuson's product portfolio is arguably the broadest in the construction industry, not every product is appropriate for every dealer. Lickel and his associates across the other product categories, with the input of the marketing team, worked to determine which products would be the best candidates for small retail operations to carry.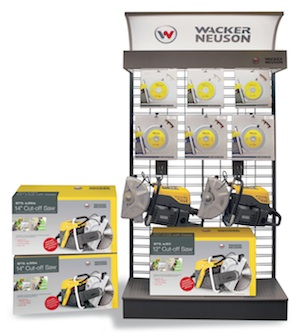 The merchandising program started with one box, for Wacker Neuson's best-selling chop saw. It now includes wall and floorstanding merchandisers.
Their selection process had a two-fold goal: first, to choose products that have high turnover potential for retailers, and second; to develop point of purchase (POP) displays that would encourage those distributors to place the units either within or near their main sales counters for highest visibility.
"The contractor has many more reasons to walk into a supply house than he would into a large equipment or rent-to-rent operation because he is buying caution tape and other supply items he needs every day," he says. "So foot traffic in a supply house is much higher than it would be in an equipment or rent-to-rent house."
"We are seeing a migration of smaller equipment into retail supply houses, the STAFDA type distributors. As a manufacturer, you want to put products in there that have a high turnover appeal for walk-in customers because if you don't, you won't have that space very long. In the retail environment we have to help our dealers understand which products — out of our entire portfolio — to place."
"And they are getting it," he adds. "There is a real resurgence of supply houses that understand that light equipment products such as rammers, pumps, vibrators and plates are high-demand items because they are small and can be turned quickly. Distributors are realizing that they are missing out on sales if they don't have a cutoff saw, an internal vibrator and a submersible to offer to walk-in customers."
This shift in the rent-to-rent market has brought the retail distribution channel into sharper focus as a target audience. For Wacker Neuson, these conditions offered the perfect opportunity to create a comprehensive strategy for serving its three key markets; large chain rent-to-rent, independent rent-to-rent dealers and the retail channel.
Trickle Down Merchandising
As Lickel and his team began developing their retail branding and merchandising strategy, they sought input from key customers including HD Supply/White Cap. In fact,
White Cap was the beta site for some of Wacker Neuson's new merchandisers and small product packaging, which incorporate some unique distributor-friendly features. Rather than simply provide an attractive and educational backdrop for one brand of products, the POP encourages distributors to mix some of their existing lines in with featured Wacker Neuson products.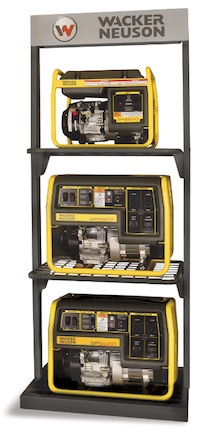 For 2013, Wacker Neuson is rolling out
a full range of merchandisers that
distributors can select based on
their customers' specific needs.
"The POP display I developed for White Cap was the first time that we designed an in-counter POP that mixes in supply items," Lickel observes. "For example, a four-foot display focusing on internal vibrators and electric motors also has space for the distributor's preferred brand of extension cords, maybe some adapters, concrete gloves and related accessory items from their other lead lines. We want them to be able to grade that section's sales turns not only on Wacker products but also on add-on or impulse
supply items that they carry."
The result is a seamless presentation of several brands of product in a compact space —
and a display with a much more compelling case for prominent placement in the store.
The response has been highly encouraging.
"When we showed this POP at the STAFDA show, it was very well received," Lickel notes. "One of our largest independent dealers said it was 'about time someone did this,' and he plans to participate in the program this year."
The POP display shown at STAFDA will soon be joined by versions for submersible pumps, portable generators and large electric breakers, among others. Each POP will feature space for complementary products such as ear and hand protection, tool steel, safety cans and other items of the distributor's choice. The POP display for Wacker Neuson's existing 70- to 80-pound class electric breakers will soon feature a 220-volt electric breaker in the 80-to 90-pound hammer class, an industry first.
All Inclusive
A key component of the Wacker Neuson strategy is that no one is excluded. Wherever a dealer falls on the rent or sales axis, a tailored program offers the potential for line growth. Small supply houses can grow into selling or renting larger items as customers demand, and large rent-to-rent operations can offer smaller products if they so wish.
Distributors with small or no service departments are welcome, too. Wacker Neuson has contracted with leading national repair service provider Altaquip (www.altaquip.com) to perform warranty work on products weighing 250 pounds or less.
And Altaquip is near you; the company has 29 service centers and over 1,700 pick-up locations nationwide.
Creating appealing packaging and brand support materials is one aspect of Wacker Neuson's holistic approach to its key markets. The company also actively participates in the key trade associations and groups in each of its key market segments. Tim Lickel currently serves on several posts. He is a current member of STAFDA's Manufacturer Liaison Committee.
As Preferred Suppliers for the Evergreen Marketing Group, Lickel and his team produced their first training program last November for EMG members.
"We participate in STAFDA to support our Retail Distributorship program and showcase our POP and products, but today we look at our markets and our channel partners a bit differently than before, especially on the retail side. Now when we go into a market, we go into it 100 percent — we become active members of the appropriate associations and buying groups on the dealer side and we do the same thing with select end-user associations that tie the contractor to the channel."
This 360-degree approach includes building "pull" relationships with the largest national contractors to support the dealer network — every channel partner is included.
On the end-user side, Lickel and other members of the Wacker Neuson staff also serve in various capacities in the American Concrete Institute (ACI). Lickel is a voting member of the ACI 640 Craftsman Certification Committee and wrote the recent revision of the ACI 306 Cold Weather Concreting standard.
Other Wacker Neuson associates are also active in ACI. Sales engineer Vince Hunt is a member of the ACI 309 Concrete Consolidating Committee. Sales engineering manager Fred Paul's team of concrete specialists were consultants for the Hoover Dam Bypass project.
Here to stay
Wacker Neuson's new Retail Distributorships program is aimed squarely at the STAFDA market with the goal of expanding its distributor base and sales via independent construction equipment and supply distributors. With staff and resources dedicated
to the program and a long-term strategy in place for the channel, Lickel is confident that Wacker Neuson's relationship with independent distributors is just beginning. CS
Learn more at www.wackerneuson.com