The Chester brothers and Pneu-Fast
A story "Made in America."
---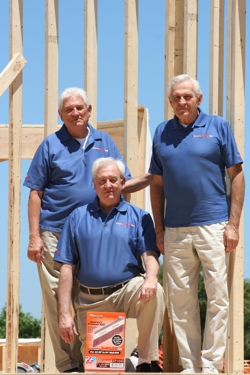 Ed, Ron and Jim Chester (L-R), founders of Pneu-Fast, are proud that all their nails are made exclusively in the USA.
"We're trying to rebuild our country … one nail at a time," says Ed Chester, eldest of three brothers who founded The Pneu-Fast Company, makers of premium collated nails in Evanston, Illinois.
"In our lifetime," Chester states, "we've seen a number of recessions come and go, but this one is different. Millions of American jobs have been shipped overseas, leaving American workers sidelined and unemployed." In construction alone, 1.1 million jobs have been lost from the peak of the "housing bubble" in 2007 and the national unemployment rate is 9.5 percent.
"American distributors can make a difference," Chester claims. "If they support American made goods and stop buying other countries' products, we can take our country back and put Americans back to work. Failure to do this is short-sighted and may, at best, lead to a 'jobless recovery' which won't solve the housing crisis."
The good news in our industry is that more distributors are insisting on American-made fasteners, and "we're seeing renewed interest from 'big box' home improvement chains, as well," Chester says.
"Menard's now carries Pneu-Fast. Their customers prefer quality nails that hold better and don't have on-the-job performance problems caused by cheaper imported products," Chester adds. "Menard's customers say they are proud to 'buy American.' Furthermore, Pneu-Fast products generally do not cost any more than inferior offshore nails."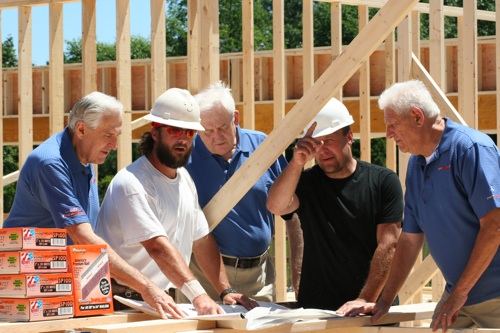 The Chester brothers still take time to meet customers and observe how their Pneu-Fast nail products are being used on the jobsite. One recent result of this research is new packaging designed to hold up under severe weather conditions.
The growing trend toward "Buy American" has helped Pneu-Fast prosper and survive the building industry recession.
"Unlike major competitors, we resisted turning to inferior off-shore sourcing to achieve 'low-ball' price points," Chester states. "We make every collated Pneu-Fast nail
right in our own factory in Evanston, Illinois. So when our customers sell a Pneu-Fast nail, they know it's American made by American workers."
The Chester brothers story is also a uniquely "American Made" tale. The three boys grew up on the streets of Chicago in the 1940s and '50s. Car enthusiasts, they got into stock car racing and "got real good at it." To pay for their racing habits, they held a variety of jobs, including long stints in the fastener industry where they learned the fastener business.
The racing brothers also became self-taught engineers, learning metallurgy, chemistry and physics so they could make their cars race faster.
Soon other racers began paying them to make speed components for their cars. Thus, in the early 1970s, the three brothers, Ed, Jim and Ron, started their own company, Chester Racing Products that manufactured safety equipment for oval track racing.
A few years after opening their factory, the Chester's had a chance to buy some used fastener equipment. With their background in the fastener industry, the
brothers thought they could make a few dollars on the side producing collated fasteners and selling them to local distributors and contractors.
"That old equipment needed work," said Ron Chester, "so we went at it like hot-rodders. Basically, we 'souped up' the equipment to work more efficiently and, at the same time, make better fasteners. That meant we could improve efficiency and still be very competitively priced.
As demand grew, Ed, Jim and Ron abandoned speed equipment and converted their Evanston factory exclusively to making fasteners. "Our strategy," says Jim, "was to make the best collated nails in the world — and make them right here in the USA!"
According to Ron, "We've never changed our original philosophy. We are always figuring new ways to improve manufacturing techniques and to improve the nails — to make them better and have greater holding power."
And the brothers have never lost their racers instincts. "When we get a new machine, we tear it down and enhance it to work faster to make better nails. If our modified machines were drag racers, they'd blow the doors off the competition!" Ed laughs.
"Import nails are never as good," Ed states. "We maintain a consistent high quality. Our collating is more uniform. Our collating tape is rigid and resistant to de-collating, even when soaked with water. Our ring shank nails have more built-in grip than the other guys, too."
Import nails also fall short on coatings. Nail coatings are supposed to bond with wood to hold better, but coatings typically used by imports are more cosmetic than effective, he says. "Our exclusive Hold-Fast acrylic coating is also American made — and it really works!"
"We've had numerous opportunities to make Pneu-Fast nails overseas," says Ed, "but we just wouldn't do it. Even if it cost less, the quality loss wasn't worth the savings. With what's happened to American manufacturing, we're especially proud that our paper tape collated nails have always been 100 percent made in Evanston (IL), USA. There's a market for American made products that must be encouraged and nourished if this country can turn our economy around."
For anyone "who likes what we're trying to do," Ed concludes, "we'll prove how competitive American-made nails can be. Just call 847-866-8787 and ask for Reno Joseph. He'll quote you prices on any combination and any quantity of products we make. We think you'll be surprised and pleased." CS