Posted November 8, 2023
Hy-Brid Lifts Announces Director of Sales for SE United States
David Price brings 12 years of industry experience to his new role.
---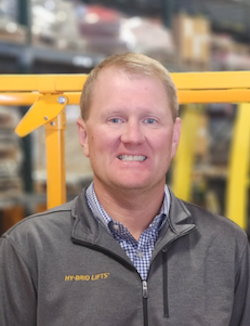 Hy-Brid Lifts, an industry leader in aerial lift equipment, announces David Price as director of sales covering the southeast United States. Price's responsibilities include providing customer support as well as continuing the growth and channel development of the Hy-Brid Lifts line of low-level scissor lifts.
"I am excited to join this team and look forward to the opportunity to work with our customers. Coming from the rental industry, I understand the importance of quality equipment and customer service backed by a solid service department," said Price. "After touring the production facility and meeting the Hy-Brid Lifts family, it's no surprise that this company is continuing to grow, and I look forward to being a part of that growth."
Price brings 12 years of industry experience to his new role, largely derived from his time in the rental equipment industry with United Rentals, Blueline Rentals and Equipmentshare. He spent a majority of his time in sales management with a strong emphasis on customer service and going above and beyond for every customer.
"The entire Hy-Brid Lifts team is excited to have David on board to serve the southeast United States. David has a wealth of sales and rental industry knowledge that will strengthen our ability to serve our customers," said Dave Wanta, Custom Equipment LLC vice president of sales. "David is a valuable addition to the team, and we look forward to the contributions that he will provide for our company's continued growth."
About Hy-Brid Lifts
Hy-Brid Lifts is a brand of Custom Equipment LLC. Hy-Brid Lifts engineers and manufactures all-purpose lifts in electric, self-propelled and push-around models. The low-level lifts offer exceptional capabilities in a heavy-duty but lightweight design, are easy to maneuver and reach working heights up to 25 feet.
Contractors and maintenance technicians can use them from start to finish for a wide range of applications in industries as diverse as construction, drywall, electrical, HVAC, painting and plumbing, industrial manufacturing and facility maintenance. For more information: Hy-Brid Lifts, 2647 Highway 175, Richfield, Wis. 53076; 262-644-1300; fax 262-644-1320; sales@hybridlifts.com; www.hybridlifts.com.