Posted April 12, 2023
IronCraft Adds Territory Manager to Western Region
Andrew Watkins will serve IronCraft customers in southern California, southern Utah, Arizona, Nevada, New Mexico and west Texas.
---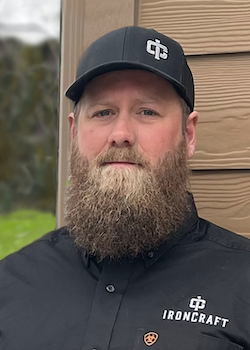 IronCraft, LLC, formerly branded Titan Implement, has added Andrew Watkins as a Territory Manager in the western US. In this new role within the company, he is responsible for growing and managing the company's sales through their construction and agriculture dealer network in southern California, southern Utah, Arizona, Nevada, New Mexico, and west Texas.
Watkins has extensive hands-on experience, having worked in various areas of heavy construction, most recently as a foreman within the concrete industry for the past 10 years. He will work from his home office within the territory and may be reached at AWatkins@IronCraftCo.com.
"We're committed to growing our presence in this important territory, and Andrew is well suited to lead that effort," said IronCraft CEO Pat Kozlowski. "His strong mechanical background, solid work ethic, and consultative approach will serve customers and dealers well."
"I've known of IronCraft for many years, and respect their products, dealer network, and the company overall," said Watkins. "Their well-engineered products are built with care and precision, providing users with a long service life. My father has been bragging about the company for a long time, and I'm happy to join him. I'm honored to lead the sales efforts in the western US and look forward to introducing IronCraft products to customers and dealers, especially those in the construction segment."
About IronCraft, LLC
IronCraft, LLC, founded in 2014 under the Titan Implement brand by the Turner family, is a leading manufacturer of agricultural implements and skid steer attachments catering to a variety of applications such as agriculture, landscaping, light construction, and more. It is a family-friendly company that recognizes that its employees are its greatest assets. Based in east Tennessee, IronCraft offers an extensive range of rotary cutters, rotary tillers, box blade scrapers, grader blades, landscape rakes, disc harrows, and skid steer attachments. For more information, please visit www.ironcraftco.com.