Posted October 13, 2015
Atlas Copco offers dealer training program
Program covers product knowledge, marketing tools, financing and equipment maintenance.
---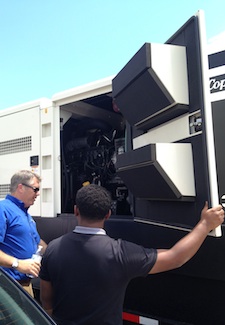 Atlas Copco Construction Equipment's product and service training programs help build dealers' reputations as solution providers and their customers' satisfaction. The programs are part of Atlas Copco's comprehensive training package and include equipment training and demonstrations as well as hands-on service and maintenance training.
"We have a long-term commitment to the success of dealers and their customers," said Alan Kurus, Atlas Copco vice president, sales. "This is why we take a comprehensive approach to our training programs. From sales to maintenance, everyone receives the tools they need to be successful."
With the training, dealers can better serve their customers and provide high-quality maintenance and repairs in minimal time. That leads to high customer satisfaction while positioning the dealers as experts.
Atlas Copco offers its training programs to all of its dealers, including those that add new equipment, sales representatives and service employees.
During the product training, attendees develop an in-depth understanding about the equipment through product demonstrations and overviews of features and benefits. After learning about the equipment, attendees see how to boost their sales using Atlas Copco's marketing and sales tools, including brochures, the co-op program and displays. This portion of the training also covers the in-house financing program, which allows dealers to offer contractors a quick and hassle-free way to finance Atlas Copco or another manufacturers' equipment.
Atlas Copco's service training program shows technicians how to troubleshoot operating issues as well as complete in-depth repairs and equipment maintenance for Atlas Copco equipment, including Tier 4 models. This helps ensure high-quality, timely service as Tier 4 equipment becomes more prevalent.
In addition to product and service training, dealers also get an overview of Atlas Copco's Shop Online program, which is a one-stop-shop for placing and tracking parts orders, looking up product information and manuals, and submitting warranty claims.
The system gives users real-time inventory information and exploded views of equipment to easily locate and identify which parts are needed, enhancing order accuracy. Parts ship from Atlas Copco's distribution center in Charlotte, North Carolina, and can arrive as soon as the next day, if needed.
"Ordering the wrong part can mean costly downtime to customers whose equipment is out of commission," said Matt Huntsman, Atlas Copco business development manager for parts and services. "Ensuring dealers have the right part to begin with saves a lot of time, headache and money for themselves and their customers."
Dealers can use Shop Online 24/7 in any location so they can quickly and easily serve customers, contributing to high customer satisfaction. The program is available for download on Android smartphones as well as Android and Apple tablets from the App Store and Google Play using the keyword DocuMobile. Dealers request a password by contacting Atlas Copco's customer service.
Once training is completed, dealers can contact Atlas Copco's customer and technical service teams for ongoing support or to schedule a new training session. Learn more at www.us.atlascopco.com