Posted September 9, 2020
ESAB expands Sureweld stick electrode retail packaging options
3/32- and 1/8-inch diameter electrodes now come in 1- and 5-pound resealable plastic tubes.
---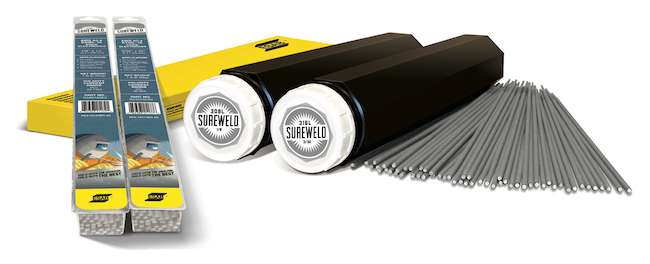 ESAB Welding & Cutting Products has transformed its Sureweld brand of Stick welding electrodes to meet the needs of retail customers. The company has expanded the number of grades available and packaged the 3/32- and 1/8-in. diameter electrodes in 1- and 5-lb. resealable plastic tubes.
Sureweld carbon steel electrodes grades include 7018, 6010, 6011, 6013, 7014 and 7024; stainless steel grades available include 308L, 309L, 316L and 312. These grades are available in 5/32-in. diameter, 5-lb. packages as well. ESAB also offers retail packaging for Sureweld 55 Cast for cast iron repair and will introduce a 4043 aluminum electrode later in Q3.
"The Sureweld portfolio meets the needs of professional and occasional welders who use smaller quantities of particular electrode grade or who want to use factory-fresh electrodes when starting a new project," says Halinson Campos, Product Business Manager - Filler Metals, ESAB. "The 1/8-in. diameter is the most popular electrode in the world and many applications require one pound or less of electrodes, so we wanted to align our new packaging with the way welders work."
The new packaging includes new color-coded identification and retail displays to help distributors and customers select the proper product. Reasonably-priced Sureweld electrodes are formulated to meet AWS guidelines and are manufactured in Monterrey, Mexico, enabling ESAB to control quality and consistency when ensuring reliable availability. Sureweld 7018 electrodes are designed to produce X-ray quality welds, while Sureweld 6011 electrodes are ABS (American Bureau of Shipping) approved.
"The Sureweld portfolio meets the needs of every common Stick welding application," says Campos. "Sureweld electrodes are an excellent complement to ESAB's new MiniArc Rogue Stick welder, an 18-lb. inverter that offers the industry's best combination of power, performance and affordability."
To showcase the connection, ESAB is giving away a free 5-lb. sample package of Sureweld electrodes with every Rogue purchase; visit esab.com/roguepromo for details.