Case Study: Multiquip GloBug Lighting Systems Make Nighttime Road Repairs Safer for Workers and Motorists
Rugged, glare-free, 360-degree balloon lights produce up to 110,000 lumens.
---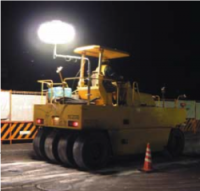 Patten Industries works with a variety of pavement contractors that are responsible for completing road work repair and maintenance at night. To keep workers and motorists safe, several industrial lighting solutions were used. The conventional 4,000 watt trailer mounted light towers initially used at the jobsite emitted excessive glare and created shadows, which negatively affected oncoming traffic and made it difficult for workers to see well. Additionally, the conventional light towers were large and cumbersome making them difficult to move from location to location as the repairs progressed.
Patten Industries also supplied another manufacturer's non-glare balloon light, which was easier to transport, but not bright enough to conduct nighttime road repairs creating a hazardous environment for motorists and workers.
The competitive non-glare balloon lights required replacement of its light-duty halogen bulb, which could not withstand vibration, as often as four times per night, causing construction and repairs to halt and creating unnecessary downtime.
Solution
When searching for a better lighting solution, Patten Industries learned about the Multiquip GloBug, an innovative glare-free, 360° balloon light. Rugged in construction, but lightweight for easy transport, the Multiquip GloBug offer a high output, up to 110,000 lumens, which creates greater illumination, offering a better solution to the lighting equipment that Patten Industries previously employed at the site.
Results
Multiquip's GloBug lighting systems were the best solution on the market for Patten Industries' customers to complete their road repairs at night by ensuring a safe environment for workers and motorists.
Multiquip's GloBug lighting systems use Metal Halide light bulbs, which offer non-glare light and reduces shadows. Additionally, Metal Halide bulbs are able to withstand vibration and rugged jobsite conditions than halogen designs. This advantage helped to create significant time efficiency at the job site.
Because of the lightweight construction and design of Multiquip's GloBug lighting systems, Patten Industries' contractors attached the GloBugs to its pavers and other mobile equipment, thus eliminating the need to reposition the light tower as the machines advanced, creating additional jobsite time savings.
"Patten Industries continues to work exclusively with Multiquip's GloBug lighting systems to light our contractor's construction sites," said Bill Borre, Operations Manager, Patten Industries. "The product increases our customer's productivity, and makes the work environment safer for both the public and for the employees."