Ericson Manufacturing Names Johnson Vice President of Sales and Marketing
Jim Johnson will lead national sales for electrical safety manufacturer.
---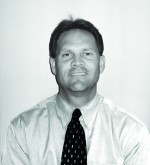 Jim Johnson has been promoted to Vice President of Sales and Marketing at Ericson Manufacturing. Jim is responsible for the development and implementation of regional and national strategies as well as managing existing and new sales and marketing strategies to achieve company revenue and profitability targets.
Jim joined Ericson, in March of 2009, serving as the North Central Regional Sales Manager, he was promoted to National Sales Manager in September of 2009.
Prior to joining Ericson, Jim spent 18 years with the Lester Sales Co., a Manufacturer's Representative, serving as the Indiana Sales Manager.
Jim brings to Ericson more than 20 years of experience within the electrical industry and a proven track record in sales management, leadership development, and field training. Jim has a B.S. degree from Northern Illinois University and maintains his CPMR certification.
Since 1918, Ericson has been manufacturing electrical safety products for temporary power and lighting applications in industrial, construction, petro-chem, manufacturing, food, pulp & paper, energy production and OEM environments.
www.ericson.com