MK Diamond Named Most Preferred Brand of Wet Saws and Diamond Blades
Award announced at 2010 Surfaces show.
---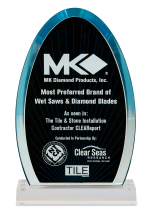 The 2nd Annual Tile and Stone Installation Contractor Market CLEAReport Awards presented at the 2010 Surfaces tradeshow in Las Vegas honored MK Diamond as the "Most Preferred Brand of Wet Saws and Diamond Blades."
Clear Seas Research, in conjunction with the National Tile Contractors Association (NTCA) and TILE magazine polled contractors nationwide to develop a comprehensive overview of tile and stone installation products in the U.S., including product demand and brand preferences.
Since incorporation in 1983, MK Diamond Products, Inc. has grown into a respected force in the industry as the leading manufacturer of precision saws, equipment and accessories.
"An award like this one, coming right from the people who use our wet saws and diamond blades, means a great deal to us. We are really thankful for this honor. Worldwide distribution and an expanded product mix give us the strength needed in this ever changing economic environment. With generations of experience and an on-going development of new technology, we are manufacturing the best products ever," said Brian Delahaut, MK Diamond Products Vice President. "Wet cutting tile saws like the TX3 and MK-101 Pro 24 were designed with professionals in mind and this award proves we are satisfying their on-the-job needs."
MK Diamond Products, Inc. is a manufacturer of wet saws and equipment for cutting, coring and polishing all types of masonry, concrete, tile and stone products. Now celebrating over 140 years, this American-owned company continues to lead the industry and answer the needs of skilled craftsmen everywhere. For more information call 800/421-5830 or visit www.mkdiamond.com.