Weiler Offers New Catalog for the Construction Market
Catalog includes Vortec Pro abrasives and the new Pro-Flex Sweep.
---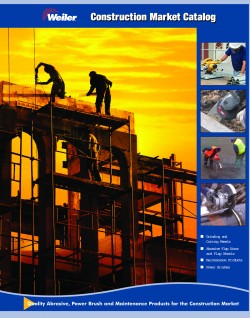 Weiler Corporation recently introduced a new catalog featuring products specifically designed for the construction market. As an industry leader and global manufacturer of surface conditioning solutions, Weiler is dedicated to providing world-class service and value-added products to the construction industry.
Whether cutting, grinding, cleaning or finishing, operators worldwide know they can trust the Weiler name for high quality and dependable products - products designed to get the job done safely and efficiently.
Weiler's Industrial Grade product is performance-engineered for maximum product life, superior quality and durability. These products are ideal for heavy production environments and provide the lowest cost-per-finished piece. New to the Weiler maintenance line is the Pro-Flex Sweep – the strongest sweep on the market AND the easiest to assemble.
The Weiler Vortec Pro line is specifically designed for the professional/contractor. This comprehensive offering of abrasives, maintenance products and power brushes provides a reliable, general purpose product offering at a competitive price. Don't miss the Vortec Pro full line of Type 1 and Type 27 cutting and grinding wheels and abrasive flap discs.
Also included in the catalog are product selection guides by tool usage, many product and application photos, and in-depth technical information - plus the product charts are color-coded by tool for fast, easy selection!
For a copy of the catalog or additional information on Weiler products, contact: Weiler Corporation, One Weiler Drive, Cresco, Pennsylvania 18326-0149 • Toll free (800) 835-9999 • FAX: 570-595-2002.