Bon Master Catalog Features More Than 5,000 Tools
Catalog of contractor-grade hand tools and materials grows to over 400 pages and over 5,300 products.
---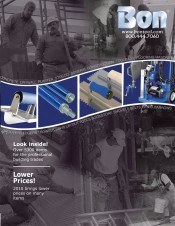 Bon's 2010 master catalog of contractor-grade hand tools and materials for the building trades has been expanded to over 400 printed pages and features over 5,300 products. The catalog is Bon's largest yet covering products for masonry, concrete and decorative concrete finishing, drywall, plastering, flooring, layout, asphalt, general construction and more.
Bonfire Private Label Tools and many stucco and drywall tools previously featured in Bon supplemental catalogs are now all included in this one comprehensive print resource for Bon products. New to Bon's product line include new sizes on Mortar Boxes, Lute Rakes, Touch-Up Joint Wheels and Finishing Trowels as well as newly designed Power Trowel Blades, new Epoxy Mixers, new Double Time Fresno, new Paver Level and an expanded line of concrete chemicals.
Recognizing the significance of "going green," Bon specified the printing of this catalog on 30% postconsumer recycled paper as certified by the Forest Stewardship Council. This translates to saving 20 tons of wood!
From the invention of masonry guides 50 years ago to the introduction of the first-ever stainless steel trowel and stainless steel groover, Bon Tool Co. remains committed to the development and improvement of products for today's contractor.
Celebrating 50 years in business, Bon continues to build on its heritage of providing innovation, superior quality and exceptional customer care. Bon manufactures the largest selection of professional tools for the building trades. More than 5,000 contractor-quality hand tools are currently available from Bon. For more information contact the sales department at 800-444-7060 or visit Bon's website at www.bontool.com.