RIDGID 2010 Reputation Roadshow hits the road
Stops slated throughout the U.S. and Canada.
---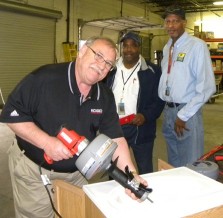 The RIDGID Reputation Roadshow kicked off its third season in March and runs through the end of September 2010 with stops in 34 cities throughout the U.S. and Canada. This year's events feature new RIDGID tools and technologies including RIDGIDConnect, an online business tool that allows trade professionals to securely share, store and simplify information for a project via a laptop computer or smart phone.
The latest in the RIDGID SeeSnake Upgrade line of products will be on display as well, giving tradesmen at each stop the chance to experience and demo the new RIDGID technologies. Attendees will be given sneak peeks at upcoming product launches.
Lunch is served at every show and a model from the well-known RIDGID calendar is present to sign autographs.
"We have some exciting new tools to show off at this year's Reputation Roadshow," said Wyatt Kilmartin, director, RIDGID branding. "The Roadshow is an opportunity for trade professionals to come out and have some fun and also learn about new products that can drive efficiencies and ultimately, increase their bottom lines. The 2010 Reputation Roadshow promises to be the best yet!"
The Roadshow will be making stops in Portland, Ore. (April 22), Spokane, Wash. (April 28), Springdale, AR (April 29), Calgary, Alberta (May 12), Richmond, Va. (May 13), Durham, N.C. (May 18), Aurora, Colo. (May 19), Raleigh, N.C. (May 19), Charlotte, N.C. (May 20), Baltimore (May 26), Beltsville, Md. (May 27), Addison, Ill. (June 9), Philadelphia (June 9), West Allis, Wis. (June 10), Marlborough, Mass. (June 16), Dayton, Ohio (June 21), Indianapolis (June 21), Wilmington, Del. (June 22), Edison, N.J. (June 23), Detroit (July 14), Quebec City (August 17), Montreal (August 18), Columbus, Ohio (September 2), Louisville, Ky. (September 6), Newport News, Va. (September 15) and Nashville, Tenn. (September 29).
For more information on the 2010 Reputation Roadshow, visit the Web site at www.RIDGID.com/Tools/Roadshow-2010