University of Illinois Chooses NCFI InsulStar High Performance Spray Foam Insulation to Help Win International Environmental Competition
Super-insulated "Gable Home" wins first place in the U.S., and second place worldwide in the 2009 U.S. Department of Energy Solar Decathlon.
---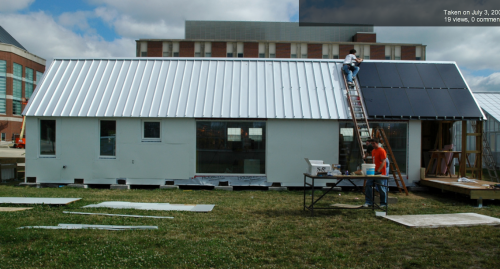 The University of Illinois at Urbana-Champaign's solar powered, super-insulated "Gable Home" won first place in the U.S., and second place worldwide in the 2009 U.S. Department of Energy's Solar Decathlon, an international competition consisting of 20 college and university teams charged with designing, building and operating the gold standard of a solar-powered, energy-efficient home. NCFI's InsulStar high-performance spray foam insulation helped the team achieve top honors.
The Illinois students partnered with builders from Homeway Homes, Deer Creek, IL, for two years to build the "Gable Home." The team was able to impress the Solar Decathlon judges and produce winning results by combining the required components of cost-effectiveness, consumer appeal and design excellence with optimal energy production and maximum efficiency. They super-insulated the 800-square-foot energy-efficient home with InsulStar high performance spray foam insulation from NCFI, one of the country's most innovative spray foam insulation companies, headquartered in Mount Airy, NC.
Spray foam insulation is quickly becoming a best practice in building techniques because of its superior insulating capabilities, and this team of students and builders took full advantage of its benefits, using it to create the strong shield the home needed to be efficient with the energy the solar collectors captured. Nearly 12 inches (30.5 cm) of spray foam insulation is incorporated into the walls, roof, and floor of the home, and the end result is much like that of a thermos with its consistent internal temperature.
According to Ted Schieler, general manager of Homeway Homes, one of the challenges building the home was that it would be constructed in one place then transported in sections to a different location for judging and display. It would, therefore, need to be built well enough to travel over a long distance and maintain its solid structural integrity. Schieler explains, "NCFI's InsulStar was the obvious choice to maintain the structural integrity of the house. It eliminates air infiltration and prevents dry wall cracks and structural defects." He further clarifies that the spray foam is made up of "closed cells" which form a tight barrier, keeping outside, unwanted air and moisture out of the home.
The Solar Decathlon's 20 competing homes were judged in ten separate contests (thus, the "decathlon" designation) including: architecture, market viability, engineering, lighting design, communications, comfort zone, hot water, appliances, home entertainment and net metering. The Gable Home outperformed in all areas. Schieler notes that during the dreary days of the competition, when there was very little sun, the Gable House outperformed all other homes in the competition because the InsulStar spray foam insulation kept the interior of the home comfortable.
Following on success, Gable Home is certified a "Passive House" by European Passive House standards. This classification denotes a building that is highly insulated, virtually airtight, and which uses 90 percent less energy than typical construction. According to Schieler, this house is so well insulated and air tight that it can be heated with energy equivalent to that of a single hair dryer in an hour or less time.
While the Solar Decathlon is largely about energy creation, use, and efficiency, it is also about the comfort and livability of the home. Not only were competing homes required to be highly energy efficient, but were also expected to maintain comfortable and healthy indoor environmental conditions. NCFI's InsulStar spray foam insulation was the ideal choice to achieve this standard. While the spray foam insulation fills every crack and crevice, then cures in place creating a tight seal that maintains comfort, it also keeps airborne dangers like dust, pollen and mold—and the moisture that mold needs to grow—out, making for a healthier and more comfortable interior. Another environmental perk, unlike some insulation products, once applied spray foam insulation lasts for the life of the home.
"We love being involved with this competition," says Nelson Clark, senior vice president of NCFI. "It's amazing to watch young, bright minds working on something as important as solar residences. We work with innovative builders, engineers and designers each day, but it's especially exciting to see our products and technical expertise used by the next wave of brilliant minds." According to Clark, helping provide green, sustainable solutions is important to NCFI. In addition to working with the Illinois team to win the 2009 competition, NCFI also supported the neighboring Virginia Tech team that placed thirteenth. In 2005, NCFI worked with the Colorado University team that won first place in the worldwide competition.
Clark says, "Around the building and architecture industry, we're known as 'the best green building product you'll never see' because our insulation products usually end up covered over so you only experience the comfort and savings we provide. This is a great opportunity for future building experts to really see the vital role InsulStar® plays in the overall design of a green home."
"It's inspiring to work alongside college and university students—the leaders of tomorrow—actively involved in progressive home building projects seeking to conserve energy, improve the environment and sustain the planet," concludes Clark. "It certainly fits with NCFI's overall mission, and we're proud to play our part."
To see more project images, click here.