U.S. Department of the Interior awards Ironclad Performance Wear's Eric Jaeger for development of KONG Oil & Gas Glove
Offshore Leadership Award recognizes Ironclad's KONG glove as a significant enhancement to worker safety.
---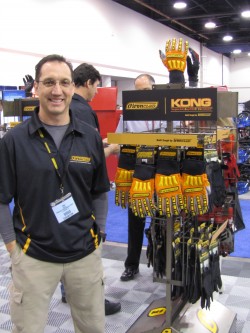 Eric Jaeger, Ironclad Performance Wear's vice president of research and development has been recognized by the U.S. Department of the Interior's Minerals Management Service (MMS) for exceptional performance in enhancing worker hand safety through the design and development of Ironclad's line of KONG high-performance work gloves, engineered specifically for the oil & gas industry.
The Offshore Leadership Award, presented annually since 1983 by the U.S. Department of the Interior, recognizes "outstanding individuals whose exceptional performance has raised the bar for safety achievement, improved environmental protection, enhanced resource recovery and conservation, or inspired innovation and outstanding performance by others".
Along with Jaeger, the award recognizes Clark Orr, vice president of Orr Safety, and safety directors from Exxon/Mobil, Conoco Phillips, Chevron and Superior Energy. This group worked together for eighteen months, bringing the KONG glove through initial concept prototypes deployment, field testing, safety qualification and now to worldwide production and distribution to the oil & gas industry.
"Hand injuries, specifically fractures, bruising blows and pinched fingers, outnumber all other injuries combined in the oil and gas extraction industry. As a result, hand and finger impact protection, combined with grip enhancement, durability and dexterity, are the focus of every energy company's corporate safety program", said Jaeger, a biomedical engineer and hand safety expert. "During development and field-testing, we recorded 80,000 work-hours without a single hand injury -- a phenomenal achievement in such a dangerous work environment".
As of January 2010, more than 250,000 pair of KONG gloves have been deployed to the industry, representing more than 42 million man-hours of work.
The KONG line of gloves, with world-wide patents pending, provide flexible impact protection to the complete bone structure of the hand, while maintaining the high dexterity required by workers in the oil and gas industry. Additionally, the gloves have excellent durability and unique palm reinforcements developed specifically to enhance grip in the presence of oils and lubricating fluids.
The Offshore Leadership Award was to be presented at the MMS SAFE Awards Luncheon being held at the Offshore Technology Conference yesterday, May 6, 2010 in Houston, Texas. However, due to the industry-wide effort to stem the current BP oil spill in the Gulf of Mexico, the luncheon and award ceremonies were cancelled.
Ironclad, which created the performance work glove category in 1998, continues to leverage its leadership position in the safety, construction and industrial markets through the design and development and distribution of specialized task-specific gloves for industries such as oil & gas extraction; police, fire, first-responder and military; and automotive markets. Ironclad engineers and manufactures a comprehensive line of task-specific gloves and performance apparel with a focus on innovation, design, advanced material science and durability.
Ironclad's products are available through industrial suppliers, hardware stores, home centers, lumber yards, and sporting goods retailers nationwide; and through authorized distributors in North America, Europe, Australia and Asia.
For more information, visit www.ironclad.com.