Retailers give award to HYDE Pivot Nozzle Wand
New wand features a patented pivoting nozzle design.
---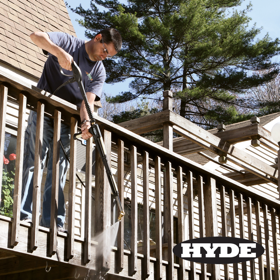 A panel of retailers recently selected Hyde Tools to receive a Retailers' Choice Award from the National Hardware Retail Association. Hyde was chosen because of the creative design and sales potential of the company's new line of HYDE Pivot Nozzle Wands for pressure washers. Products were selected at the 2010 National Hardware Show in Las Vegas. Video of the tool in action can be seen at hyderewards.com.
The new wands feature a patented pivoting nozzle designed to save the user time, effort and splash-back when pressure washing. When the wand's grip is twisted, the nozzle pivots up to 90 degrees, allowing the user to step back out of the path of falling water and still keep the optimal 90-degree angle to the surface being cleaned.
The tool avoids the need to stoop, bend, kneel, reach or maintain awkward positions when cleaning virtually any surface. It also helps users avoid common stress injuries, fatigue and accidents resulting from the use of high pressure while on a ladder.
"Instead of climbing, you can reach high surfaces from the ground, pivoting the nozzle to achieve a correct angle and activating the pressure washer using the remote trigger," said Corey Talbot, Director of New Product Development at Hyde Tools and chief developer of the wands.
In addition to a Retailers' Choice Award, the Pivot Nozzle Wand won two gold awards for
packaging from the National Retail Hardware Association at the show, in the hand tools and lawn and garden categories. The wand is currently available for gas-powered pressure washers, with styles to fit either M22 or 1/4-inch gun fittings. A compact new model for electric pressure washers will be available in the fall. For further information, visit hyderewards.com.