­
KNAACK kicks off Nifty Fifty Sweepstakes
Giveaway includes an anniversary jobsite chest every 50 days for a year.
---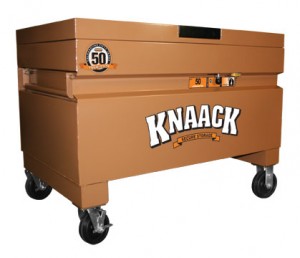 Knaack is celebrating its 50th anniversary with a special sweepstakes for end-users of its products. The "Nifty Fifty Jobsite Storage Giveaway" is an ongoing, online product giveaway of a special edition
anniversary jobsite chest, the Limited Edition KNAACK Model 50 Jobsite Storage Chest. Valued at $699 U.S./$760 Canadian, the special edition anniversary jobsite chest is a prized giveaway for KNAACK¹s customers.
To enter, qualified end-users must register online at www.KnaackFifty.com. Started on June 7th and then every 50 days for a full year, Knaack LLC will randomly select a winner who will receive a KNAACK Limited Edition Anniversary Model 50 Jobsite Storage Chest. Also, for those end users who upload a qualified KNAACK jobsite photo, they will receive a Limited Edition KNAACK 50th Anniversary cap.
"The Limited Edition Anniversary Model is a way for us to remember those who
have used our products during the past 50 years," said Chad Severson, President. "It also commemorates the quality we have brought to our products during that time. Our gratitude belongs to those folks who recognize that quality and use our products for a living."
The Limited Edition KNAACK Model 50 Jobsite Storage Chest delivers many new
features along with the security and quality that contractors have depended
on for fifty years, including:
New WATCHMAN 5 locking system, which is virtually weather and
tamper-resistant
New convenient size with lower height for easy access
New cover-assist handle and cable support for simplified lid closure
New powder-coat finish for maximum durability and with 5x corrosion
resistance over enamel
6-inch industrial-strength casters for improved mobility.
Complete with an anniversary logo, the Limited Edition KNAACK Model 50
Jobsite Storage Chest will be available to the public from June 1 through
December 31 of this year. KNAACK also manufactures and markets a complete
line of WEATHER GUARD truck and van equipment.