Wacker Neuson and Caterpillar sign alliance for mini excavators
Wacker will build CAT-brand mini excavators up to 3 tons.
---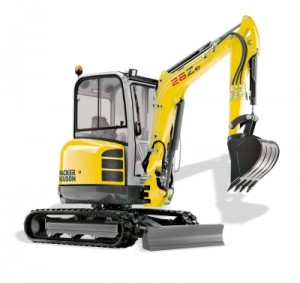 Wacker Neuson SE, Munich, Germany and Caterpillar Inc., have signed an agreement for the design, manufacture, distribution and support of Caterpillar mini excavators up to 3 tons. The aim of the cooperation is that the two parties form a long-term strategic alliance.
Beginning in mid-2011, the 20-year deal includes the development and manufacture of mini excavators with an operating weight of up to three tons designed to Caterpillar specifications at Wacker Neuson's production plant in Linz, Austria.
Wacker Neuson will leverage its manufacturing and product development capability to produce Caterpillar mini excavators in the under-3-ton category. Caterpillar currently offers three models in this size range. The new model range will consist of up to seven machines, starting with an operating weight of 0.8 tons.
The mini excavators will be produced to Caterpillar's technical and brand
specifications and will be distributed and supported via Caterpillar's global dealer network, with the exception of Japan. All Caterpillar models will be clearly differentiated from comparable Wacker Neuson models in the same product range. The additional volume in the first year of full production in 2012 will more than double the existing production volume of comparable mini excavators on Wacker Neuson's production lines.
"We know many customers are looking for more options in this size range, and this alliance will give those customers expanded choices to help them grow their business," said Mary Bell, Caterpillar vice president with responsibility for the Building Construction Products Division. "There is also an ideal cultural fit between Caterpillar and Wacker Neuson, as both companies have a strong focus on developing and supporting world class products. Over the years, Wacker Neuson has developed a strong reputation among our Caterpillar dealers, who have become familiar with Wacker Neuson's Light Equipment products, which are available at Cat Rental stores," Bell added.
The two companies recognize the benefits and synergies of utilizing Wacker Neuson's
development and production capacity and distributing machines via the respective sales
networks – a move that will improve both companies' competitive position. The Caterpillar
dealer network is a highly respected and a powerful sales channel for construction
equipment worldwide. Similarly respected are Wacker Neuson's sales channels, which are focused on Light and Compact Equipment, including independent dealers, independent and national rental companies and direct sales in selected countries.
By concentrating production of selected products at Wacker Neuson's mini excavator
production in Linz, Austria, the two companies will leverage joint economies of scale in the manufacturing and development process, while supplying their respective, complementary sales channels with differentiated, competitive machines.