Channellock launches redesigned Web site
Channellock unveils its latest American-made tool – a fully redesigned, improved Web site.
---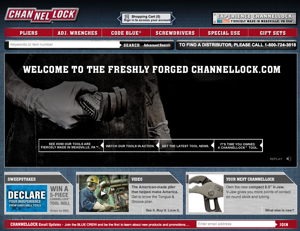 The new Channellock.com was created in the same Americana voice as its current marketing campaign: Fiercely Made in Meadville, PA.
The fresh design provides a more complete user experience that now enables visitors to purchase tools, learn about the company and interact with Channellock representatives like never before.
"We wanted to provide a more valuable interactive experience for both new and loyal Channellock customers," said Ryan DeArment, vice president of sales and marketing at Channellock. "The new site celebrates our tool heritage, people and commitment to quality."
Buy Now or Buy Later
Building your toolbox is now easier with the site's new streamlined, user-friendly navigation, including an enhanced distributor locator for extra convenience. Visitors can explore any Channellock tool, get a full product description, including images, features and exact specifications, then confidently and securely purchase their tool(s) through the site.
Experience Channellock
Fans also have the ability to go behind the scenes and "Experience Channellock" for access to a complete company history and factory video tours. Visitors get an exclusive look at the company's unique manufacturing process and the story behind its trademarked Channellock Blue handles.
Press Room
The updated press room isn't just for reporters anymore. Media and consumers alike are encouraged to discover the many new features that better connect online audiences with the iconic American brand. Among the press room's many features are an enhanced Blue Board blog, a live Twitter feed and news releases with Spanish translation options. It's a place where visitors can watch videos, find images, read the American Blue™ newsletter and become Facebook and Twitter fans.
Visit www.Channellock.com for an original hand tool experience.