CGW publishes 2010 Metal Fabrication Products Catalog
Contains more than 1,200 new products.
---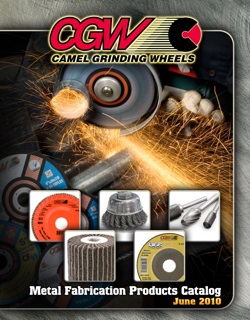 CGW-Camel Grinding Wheels has introduced a new metal fabrication products catalog that contains more than 1,200 new products for the metal fabrication market.
Divided into four main color-coded categories, the 128-page 2010 catalog contains product line extensions (Quickie Cut EXTREME cut-off wheels), improved products (Quickie Cut™ 3/32 inch thin reinforced cut-off wheels) and economical abrasive alternatives (Z-PCE flap discs and Fast Cut 12 – 16 inch high speed cut-off wheels).
The catalog features sections for abrasive belts, USA-made carbide burs and wire brushes. The new catalog also contains Z3 trimmable flap discs, premium and economy shop rolls, 3-in-1 .094 cut/grind/finish wheels and porous surface grinding wheels.
"The new products added to the metal fabrication catalog are based on the valuable communications we receive from our distributors," said Joe O'Mera, president, CGW-Camel Grinding Wheels. "The new additions allow CGW to be a well rounded abrasives supplier."
CGW-Camel Grinding Wheels is one of the world's leading suppliers of grinding wheels since 1953. Its 90,000-square-foot USA facility serves as a centralized warehouse with manufacturing capabilities and includes customer service, sales and marketing departments.
For more information on the company and the new CGW metal fabrication products catalog, contact: CGW-Camel Grinding Wheels, 7525 North Oak Park Avenue, Niles, IL 60714. Phone: 800-447-4248. Fax: 800-447-3731. Website: www.cgwheels.com.