Milwaukee launches a barrage of new tools
Product unveilings cross major categories.
---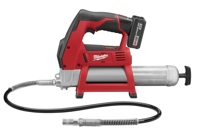 The 2446-21XC M12 Cordless Grease Gun is capable of delivering over 8,000 PSI max operating pressure for heavy duty applications.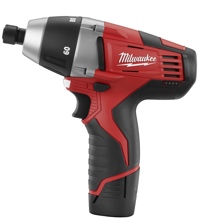 Milwaukee's M12 Cordless No-Hub Coupling Driver weighs 2.75 pounds.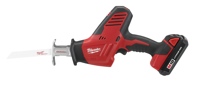 The new Milwaukee Hackzall M18 Cordless One-Handed Recip Saw achieves the lowest vibration level among all 18V cordless recip saws in the industry.

Milwaukee's new Rasping Jab Saw utilizes grating holes along the side of the blade to rapidly expand holes or smooth rough edges of sheetrock.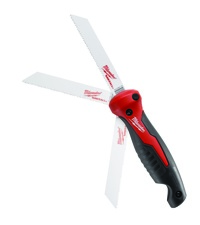 The Folding Jab Saw's blade folds into the handle for easy storage.

The new Milwaukee Fastback Utility Knife features a one handed blade opening for easy activation.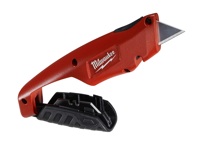 The Sliding Utility Knife also features a tool free blade change and wire stripper for increased efficiency.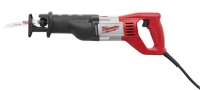 Milwaukee's latest Sawzalls feature either a 1-1/8" (6519-31) or 3/4" stroke length (6509-31), cut up to 2X faster and last up to 2X longer.

Milwaukee's new 4-1/2" Small Angle Grinder is the most compact in Milwaukee's extensive grinder line.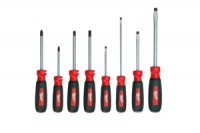 The new 8-Piece Milwaukee Screwdriver set features patented ECX bits
Last Wednesday, July 21, Milwaukee Electric Tool launched a barrage of new tools onto the market. True to Milwaukee's claims, some of them may be well turn out to be examples of "disruptive innovation."
Held at the Harley-Davidson Museum in downtown Milwaukee, the company's 3rd Annual New Product Symposium took full advantage of the facility's gleaming metal appointments, chrome-plated atmosphere and Harley's carefully mass-produced rugged individualist mystique.
For those of you who have attended a Milwaukee tool launch event in the last few years, we need not belabor that "disruptive innovation" catchphrase, but there were in fact some tool introductions here that could be just that.
Milwaukee rolled out new products across several categories, including accessories (saw blades, holes saws etc.), corded tools (grinders and Sawzalls), the M12 and M18 cordless lines, test and measurement tools and an all-new line of Milwaukee-branded hand tools. It was quite an imposing list.
Naturally, a few products were embargoed until later this year, closer to their release dates, but there are plenty of new items we can talk about right now. Let's begin with a few highlights from the test and measurement category.
Testing, testing
Milwaukee's test and measurement product lineup continues to grow, clear evidence of its commitment to the category. One of Milwaukee's clearly professed market strategies is to seek out existing product categories — like test and measurement — that it sees as being under-served by other manufacturers and try to introduce best-of-class products to it.
The new M12 model 2207-21 cordless fork meter is a case in point. It measures current detects and measures voltage and provides task lighting in a four-in-one True-RMS electrical tester for professional residential, commercial and industrial users. It has a wide 0.63-inch jaw opening, 200-amp capability and a voltage range to 1,000 volts AC/DC.
It also offers Lo-Z measurement to eliminate ghost voltage, a large white-on-black display for clearer readings, a slide rail system to add proprietary accessories and rugged over-molding for increased durability and grip. It has the best safety rating available; CAT IV 600V/CAT III 1000V.
Another key to the tool is its M12 cordless battery system. The same battery that powers this tool fits more than 20 other tools in the M12 line.
All told, Milwaukee's test and measurement line now features more than a dozen distinct tools — clamp and fork meters, detection and inspection tools, temperature guns, digital multimeters and leveling and distance tools.
Milwaukee recently added fourteen new models to its Test & Measurement line that provide users with a National Institute of Standards and Technology (NIST) certificate of calibration. While the tools have not changed in either form or
function, the new NIST versions do include an NIST certificate of calibration with data that lists the accuracy of each measurement function, the date when it was calibrated and when it should be calibrated again.
Another Milwaukee marketing strategy is to evaluate its own lines for areas of weakness where incremental or "disruptive" innovation can be achieved. While this might be applied loosely to the hand tools category, Milwaukee managers specifically mentioned grinders and rotary hammers as targets currently in Milwaukee's R&D crosshairs.
PEX, it's piping hot
The third leg of the Milwaukee strategy focuses on emerging markets and trade-specific categories where the field is essentially wide open. A prime example of this is the new cordless PEX tool.
In April 2010, Milwaukee announced a new partnership with Uponor, a leading manufacturer and supplier of plumbing, fire sprinkler and radiant heating and cooling systems. Not only is the use of PEX pipe growing almost exponentially across the country, new regulations now mandate its use (or use of an equivalent product) in virtually every new structure being planned today. In fact, as of January 2011, fire sprinklers are required by code in all new homes. Local jurisdictions can decide whether they want to adopt the new code, and while some are delaying implementation, most are moving forward, a representative for Uponor told me.
The first tools to emerge from this partnership are M12 and M18 cordless ProPEX Expansion Tools, which join Milwaukee's growing line of products for the plumbing and HVAC trades.
Set for launch later this year, the M12 and M18 ProPEX Expansion Tools will offer features such as an auto-rotating head for accurate, one-handed expansion. The new tools will significantly accelerate the speed in which users can install ProPEX connections. They are also compatible with other tools on their respective battery platforms.
Got grease?
While we are talking about cordless tools, we should mention another new member of Milwaukee's M12 lineup; the model the 2446-21XC Cordless Grease Gun. Boasting up to 25 percent more pressure and run-time than the competition, the 2446-21XC is capable of delivering over 8,000 psi maximum operating pressure for heavy-duty applications and dispenses up to seven grease cartridges per battery charge.
The tool was designed to deliver the high pressure needed for heavy machinery, cold weather and clogged grease fittings that commonly plague operators. It delivers a flow rate of 2.6 ounces per minute 1,000 psi.
Another star of the show was the model 2455-22 M12 Cordless No-Hub Driver. With specific torque settings for 60 and 80 inch/pounds, this tool is specifically designed to quickly install no-hub couplings with accuracy and repeatability. The first of its kind in the industry, the 2455-22 can fasten up to 300 clamps on a single charge and is proven to be accurate for up to 25,000 clamps before re-calibration. No more worrying about over-or under-torqued clamps.
Not to be ignored, the M18 line gets a new Hackzall Cordless One-Handed Recip Saw, the model 2625-20. Developed for superior control and versatility, the one-handed design gives users the ability to make clean, accurate cuts while working overhead and in tight spaces.
It features a dual-gear anti-vibration system to achieve what Milwaukee says is the lowest vibration level among all 18-volt cordless recip saws in the industry.
A powerful motor delivers 0-3,000 strokes per minute and a 3/4" stroke length speeds the saw through a wide range of material such as wood, metal and PVC. Milwaukee's Quik-Lok blade clamp offers fast, tool-free blade changes for Sawzall and Hackzall blades.
The M18 cordless One-Handed Hackzall is compatible with both the M18 XC High-Capacity Lithium-ion battery and the M18 Lithium-ion battery, allowing users to choose the best battery for their application.
Sawzall —legends get better with age
Speaking of Sawzalls, this segment sees upgrades, too. The 2010-model Sawzalls are available in either a 1 1/8-inch (6519-31) or a ¾-inch stroke length (6509-31). They can cut up to two times faster, last up to two times longer than their predecessors and are the most powerful tools in their class.
The shorter ¾-inch stroke length is ideal for better control in tight areas, while the longer 1 1/8-inch stroke length delivers more aggressive cuts for heavy demolition.
Both feature a 12-amp motor, a patented gear-protecting clutch that extends gear and motor life by absorbing high impact forces and the Quik-Lok blade clamp for fast tool-free blade changes. Both saws also feature a counterweighted mechanism that reduces vibration for smoother operation and a redesigned front grip area for best-in-class ergonomics.
Also in the corded arena, the new model 6130-33 4 1/2-inch Small Angle Grinder is the most compact member of Milwaukee's extensive grinder line and is the only tool its class with an innovative tool-free adjustable guard. It has a 7.5-amp, 750-MWO (Max watts out) motor protected by an advanced airflow system with debris baffles that drive clean air flow through the grinder. In addition, multiport exhaust allows hot air to escape rapidly on all four sides of the gear case, keeping the motor cool and delivering optimal performance. It has an 11,000-rpm no-load speed and weighs just 3.5 pounds.
Give 'em a hand
Finally, Milwaukee proudly unveiled a neat new line of hand tools. Each tool, specifically designed to one-, two- or three-up the current market leader, clearly showed Milwaukee R&D at work. Each new tool has unique, best-in-class features.
For example, the new Fastback Utility Knife features one-handed blade opening for easy access, tool-free blade changes and a thin body to make the tool more pocket-friendly. An integrated gut hook and wire stripper increase utility and allow the user to make cuts without exposing the blade or needing to hunt for another tool.
A new sliding utility knife also features tool-free blade changes and a wire stripper, plus a rubber over-mold to increase comfort and reduce hand slippage. It has a unique bottom-of-the-tool storage with a magnet to keep spare blades from falling out.
The new Folding Jab Saw's blade folds into the handle for easy storage. The tool accepts all standard size recip saw blades for versatility across multiple applications.
Another new hand tool is the Compact Hack Saw. It features an ergonomic handle with a rubber over-mold grip and an exclusive tool-free blade change design that permits users to change blades up to 10 times faster.
Screwdrivers get the Milwaukee treatment too. An all-new new 11 in 1 Screwdriver is the one on the market with the patented ECX bit for fastening specialty screws found in electrical boxes, conduit couplers, outlets, and other common job site fixtures. It features hardened driver tips and comes with nine fastening functions including #1 Phillips, #2 Phillips, 1/4" slotted, 3/16" slotted, #1 ECX, #2 ECX, and 1/4", 5/16" and 3/8" nut drivers. In addition, an integrated wire stripper and wire-bending hole allow the user to strip and/or bend up to 12-gauge wire.
An all-new 8 Piece Screwdriver Set also features patented ECX bits and steel tops on the slotted drivers for additional durability and protection. Each screwdriver shaft is made of shock resistant steel for added durability and the bit type is clearly marked on the top of each handle. Integrated wire strippers and wire bending holes allow the user to strip and/or bend up to 12 gauge wire.
Other new hand tools include a PVC saw and a new rasping jab saw with a built-in grating holes along the side of the blade to rapidly expand holes or smooth rough edges.
Attendees who were unsure what to expect when they arrived at the event were pleasantly surprised to see hard evidence that Milwaukee is running full-throttle ahead to maintain its market dominance in traditional areas of strength while at the same time pursuing growth into new markets and product categories. It appears that Milwaukee's engineers are taking the company's "Nothing but Heavy Duty" motto very seriously indeed.