STAFDA Posts Strong Pre-Convention Numbers
All categories trend stronger: distributor registrations up 51 percent.
---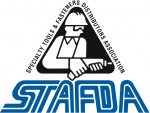 Sarah Palin, 2008 Republican vice presidential candidate, will Keynote the 2010 STAFDA Convention in Phoenix on November 8, 2010.
August 3, 2010 — The stars are aligning for STAFDA: the combination of a resort city venue, an improving economic outlook and a superstar keynote speaker in Sarah Palin are driving distributor and exhibitor registrations for the 2010 STAFDA Convention and Trade Show Nov. 7-9 in Phoenix well ahead of last year's pace.
According to figures released by STAFDA Executive Director Georgia Foley, STAFDA Distributor Member companies registered to attend the convention are tracking 51% ahead of Atlanta.
With two months remaining until the show, 544 exhibit booths have already been sold for STAFDA's Phoenix Trade Show. This pace is almost 60 booths ahead of last year.
Other to-date registration figures are also trending positively:
Total attendance to date is up 14%
Exhibiting Associates/exhibiting are up 10%
Non-exhibiting Associates are up 15%
Rep agent companies are up 183%
There is still plenty of time to register to attend or exhibit. However, the 2010 STAFDA Convention and Trade show is open to STAFDA members only. For more information on STAFDA membership, please contact Catherine Usher, Member Services Director, at 800/352-2981 or e-mail cusher@stafda.org. Or visit STAFDA's website, www.stafda.org.