Lincoln launches weld fume awareness campaign
Company prepares fabricators to meet new EPA regulations.
---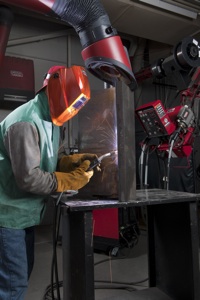 Lincoln Electric introduces phase 2.0 of its "Are You Ready?" fume control regulation awareness campaign. The campaign and its supporting materials are designed to aid fabricators in understanding the effects and requirements associated with the Environmental Protection Agency (EPA) Metal Fabrication Hazardous Air Pollutants (MFHAP) and National Emissions Standard for Hazardous Air Pollutants (NESHAP) regulation.
The new EPA, MFHAP and NESHAP regulations, scheduled to take effect July 25, 2011, will require metal fabricators to reduce air emissions of metal compounds such as chromium, lead, manganese and nickel from nine metal fabrication and finishing source categories that affect welders and fabricators. These compounds can pose health risks to workers overexposed to fumes, which are emitted from various operations at metal fabrication and finishing plants.
The campaign provides customers, metal fabricators and media with an "Are You Ready?" interactive web site at www.lincolnweldfumecontrol.com. Visitors are encouraged to study the resources, ask questions and prepare their organizations for compliance with these new EPA regulations.
The site serves as a resource for those seeking more information on welding fume regulation issues and solutions. Links are provided to a number of informative documents, and an interactive flow chart that guides users through the welding operations portion of the EPA rule as it applies to their specific welding applications. A handy glossary of terms associated with the regulations is also included.
Lincoln Electric will continue to add resources to the site throughout 2010 and 2011, including whitepapers, videos, user tools and other valuable information regarding weld fume control and welding safety.
Lincoln Electric also offers an e-mail address for users to seek additional information and ask a question or provide feedback. Responses to the user requests will be handled by an appropriate subject matter expert from a panel of Lincoln Electric personnel. Users can contact Lincoln at weldfumecontrol@lincolnelectric.com.
The company will also present seminars on the regulations, welding fume control, welding safety and related topics for interested plant managers, engineers, hygienists, welding supervisors and operators. If you are interested in attending a seminar, contact Lincoln Electric at weldfumecontrol@lincolnelectric.com.