EasyHeat Releases Full Line Heating Cable Catalog
Covers pipe tracing, roof and gutter de-icing, snow melting, floor warming and thermal storage products.
---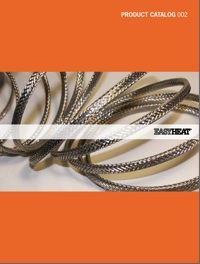 EasyHeat, a business unit of Emerson Industrial Automation, is pleased to announced the release of a comprehensive new catalog showcasing its full line of pipe tracing, roof and gutter de-icing, snow melting, floor warming, and thermal storage products for residential and commercial buildings.
EasyHeat's quality-driven manufacturing and insightful designs are demonstrated in some of its most recent products. For example, its Freeze Free self-regulating pipe heating cable automatically varies its heat output with changes in the surrounding temperature. And when commercial building managers needed a safer, more cost-efficient way to remove snow and ice, EasyHeat engineered its SnoMelter® system in standard and custom mat sizes for easy installation anywhere pedestrians walk.
Since 1951, contractors have turned to EasyHeat because it understands that managing temperature requires a complete line of rugged heating cable products. So, whether it's residential or commercial, customers can take control of temperature-related problems with the brand that places the heat where they need it, EasyHeat.
For a free catalog, contact an EasyHeat representative in the US at 800-537-4732 or in Canada at 800-794-3766. Visit www.easyheat.com.