Ohio Power Tool unveils new Bosch System Specialists program
Distributor is chosen to be one of first Bosch boutique stores in the country.
---
Jay Amstutz of Ohio Power Tool describes his company's involvement this way: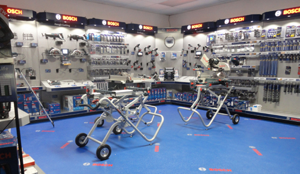 "The Bosch System Specialists (BSS) program has a lot of elements all working together to provide Bosch customers the best possible experience with Bosch Tools through the lifetime of ownership," he says. "The program includes the setup of a fantastic looking Bosch section of the showroom, creating basically a store with a store (think Rockler within a woodworking store) but that is just the tip of the iceberg."
"The real teeth of the Bosch System Specialist comes with all the programs behind it including ProFinancing a lease program with $1 buyout (unlike Hilti's huge buyout lease programs), exclusive BSS deals and promotions, special repair & tool loaner programs, 30 day advanced store placement on new product introduces and much more," Amstutz adds.
This also marks the first time Bosch has openly "endorsed" specific dealers above others — including home centers.
The BSS dealer also commits to stock a very broad range of Bosch products and parts as well as annual training for their employees. However, Amstutz notes, many distributors are already doing this anyway.
Currently there are about 20 BSS dealers across the United States. About 100 total are planned by the end of 2011. Click here for a listing of the first BSS Stores around the country.
Marketing pro Bryan Wright, who until recently was with the agency for Bosch, recently visited the BSS store at Ohio Power Tools and wrote up his impresions. Click here to read his thoughts on the new program and what it can mean for distirbuotrs looking for that elusive competitive difference.
Learn more at: