Appleton Publishes 2011 Master Catalog
Big Red Book carries more than 20,000 products.
---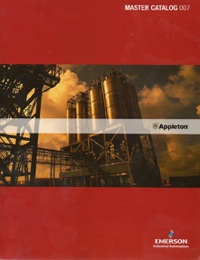 Appleton has published its completely redesigned and upgraded 2011 Master Catalog (MC007) detailing more than 20,000 products to assist electricians, engineers and electrical distributors. The 1,864-page catalog provides fast, easy access to comprehensive information on such products as fittings, couplings, industrial-grade lighting and motor controls.
Appleton's famous "Big Red Book" has been an essential reference guide for several decades. The familiar user-friendly layout of the catalog has been further improved and the new edition features call-out pages between sections.
In addition to products from Appleton, Appleton Canada, McGill and ATX, this new edition encompasses solutions from associate EGS brands O-Z/Gedney, SolaHD and Nelson Firestop. Appearing for the first time in the catalog are the company's combined NEC, CEC and IEC/ATEX products to reflect a global coordination effort.
To request a complimentary copy, please call 800-621-1506 or visit www.appletonelec.com. Email: customer.service@egseg.com.