Milwaukee turns up the heat
Milwaukee wows the trade press with a blaze of suitably red-hot new tools.
---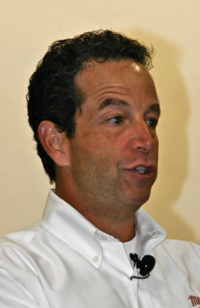 Things got pretty hot in Milwaukee last week. The nation's heat wave spiked heat indexes into the 100s, a rare event in Wisconsin. Things got even hotter if you happened to work for a competing power tool company, as Milwaukee Electric Tool played host to writers and bloggers from six countries to showcase its 2011 tool and accessory lineup. The event took place at Milwaukee's mercifully air-conditioned headquarters in Brookfield, Wisconsin.
The event kicked off with a welcome from Milwaukee President Steve Richman, who greeted the record crowd in attendance and introduced key players from several Latin and South American countries, some of whom were Milwaukee employees from those regions.
He reviewed the relative strength of Milwaukee's Western Hemisphere markets; the soft economy here at home; stronger business in Canada and a booming market in Latin and South America.
Richman walked the crowd back through the past four year's of Milwaukee's campaign to create a culture of disruptive innovation within itself and in the market, and clarified the company's market strategy of focusing on core users in specific trades — electrical, plumbing, contractors and remodelers.
"We decided that the way to win was to focus on our core users and selected other markets," he said.
Those other markets, he noted, include but are not limited to automotive and woodworking.
Richman also touted Milwaukee's R&D investments during the recession. "When other companies cut back, we expanded and hired," he started.
He discussed Milwaukee's Rapid Product Development Center onsite. (Attendees were given a tour of the facility, including the product development center later in the day.)
As hard evidence of that commitment to innovation and new product development, he simply pointed to the walls of tools surrounding the audience and noted that in the past three years Milwaukee has introduced more new products than several competitors combined.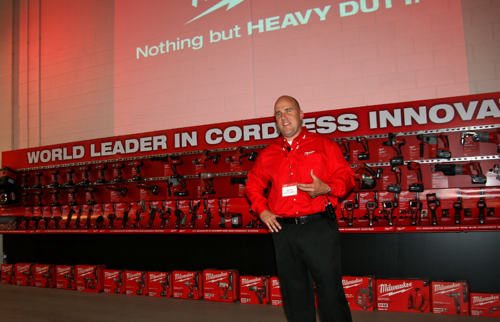 "Today, Milwaukee has the largest array of 12 and 18 volt tools in the industry," he said, "And we are the number one provider of hole saws and Sawzall blades in the world."
Milwaukee's goal going forward, he stated, was simple, "to be the Number One professional brand in the United States, Canada and Latin America." And the company was on its way, he added, saying Milwaukee is also the fastest growing brand in the U.S., Canada and Latin America.
With that, he stepped back and let his product team begin the introductions.
Corded Tools
According to Rick Gambaccini, Group Product Manager for corded tools, since 2008 Milwaukee has introduced 30 new tools that embody the company's disruptive innovation philosophy.
The newest members of that group are the model 5263-21 5/8" SDS Plus Rotary Hammer and the model 5262-21 7/8-inch SDS Plus D-Handle Rotary Hammer.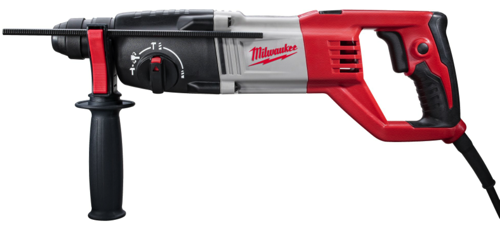 The model 5262-21 7/8-inch SDS Plus D-Handle Rotary Hammer provides up to 15% more life than other tools in its class in even the toughest applications and provides up to 40 percent faster drilling with 2.4 foot-pounds of impact energy and 0-1,500 RPM. Its 3-Mode Operation provides maximum versatility and a mechanical clutch protects the motor when the bit binds.
The tool has a 7-amp motor and weighs only 5.8 pounds.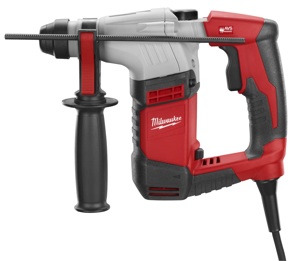 The 5263-21 5/8" SDS Plus Rotary Hammer is the lightest and most compact tool in its class. At 10.9" long and only 4.6 lbs, it is ideal for drilling overhead and in tight spaces.
"This disruptive solution is up to 40% lighter than competitive units and provides the user an excellent alternative to the larger, more cumbersome hammers they are using today," Gambaccini said. "With an innovative gear design and a drop motor to provide unmatched balance, this tool truly delivers dramatic change within the SDS Plus rotary hammer space."
The 5263-21 is also claimed to provide up to 65 percent faster drilling with 1.5 foot-pounds of impact energy and 0-3,700 RPM. Plus, Milwaukee's Anti-Vibration System delivers maximum user comfort by minimizing vibration.
Grinders galore
In the grinder category, Milwaukee is launching an unprecedented 18 small angle grinders this year. They are touted to deliver up to three times more durability and up to 50 percent more power than competing models. They will also feature a revolutionary motor technology. This patent pending motor technology delivers up to 50 percent more power than the competition by essentially winding the motors with thinner copper wire to maximize the copper in the motor space. "More copper equals more power," said Product Manager Andrew Plowman.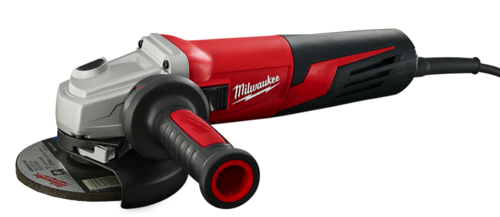 The key demands users make of their grinders are durability, power and performance and ease of use, Plowman added. Milwaukee is building up to three times more durability into its new grinders through a combination of more robust gears, better airflow and better electronics, he explained.
Milwaukee's Electronic Advantage includes Overload Protection to maximize motor life, an Electronic Clutch that extends tool life and helps prevent bind-up, Line Lock-Out that prevents automatic start-up after power loss, and Soft Start. Many models also include Constant Power Technology, which enables the grinder to maintain speed under load.
An advanced airflow system allows air to move rapidly through the tool, keeping the motor cool and delivering optimal performance. Specially engineered L-shape vents protect the motor by blocking debris particles for increased durability and longer life. A 100-percent tool-free design allows users to change all accessories, including hubbed product, without a wrench.
The line includes eight 4-1/2 to 5-inch compact small angle grinders, featuring 11-amp, 1,400 MWO motors and high performance 5- to 6-inch grinders with 13-amp, 2,100 MWO motors.
In bench top tool electrics, the company announced its new 14-inch model 6177-20 Abrasive Cut-Off Machine. With a powerful 15-amp, 4.0-max horsepower, 3,900-rpm motor, the 6177-20 has a 5-inch maximum cut capacity. A large spindle lock button provides quick and easy blade changes and a 45-degree miter capacity to the left and right, with a quick adjustable fence, allows accurate miter cuts without the need to flip heavy material.
18-Volt Cordless Tools
Milwaukee's Paul Fry noted that the 18-volt segment accounts for 60 percent of the U.S. cordless tool market, and that Milwaukee's M18 line is the fastest growing 18-volt line in the cordless market.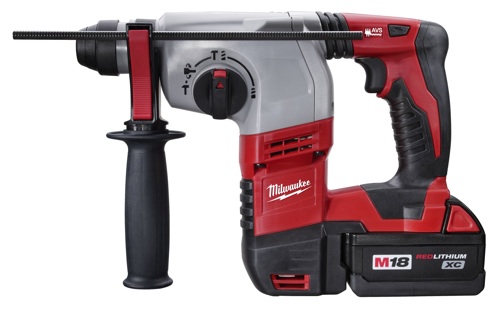 The new M18 Lithium-Ion Cordless 7/8-inch" SDS Plus Rotary Hammer also utilizes Milwaukee's new high-copper motor design.
"Powered by groundbreaking Red Lithium battery technology, the new rotary hammer delivers 0-1,400 RPM, 0-4,800 BPM and up to 40 percent more run-time than the competition," stated Gambaccini. "Combined with 1.8 foot-pounds of impact energy, the 2605-22 also delivers up to 10 percent faster drilling and up to 35 percent harder hitting."
The 2605-22 features 3-Mode operation and Variable Position Chisel Stop. A mechanical clutch protects the motor when the bit binds and the Anti-Vibration System (AVS) delivers maximum user comfort by minimizing vibration. Digital Power Management (DPM) overload protection prevents damage to the tool and battery in abusive situations.
The tool is just 11.75 inches long and weighs only 7.2 pounds. In testing, the 2605-22 delivered roughly 110 ¼-inch holes in concrete per charge.
Other hammers slated for later release include a 1 9/16-inch SDS Max version in Q4 2011 and a spline version coming in early 2012.
Two other recent releases include the M18 Cordless 5-3/8-inch Metal Saw and the M18 Cordless 3/8-inch Right Angle Drill Driver.
With an exclusive 4-Pole Frameless Motor that delivers up to 35 percent more cutting power The M18 model 2682-22 Cordless 5-3/8" Metal Saw not only provides a fast, clean cut when compared to alternative metal cutting tools, it also delivers up to 40 percent longer run-time. In tests, the saw delivers unmatched run-time with over 200 cuts of ¾-inch EMT per charge. An extra-large cut guide, impact resistant window and LED light improve line of sight. A tool-free depth adjustment feature quickly and easily adjusts cutting depth from 1/8 to 2 inches. The 2682-22 Cordless 5-3/8" Metal Saw weighs has weighs 5.8 pounds including its Red Lithium XC High Capacity Battery Pack.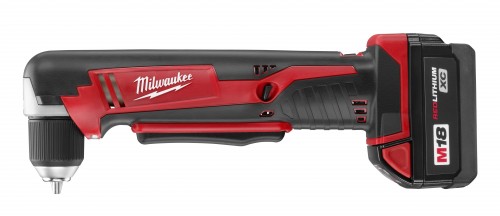 As the only 18V Right Angle Drill with an adjustable clutch feature, the model 2615-20 M18 Cordless 3/8-inch Right Angle Drill Driver provides 11 torque settings plus a drill mode for complete control in close-quarter applications.
"The combination of a 3.75" total head length and an integrated Electronic Clutch make this tool the most compact 18V Right Angle Drill Driver in the industry," said Christian Coulis, Senior Product Manager.
The tool features a 3/8-inch, one handed, keyless ratcheting chuck and an extended paddle switch design that provides easy trigger actuation from the top, middle, or bottom of the tool to allow the user to change hand position depending on the application. It produces up to 125 inch-pounds of torque and has an LED light to brighten dark, cramped work areas.
The 2615-20 M18 Cordless 3/8-inch Right Angle Drill Driver has a Head Length of 3.75 inches, is 11.25 inches tall and weighs just 4.25 pounds.
12-Volt Cordless Tools
Currently, Fry said, Milwaukee's M12 line is the number one sub compact platform in the world. The company is wasting no time shoring up its offerings here. Way back in 2007, the company had no less than 30 different 12-volt tools in its lineup. Today the M12 line ranges from power drills and drivers, shears, band and circular saws to inspection cameras, lasers, grease guns and Hackzalls.
Just one of the latest offerings is the model 2460-21 M12 Rotary Tool. With a variable speed of 5,000-32,000 RPMs and a collet that is completely compatible with all 1/32" -1/8" shank accessories, the new tool delivers thousands of cutting, grinding, sanding and polishing solutions that a user would expect from a traditional rotary tool.

"Leveraging Milwaukee's heritage in straight and die grinders, the M12™ Rotary Tool features a powerful motor, grinder-style exhaust ports, and a unique design to protect the front bearing from contaminants like drywall dust," explained Corey Dickert, Associate Product Manager, Cordless. "These key features not only allow the tool to exceed performance expectations, but ultimately provide up to 10 times longer life."
The M12 Rotary Tool has variable speed from 5,000-32,000 RPM. It has a 1/8-inch collet, is 9.5 inches long and weighs 1.3 pounds.
Test & Measurement Tools
Milwaukee Electric Tool Corporation continues to expand their Test and Measurement line with the new model 2200-20 Voltage Detector, model 2265-20 Laser TEMP-GUN and multiple product accessories. Designed for professional residential, commercial and industrial applications, the new tools provide unmatched functionality and value to the end user.
"We continue to focus on developing tools with best-in-class performance and exceptional value," says Jon Morrow, Director of Marketing, Test and Measurement for Milwaukee Electric Tool Corporation. "Providing specialized features and functionality, the 2200-20 Voltage Detector and 2265-20 Laser TEMP-GUN round out the product line with competitive price points that provide professional solutions at multiple budget levels."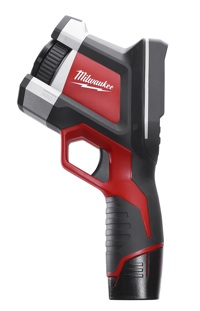 The 2200-20 Voltage Detector is a rugged tool with a CAT IV 1000V safety rating and a wide 50 to 1,000 volt AC range. To further improve safety on the jobsite, the 2200-20 indicates that it is powered and working properly with a constant green light, and indicates the presence of voltage with a blinking red light and loud beeper.
The 2265-20 Laser TEMP-GUN features a temperature range of -22 to 662°F (-30 to 350°C), a 10 to 1 distance to spot ratio and high/low alarm limits. Complete with a backlight on the display, users can easily read measurements in the dark.
The newest members of the M12 team include the M12 160x120 Thermal Imager, which features a 160x120 pixel imager and a built-in visual camera that can capture both thermal and visual images with one pull of the trigger. It has the broadest temperature range in its class, up to 650-plus degrees F.
A valuable addition to the package is the fact that the imager comes with built-in software for building reports and analyzing images. It also features a 2 gigabyte memory card as standard equipment. The unit is IP 54 rated for dust and moisture and will carry a five-year warranty.
Hand Tools and Blades
Encouraged by the industry embrace of its initial lineup of hand tools, Milwaukee is launching 18 new ones in 2011. These will range from cutting tools, driver sets, pliers and snips to shears and pex cutters, many with industry-first feature sets.
In the new wood-cutting Sawzall segment, Milwaukee has introduced two new Application Specific blades focused on eliminating key user frustrations.

A new Flush Cut Sawzall blade has been engineered to specifically address the unique frustrations encountered during window and door cut-out applications. It has a unique shape that protects against floor impacts and a Floor Guard design to shield the teeth from floor contact. The Flush Cut blade also has a Double Truss design that guides the blade for straighter window cut-outs.

A new Rough-In Sawzall blade has been engineered to address the unique frustrations encountered when cutting through-holes in nail-embedded wood during plumbing and HVAC rough-in work. It features a low profile for cutting holes as small as 2-1/8 inches in diameter and an optimized 7-3/8-inch length that allows the blade to cut holes through double top plates.
Both blades also feature the award winning Nail Guard and Fang Tip designs that were introduced in November 2010.
Spoiler Alerts
Milwaukee couldn't let writers leave without some tantalizing glimpses of the future, and while we are sworn to secrecy not to reveal what we saw, suffice it to say the company's R&D team is running in high gear for 2012 and beyond. Company president Steve Richman promised that the coming year will see the launch of several revolutionary new products. We'll just have to wait and see if the industry agrees.