Ames True Temper Launches New Web Site
New site features extensive product information, projects, retail locators, and more.
---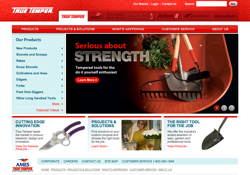 Ames True Temper, a manufacturer of non-powered lawn and garden tools announces the launch of its completely redesigned, consumer-friendly website,
http://www.amestruetemper.com
/. The new website allows users to browse Ames True Temper's extensive family of brands and innovative products within one, easy-to-use online location.
"Our new Website provides one central source where consumers can find gardening tool product information, projects and retail locations for all of their gardening needs, including everything from decorative planters to eco-friendly shovels to classic gardening tools and more," says Pete Brenneman, Director of Marketing services at Ames True Temper. "With our new site, information on all of our industry leading brands and products is just a click away, saving users time and energy with their online lawn and gardening research."
One Stop Shopping
The new site features simple user navigation, with individual tabs for each Ames True Temper brand, including True Temper, Ames, UnionTools, Garant, Hound Dog, Dynamic Design, and professional tools from Jackson and Razor-Back. Consumers no longer need to visit multiple sites to find the best lawn and garden tools – now all of the Ames True Temper brands and products are easily accessible in one convenient website.
New Product Information
To make things even easier for consumers, the new website also features all-new product pages that include product specs, images, related items and links to online and retail locations where they can buy the tools.
Projects, Solutions and More
In addition to key product information, the site includes helpful tools, including "Projects & Solutions," "What's Happening," and "Customer Service." Here users can find the information and resources for everything from their first gardening project to the more seasoned jobs.
Ames True Temper is the leading, as well as the oldest, manufacturer of non-powered lawn and garden tools in the U.S. Headquartered in Camp Hill, Pennsylvania (near Harrisburg), the company manufactures and markets a wide variety of long-handled tools, wheelbarrows, cutting tools, garden hoses and hose accessories, striking tools, snow tools, decorative garden accessories and planters. Ames True Temper brands are among the most recognized across their primary product categories. Its brand portfolio includes True Temper, Ames, UnionTools, Garant, Hound Dog, Dynamic Design, as well as the commercial offerings under the Jackson and Razor-Back Professional Tool brands.