Bahamas begins construction of new 1,000-acre Baha Mar resort
Construction work has started on the Baha Mar, the largest single-phase resort development in the Caribbean, backed by Chinese cash.
---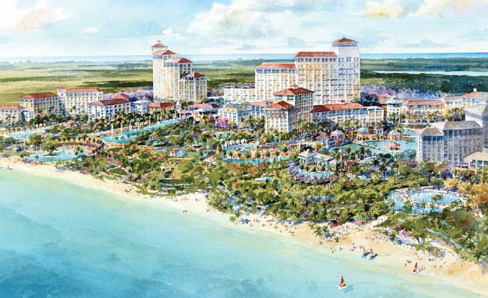 The 1,000-acre, US$3.4 billion resort, gaming and entertainment complex, is due to open in late 2014 in Nassau, Bahamas. It will include some of the world's most famous hotel brands and will also have a total of 2,250 new rooms when completed.
"Baha Mar, born from a singular vision, is surprisingly breathtaking in its magnitude," said Baha Mar's chairman and chief executive officer, Sarkis Izmirlian.
The vision of Baha Mar started more than five years ago with a plan to deliver an authentic Caribbean experience which combined the essence and spirit of The Bahamas with the distinction of luxury resorts."
Officials say the project, which is being financed by the Export-Import Bank of China and the China State Construction and Engineering Corp, represents a direct benefit to The Bahamas through the creation of 12,000 new jobs and the corresponding contribution of more than US$305 million in annual wages.
Click here to read the entire article.