Frost Adds Bosch Power Tools Center in St. Louis
Addition makes Frost one of only three Bosch Systems Specialist (BSS) dealers in Missouri.
---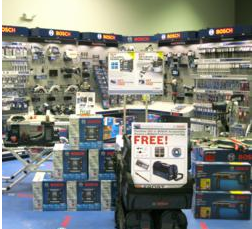 Frost Electric Supply has a new Bosch Tool Center, located in its downtown St. Louis store. The Bosch Center includes professional grade tools, interactive video screens, product demonstrations and exclusive offers to Frost customers.
The addition sets Frost apart as one of only three Bosch Systems Specialist (BSS) dealers in Missouri. When visiting the downtown branch, Frost customers can now expect to find the best selection of Bosch products in stock for purchase in the area, making it easy for contractors, professional builders or weekend-warriors to get back to work faster. If a customer comes in unfamiliar with Bosch professional tools, their features or specific function, Frost's expertly trained staff are on-site to help. Adding to the experience, visitors are encouraged to interact with and demo dozens of building tools and accessories in-store before purchasing.
With a history of over 100 years in the bi-state region, Frost's incorporation of the new Bosch Center further demonstrates its focused commitment to offering the best quality power & hand tools, building supplies and service to its customers.
By becoming an official Bosch Systems Specialist dealer, Frost is now able to offer even greater perks to its buyers. New product introductions available first to customers, exclusive offer promotions and Bosch Repair Partner certification are just some of the benefits Frost visitors will find when entering the downtown branch.
The people at Frost encourage all to stop by and discover St. Louis' premier display of Bosch tools, conveniently located at 2720 Walnut Pl., Saint Louis, MO 63103. The staff will be more than happy to walk you through the tool center, as well as answer any questions you may have when selecting the perfect tool for any task.
Regular Sales and Tool Center Hours for all Frost locations are 7am-5pm, Monday-Friday. Specializing in electrical supply, industrial automation, tools, safety and voice and data industries, Frost continues to meet the needs of hard-working folks across the bi-state area. Their knowledgeable staff is proud to serve customers from its headquarters in Maryland Heights, MO, and its five full-service retail locations in the city of St. Louis; O'Fallon, MO; Columbia, MO; Collinsville, IL and Lebanon, IL.
For more information about Frost, visit http://www.frostelectric.com.