Hyde Issues New Merchandiser for 14-in-1 Multi-tool
New point-of-purchase display is designed to maximize retail space.
---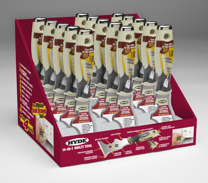 Hyde Tools now offers a new point-of-purchase display for their fast-selling HYDE 14-in-1 Multi-tool, a new solution to cluttered tool boxes, workbenches and junk drawers. The 10-5/16" x 9-3/16" cut-case style merchandiser is designed to maximize retail space, offering versatile placement options near registers, on help counters or in aisles.
The display shows a full-size diagram of the tool's many functions, including the storage and use of four screwdriver bits in the handle. It also clearly lists the tool's common uses: scrape paint, spread compound, clean rollers, remove putty, open cracks, set nails, scrape contours, scrape convex surfaces, open cans and pull nails.
"According to the Retail Hardware Association, adding shelf merchandisers in a key area increases sales substantially," explains Corey Talbot, Hyde's Vice President of Marketing and Product Development. "Combine that statistic with the growing demand for multi-tools – which account for 30% of sales in the putty knife category. It only makes sense to create a display that helps retailers increase sales and educate customers on the many benefits of what we call 'the ultimate junk drawer tool.' "
Hyde was the first to mass distribute a multi-tool to American consumers over three decades ago, with the introduction of the Black & Silver 5-in-1 Multi-tool. Today, the 5-in-1 is still one of Hyde's top-selling tools. The 14-in-1, released in the fall of 2010, is already promising to be a best-selling item, Talbot said.
Email your Hyde Tools sales representative at custrelations@hydetools.com or call (800) 872-4933.