MSC Industrial Direct Co. Releases 2011 Catalog of Norton Abrasive Products for Metalworking Applications
New 64-page catalog significantly expands product categories offered.
---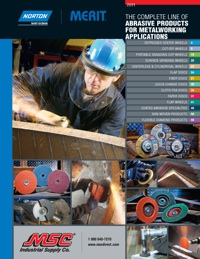 MSC Industrial Direct Co., Inc. has announced the release of its 2011 Norton/Merit Abrasive Products Catalog. A premier brand of Saint-Gobain, Norton is the world's leading supplier of bonded adhesives, offering over 250,000 types and sizes of products.
At 64-pages, the 2011 catalog has doubled in size compared to last year's catalog. The increase includes a significant expansion of the product categories offered. In addition to the product mix included in the 2010 Right Angle Grinding Abrasives catalog, the new catalog also provides:
Surface grinding wheels
Centerless and cylindrical grinding wheels
Flap wheels
Coated abrasive specialties
Non-woven products
Flexible diamond products
The full-color catalog includes extensive product information and safety features for products, providing customers with a valuable reference guide.
"MSC has an extremely productive working relationship with Norton/Merit," says Matt Lukasiewicz, Business Manager, Metalworking at MSC. "We work together to provide customers with the abrasives products that will allow them to maintain tighter tolerances, increase surface finish and boost productivity. The sizable expansion of our 2011 catalog is representative of the growth in demand we see from our customers seeking to maximize their competitive advantage."
To view a virtual copy of MSC's 2011 Norton/Merit Abrasives Catalog, visit www.mscdirect.com and select the Resource tab.