Upbeat CONEXPO draws 120,000
Attendees from 150 countries attend triennial big iron bash.
---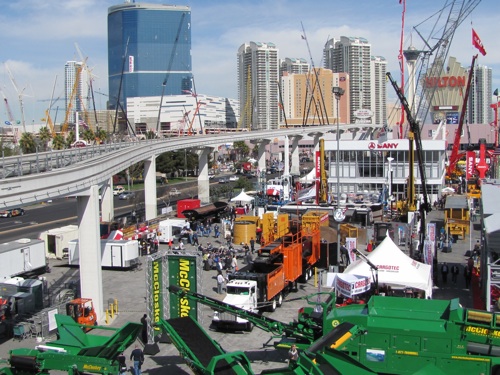 The numbers are in — more or less — from last week's CONEXPO/CON-AGG/IFPE show in Las Vegas and by all reports a very good time was had by all. A reported 120,000 attendees from 150 countries converged on the Las Vegas Convention Center March 22 to 26 to gawk at mammoth earthmoving and crushing machines, trucks and concrete pumps, concrete finishing equipment, lifters, loaders and excavators and even a few scattered power tools.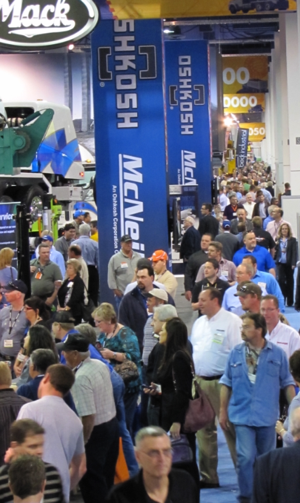 More than 2,400 exhibits filled every gap from the North to South outside lots and every available inch inside the halls — 2.34 million square feet of it. Would-be exhibitors who tried to book space too late — including some multinational major players — were turned away.
Although the weather was cool for Las Vegas in late March, the sun cooperated and outdoor exhibits were as heavily visited as interior stalls; some even more so.
Almost to a company, nearly every exhibitor we spoke to reported an extremely positive mood and strong business. The general concensus was that for CONEXPO, the "serious buyers" turned out in full force.
"The construction industry has been through some very tough times, with record unemployment, since the last CONEXPO-CON/AGG and IFPE in March 2008. With these positive numbers and the industry support of the shows, we're optimistic about the future and looking forward to seeing these new sales orders fulfilled," stated Megan Tanel, AEM vice president of exhibitions and events.

"There was such a tremendous upbeat feeling at the shows; it was really great to see our industry looking ahead with some enthusiasm after the recession," stated Mike Haberman, chairman of the CONEXPO-CON/AGG 2011 management committee and president of Gradall Industries.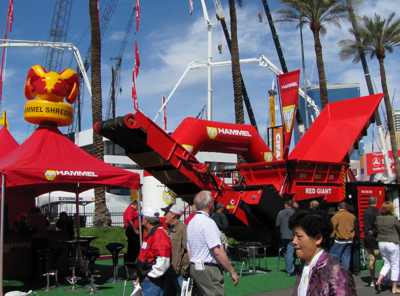 In addition to the "big top" shows themselves, more than 860 events, including the ICON Expo for the concrete products industry and annual conferences of related industry associations were co-located during the main shows' run. These bonus events included 126 educational sessions across nine tracks.
Attendees also had access to 10 international exhibit pavilions including contingents from China, Finland, Germany, Italy, Korea, Spain, Taiwan and the United Kingdom.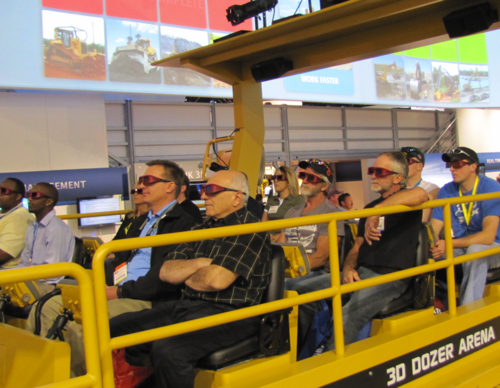 Although the event fell short of 2008's claimed 144,000 attendance, most here considered the nearly 120,000 attendance in 2011 to be a strong signal that the global construction industry is firmly into recovery mode. Show promoters AEM, the Association of Equipment Manufacturers, said the 2011 event was the largest gathering in North America since 2008 for the construction, construction materials and fluid power/power transmission/motion control industries.
The next CONEXPO-CON/AGG and IFPE expositions will be held in March 18-22, 2014 at the Las Vegas Convention Center. We'll remind you when the time rolls around again.
That's it for the story. Now, just for the fun of it, are some more photos of the show: