Building that would grow its own skin planned
New concept for Dubai tower will use salt water to grow its own skin.
---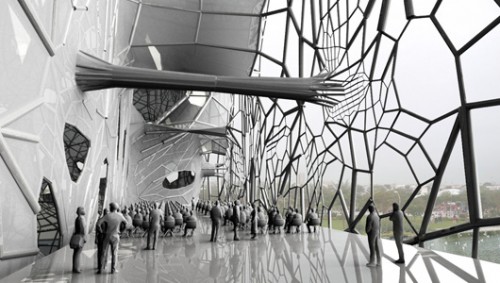 Chalk another one up for the "Gosh, we don't know about this" department.
Faulders Studio, a California-based architectural firm, has proposed a new concept for Dubai tower that will use salt water to grow its own skin. The GEOtube building will absorb seawater through a 2.9-mile underground pipeline and spray it over a mesh facade. "The result is a crystalline salt surface," for the "building skin" that "continually accumulates over time," said the company founder, Thom Faulders.
In these difficult economic and environmental times, wouldn't it be ideal if we could make buildings out of natural elements, renewable resources and local materials instead of using carbon-intensive construction processes and materials often flown or shipped in from halfway around the globe?
California-based architectural practice Faulders Studio wants to do just that with its innovative and beautiful proposal for a 558-foot tower in Dubai that uses the area's plentiful saltwater and hot sun to grow its own skin. The Dubai tower was conceived as a refuge for local wildlife, but the same concept could be applied to buildings used for other purposes. "GEOtube is unique in that it makes use of natural elements that typically are not considered of value architecturally," says Thom Faulders, founder of the studio.
MNN: What is the GEOtube and how does it work?
Faulders: The GEOtube is an iconic tower proposal for the city of Dubai. Making intelligent use of the high salt-content waters from the Persian Gulf, the water is sprayed over the tower's steel mesh and crystallizes in the high-temperature air. The result is a crystalline salt surface. This grown building skin continually accumulates over time.